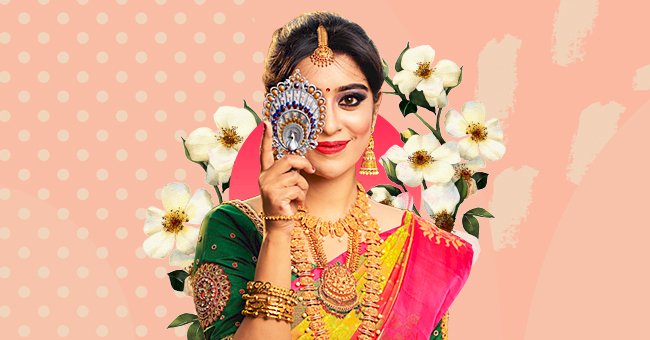 Fashion From Around The World: The Significance Of Jewelry In Indian Culture
Jewelry holds religious, cultural and traditional importance for the Indians. Adorning oneself with bangles, necklace, nose ring, bracelets and other jewels has long been the custom for Indian women, and is considered a part of their self-care routine.
We are all fond of wearing jewelry items, and matching them with our favorite outfits to look and feel gorgeous. However, there are some cultures that regard jewelry as much more than just an item of adornment - and the Indian culture happens to be a striking example.
Indians have been using jewelry for what seems like a very long time. They are used to decorate Hindu gods in temples, worn by brides and married women, and also an integral part of religious and spiritual ceremonies. Let's take a closer look at some of the most significant jewelry items in the Indian culture.
1.Nose Ring
Nose ring or Nath is a popular ornament worn particularly on Indian weddings. It is a circular piece of jewelry that is decorated with beads and passes through the nose piercing, attaching itself to the side of the head.
The gems present on the ring can are typically made of gold, diamond, silver and other popular stones. It is a must-have jewelry piece for brides and its growing importance is mostly highlighted in Indian movies and television shows.
2.Earrings
Indians are fond of earrings, and this ornamental piece is even popular amongst men. However, women take the lead by opting for enthralling options like studs, hoops, dangle and drop earrings. Jhumkas are also pretty popular, and contain delicate stonework.
Indian earrings are made from gold, silver, diamonds and other precious stones. You will never see an Indian bride without an earring, and the bigger designs are usually preferred for traditional wedding functions.
3.Necklace
While people in the West prefer smaller stones and simple necklace options, Indians like to keep things lavish and big on style. The simplest and purest form of necklace is a mangalsutra, which is worn by married women and marks the status of being committed in eternal love.
Even in the case of necklaces, there are many different designs and choices available. The most popular ones are matinee, opera, pearl, tope and diamond necklace. Men also like wearing neck jewelry, but they tend to go for simple gold and silver chains.
4.Bangles
Bangles, kadas or churas are a favorite jewelry item amongst the Indian women and are worn on the wrist. They can be made of gold, silver, glass, ivory, iron and even steel. There was once a time when only married women would adorn their wrists with bangles, but gradually the trend changed.
5.Maang Tikka
Maang tikka is seen on brides and bridal functions, and comes in exciting options. It is worn on the forehead, with a chain that goes through the hair to attach itself in the central partition. They can be made from heavy stones, but the intricate and simple ones are also popular.
6.Bridal Set
A complete bridal set comes with all the above-stated jewelry items and even additional options. The grander, the better is the mantra followed by Indian brides, and the weddings are usually set in a pure traditional tone.
Heavy bridal ornaments comprise a maang tikka, hand flower bracelets and toe-rings. Bridal sets are made using the most delicate and precious stones like gold, diamond, platinum, silver and brass. The idea is to look your most stunning self using jewelry that shines with its intricate design details.