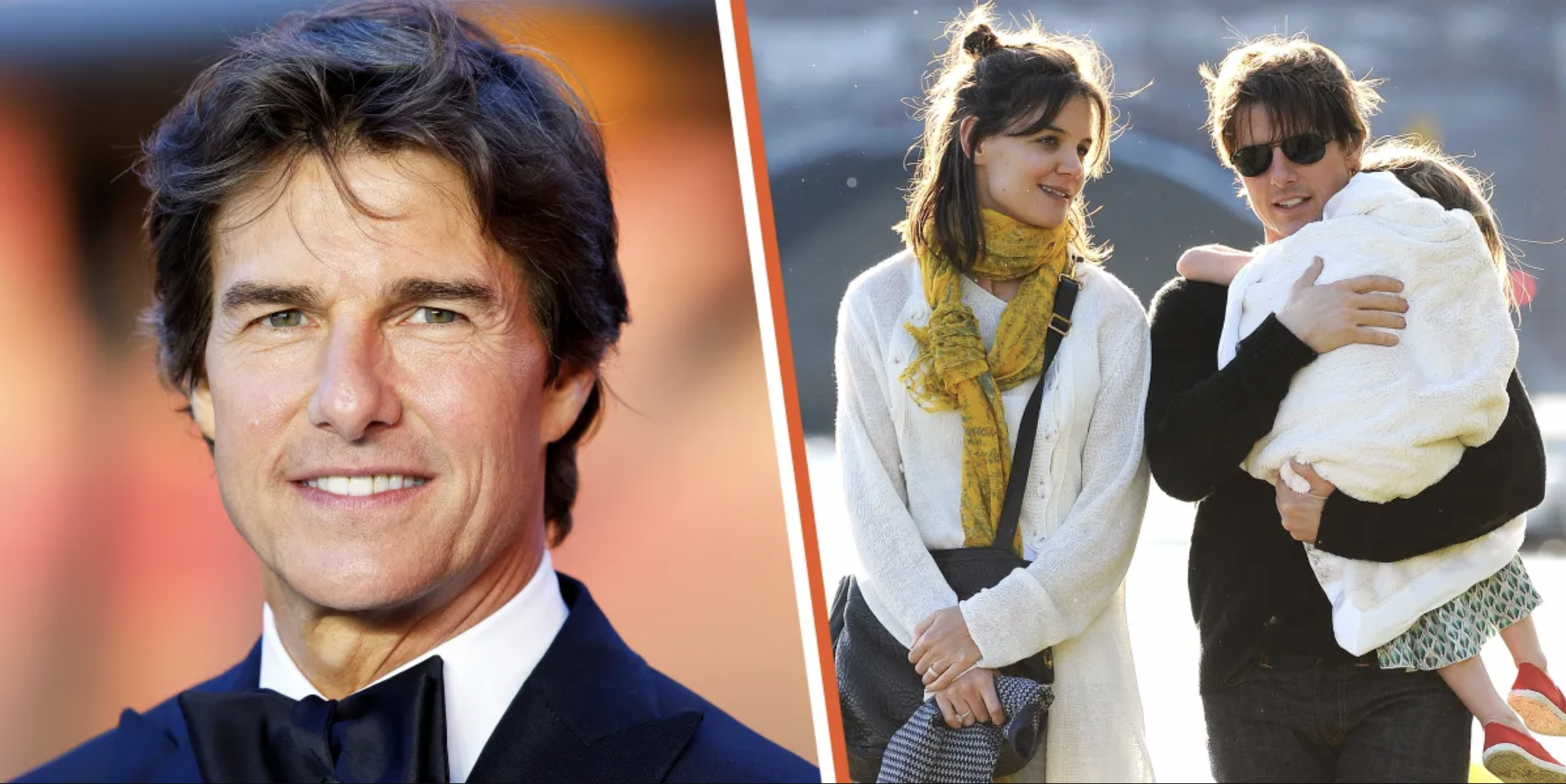 Tom Cruise | Tom Cruise, Katie Holmes and Suri Cruise | Source: Getty Images
'Female Version of Tom Cruise': Suri Cruise Divided Fans as She's Spotted in New Pics before 17th Birthday

Suri, the daughter of Tom Cruise and Katie Holmes, sparked mixed reactions among fans with her appearance in new photos released just days before her 17th birthday.
A source shared the alleged reason behind Tom's absence from Suri's life over the years.
Katie Holmes' daughter displayed her skills as she prepares to forge her own path and is reportedly in the process of applying to college.
Tom Cruise and Katie Holmes, once among the most high-profile couples of the early 2000s, share a daughter named Suri Cruise, who will soon turn seventeen.
Despite her strained relationship with her father, fans recently noted Suri's striking resemblance to Tom. The young woman is determined to carve out her own path in life, independent of her parents' careers.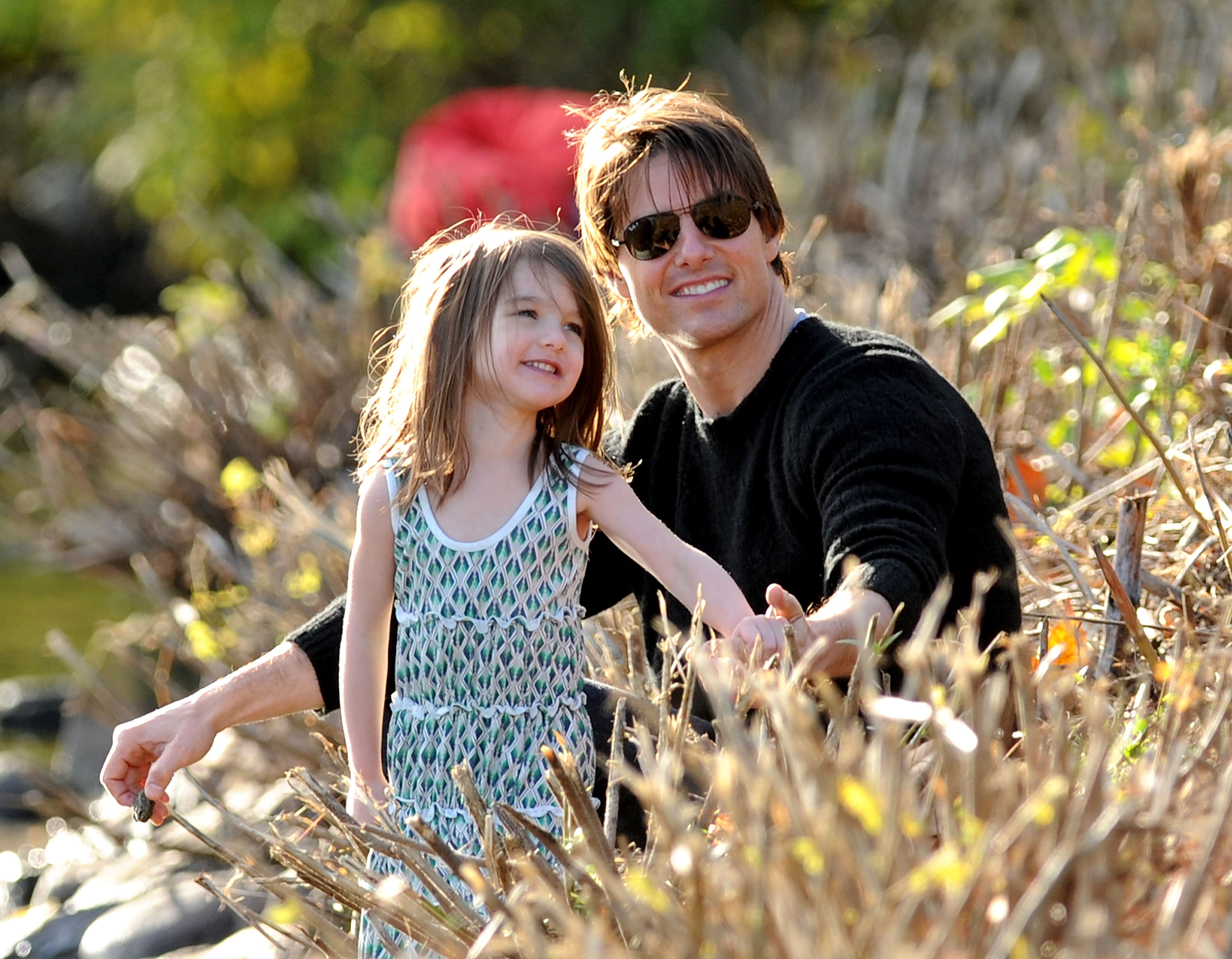 Suri Cruise and Tom Cruise visit Charles River Basin on October 10, 2009 in Cambridge, Massachusetts | Source: Getty Images
Tom and Katie divorced when Suri was only five years old. Following their separation, Suri has not had any contact with her father, resulting in a highly strained and distant relationship between the two.
Tom acknowledged that the situation with his daughter was less than ideal but understood that the family dynamic would change after his divorce from Katie.
One reason behind Katie's decision to leave Tom and prevent Suri from having a relationship with him was to shield her from the Church of Scientology, to which Tom has been a devoted member for many years.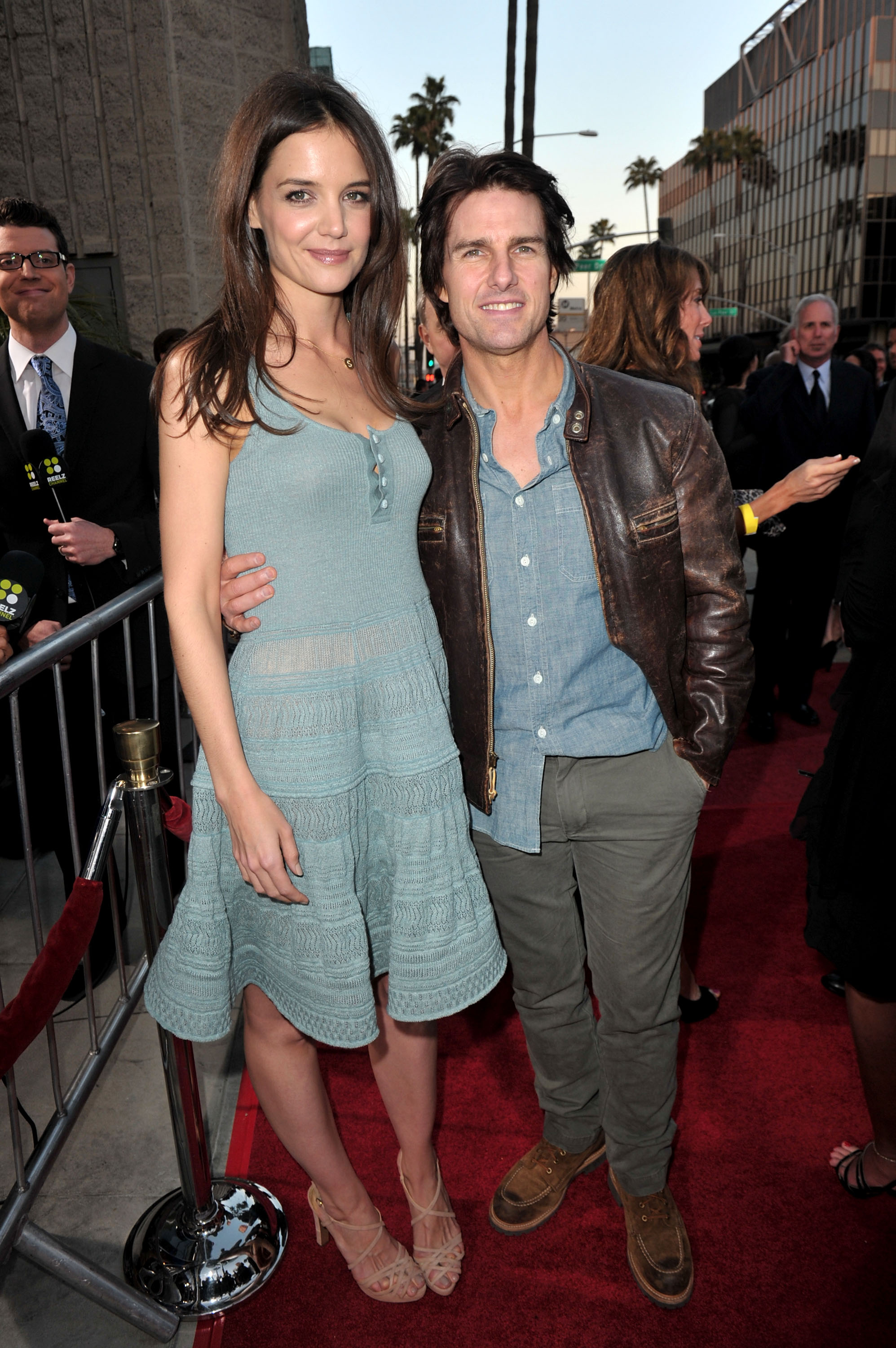 Katie Holmes and Tom Cruise arrive at The ReelzChannel World premiere of "The Kennedys" at AMPAS Samuel Goldwyn Theater on March 28, 2011 in Beverly Hills, California | Source: Getty Images
The church's rules prohibited Tom from maintaining a relationship with his daughter because she is not a Scientologist. A source commented on the situation, saying:
"That is his loss, his issue, his problem. He must really be brainwashed."
Leah Remini, a former Scientologist, once confirmed that Tom would view Suri as a "suppressive person" and believe that he should not be connected to her.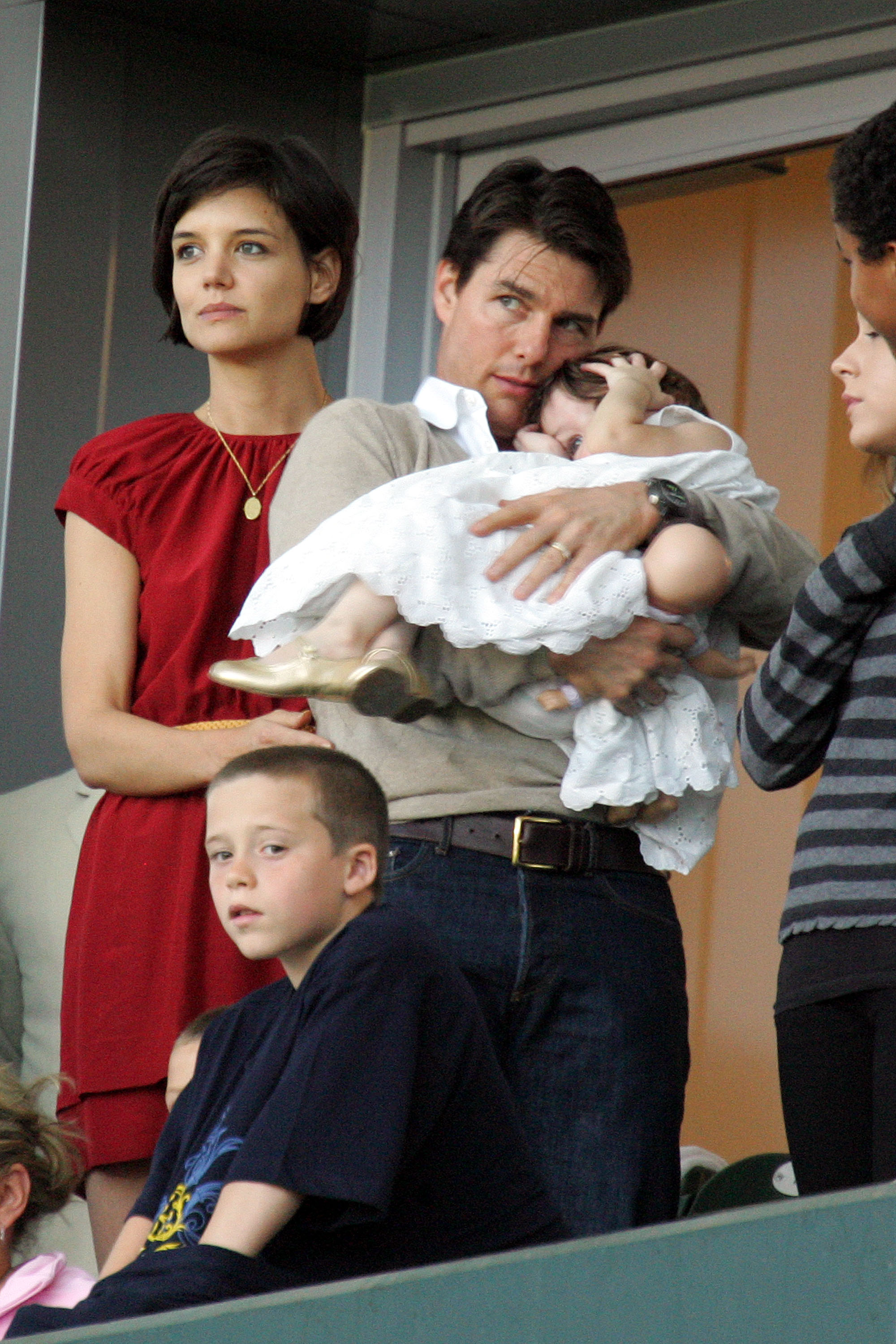 David Beckham's son Brooklyn Beckham (front), actors Tom Cruise and Katie Holmes, with their daughter Suri Cruise, watch the Major League Soccer match between New York Red Bulls and LA Galaxy at the Home Depot Center May 10, 2008 in Carson, California | Source: Getty Images
Despite the challenges, Suri's personal success remains unwavering. As she approaches her seventeenth birthday, she is preparing to attend college in New York, where she plans to study fashion.
Fans Can't Agree on Who Suri Resembles More between Her Parents
Katie Holmes and her daughter Suri have shared a close bond since Katie gained sole custody in the early 2000s. Fans have often noted their striking resemblance and similar style as Suri grows closer to her mother's height.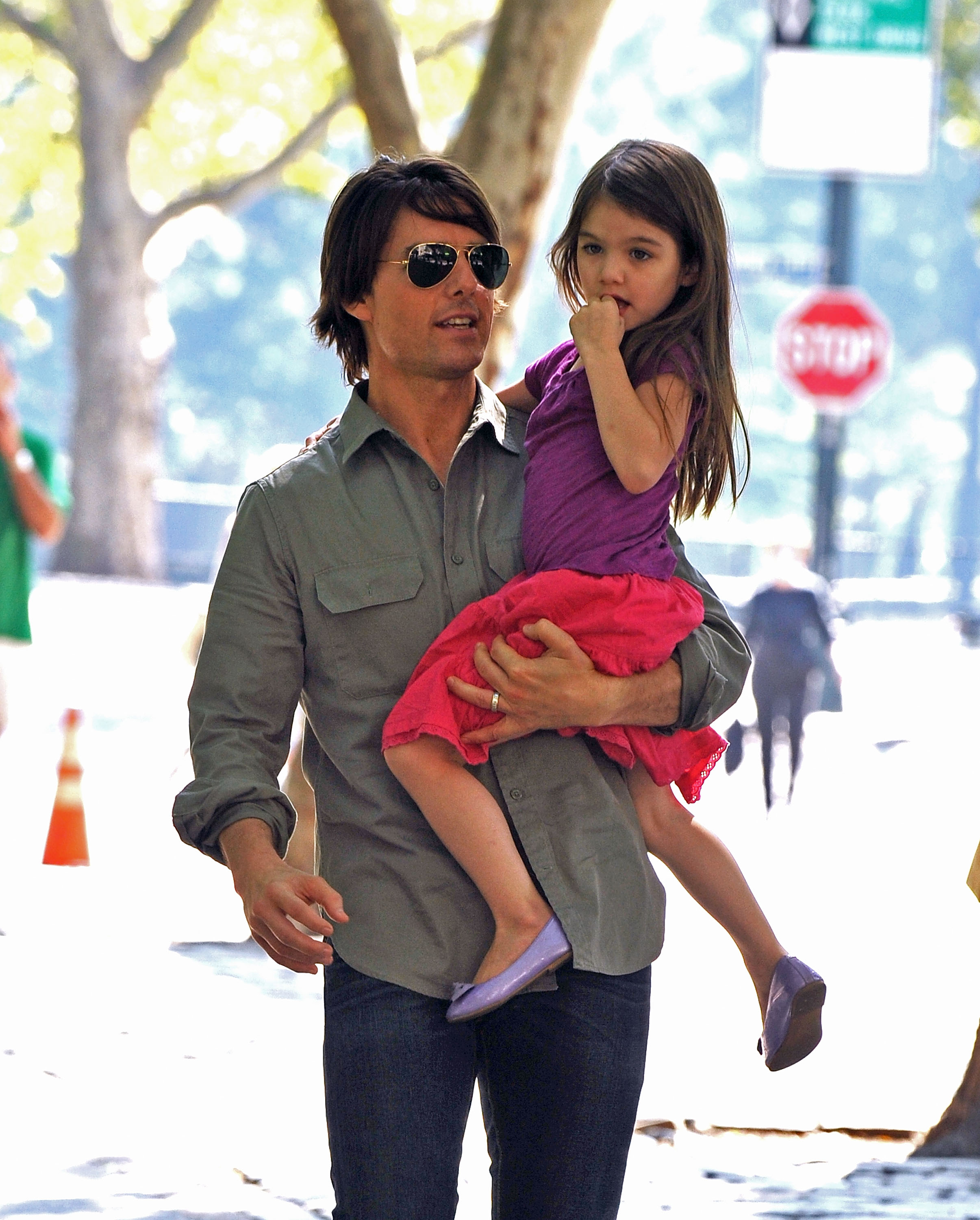 Tom Cruise and Suri Cruise visit a Central Park West playground on September 7, 2010 in New York City | Source: Getty Images
However, recent photos of the mother-daughter duo in New York in late March 2023 have sparked a debate among fans regarding who Suri resembles more.
As Katie and Suri were spotted together, some fans opined that Suri looked just like her mom, while others argued that she bore a stronger resemblance to her father, Tom Cruise. One fan even went so far as to call her Tom's "clone."

Comments left under a photo of Katie Holmes and Suri Cruise | Source: Instagram.com/hollywoodlife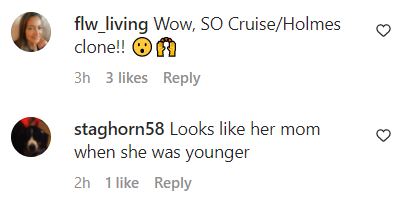 Comments left under a photo of Katie Holmes and Suri Cruise | Source: Instagram.com/hollywoodlife

Comments left under a photo of Katie Holmes and Suri Cruise | Source: Instagram.com/hollywoodlife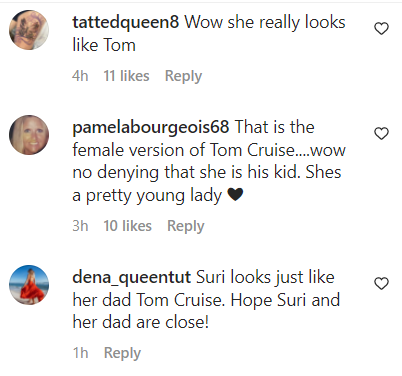 Comments left under a photo of Katie Holmes and Suri Cruise | Source: Instagram.com/hollywoodlife
In another photo featuring Katie and Suri, the teenager sported a casual outfit consisting of baggy jeans and a sweatshirt. This image prompted fans to reiterate how much she resembled her father and express disbelief that she hadn't seen him in many years.
Now grown up, Suri has displayed various talents that diverge from her parents' well-known acting abilities. Nonetheless, her creativity shines through, showcasing her unique path in life.
Suri Is Also an Entertainer
Although both of Suri Cruise's parents, Tom Cruise and Katie Holmes, are multi-award-winning actors, Suri has displayed a talent for music. Katie has requested that her daughter sing a cover of "Blue Moon" for the opening credits of her upcoming production "Alone Together."
The romantic comedy, written by Katie, is inspired by the quarantine period during the COVID-19 pandemic. Katie revealed that she asked Suri to contribute to the project because she believes her daughter is "very, very talented" and only accepts top talent for her work.
Additionally, Suri lent her vocal talents to her mother's 2021 film "Rare Objects." However, despite her involvement in high-profile Hollywood projects, Suri leads a relatively normal life focused on school and friends.
Katie, on the other hand, has shifted gears in her career and has pursued hobbies such as painting, writing, and sewing.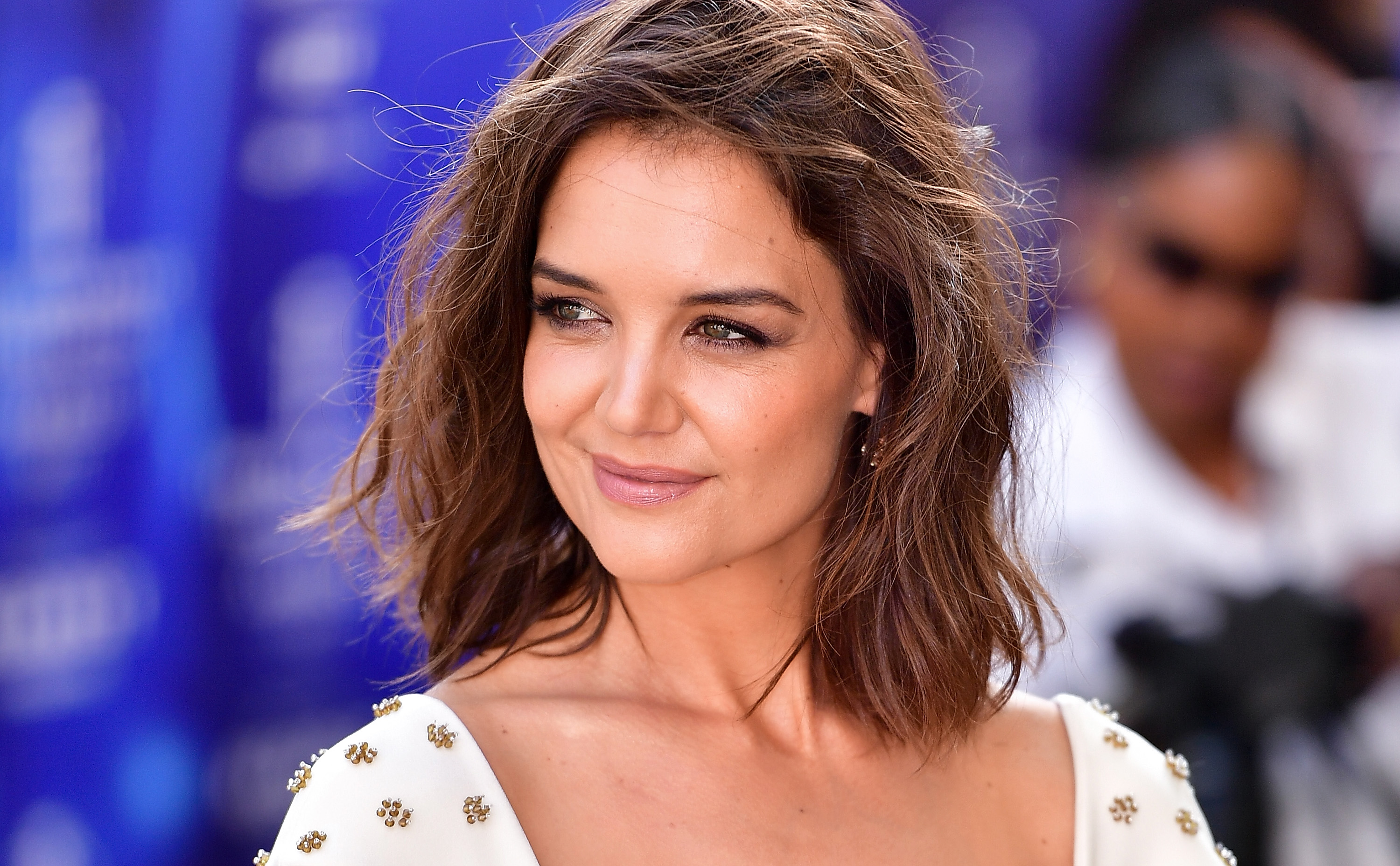 Katie Holmes arrives to the 2017 Fragrance Foundation Awards at Alice Tully Hall on June 14, 2017 in New York City | Source: Getty Images
She has also shared her passion for fashion with her daughter. Suri is currently in the process of submitting college applications, and although Katie would prefer her to stay in New York to remain close to each other, Suri is considering studying fashion in the city.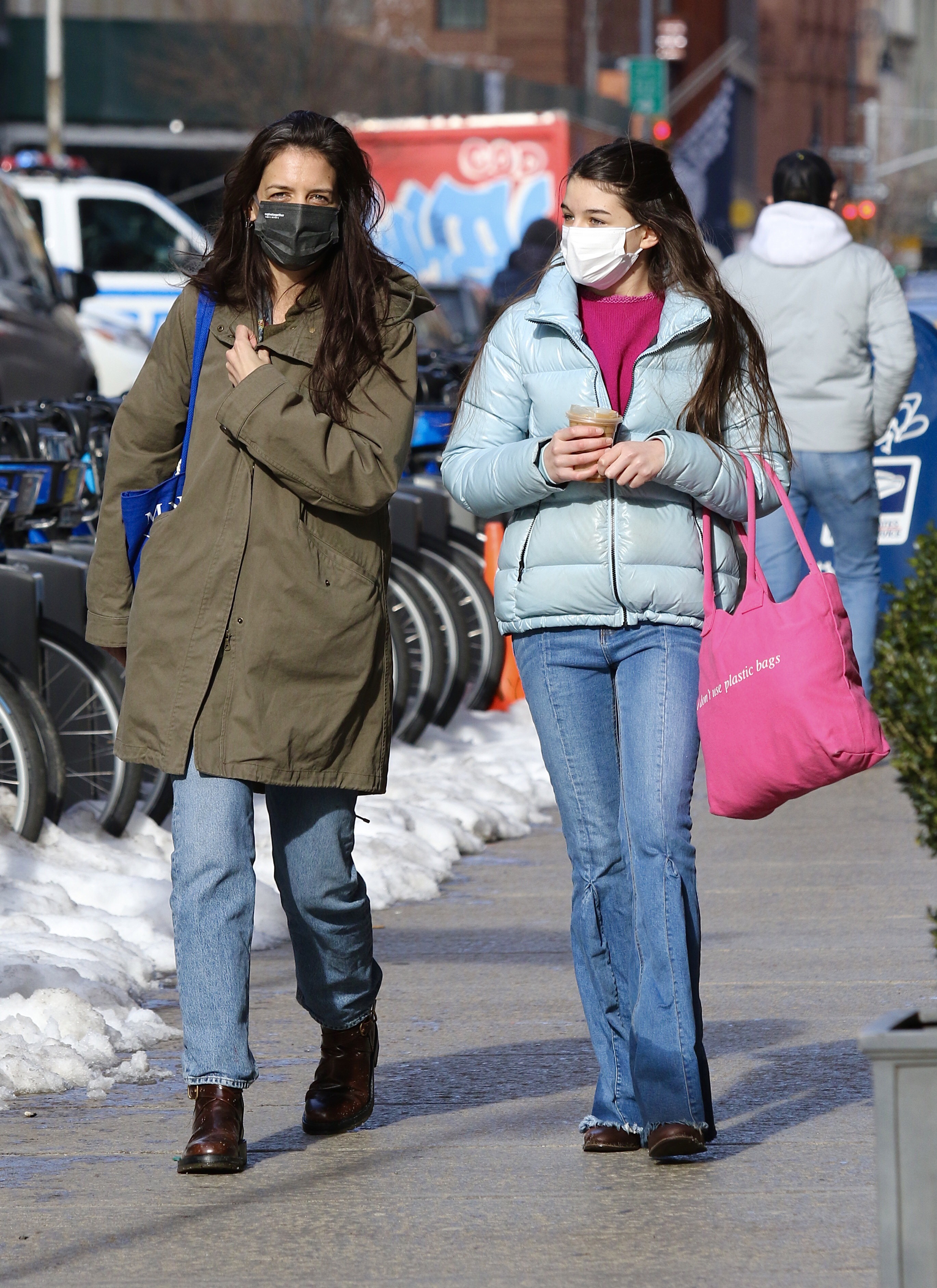 Katie Holmes and Suri Cruise out for a walk on February 6, 2021 in New York City, New York | Source: Getty Images
As Suri nears adulthood, she continues to develop her unique talents, demonstrating that she is carving out her own path separate from her parents' acting careers.