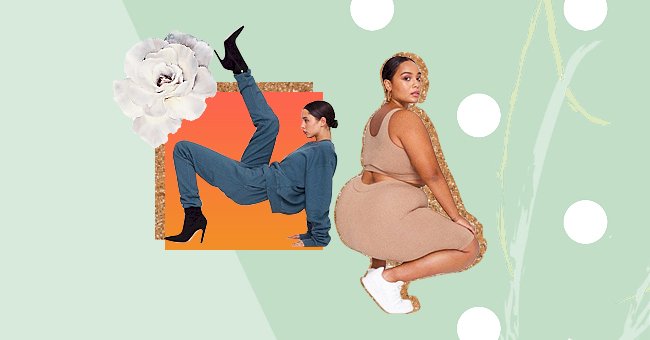 Good American Releases New Size Inclusive Shoe Line
Khloe Kardashian's Good American brand just launched a shoe line that is everything we ever needed. The inclusive clothing fashion label wants its customers to look hot from head to toe.
Good American all started with a few pairs of size-inclusive jeans in 2016. The Revenge Body host and her brand's co-founder Emma Grede created the line so that women of all shapes and sizes felt sexy in jeans.
A couple of years later, the brand has expanded into athletic wear, swimsuits, loungewear, and now shoes. Let's explore the Kardashian brainchild's new offering that guarantees cute shoes of all sizes.
The Icons
Good American announced their first shoe stylish and inclusive collection drop on December 3rd, 2020. The co-founder Emma Grede calls the first collection 'The Icons' as it includes women's staples.
Good American's new collection has a variety ranging from has different heels, slingbacks, sandals, flats, and boots. The inclusive brand's fans are incredibly excited about the boots as this is a challenging style for plus-sized women.
The Good American iconic boots collection includes ankle boots, knee length, and over the knee options. Many plus-sized women struggle with finding boots that fit well in all these lengths offered by Good American.
This brand's boot collection finally offers sizes that vary in width and circumference, so every woman has a fit. The entire collection also provides shoes from sizes 4 to 14, unlike most retailers that stop at 11 for women.
The Good Research
Good American has always been devoted to offering clothing that every woman will feel comfortable in. This means that the brand founders have had to do an extensive amount of research regarding their offering.
Emma Grede reveals that 30% of American women wear a size larger than 10.5 leaving them left out at several retailers. The average shoe size for women in the United States has risen from a seven closer to a 9.
"Each shoe in our collection is available in regular and extended widths around the foot, calves, and thighs, addressing fit from every angle to create more than 72 unique sizing variables,"

Says Khloe Kardashian
The Good American duo left no woman out when creating their new category. Emma and Khloe revealed that their models would regularly complain about the lack of inclusive footwear options, which inspired their line.
Other Interesting Additions
Good American is a brand dedicated to its customer's comfort, making it essential not to rush the shoe creation process. Both Grede and Kardashian spent time focussing on all aspects of their designs before launching.
The shoes are inclusive in sizing and cater to the everyday woman who needs extra support. Grede reveals that all shoes have an ultra-cushioned memory foam sole for maximum comfort.
All Good American shoes also have a wider back than standard shoes and arch support for all-day wear. The collection will grow in the future, but this is an impressive start to a life-changing option for many!