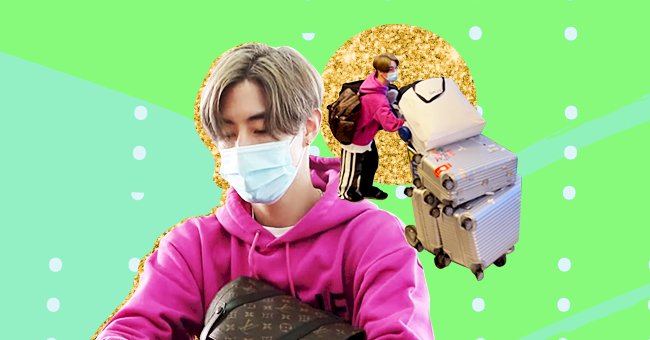 GOT7's Mark Tuan Returns To Los Angeles After Leaving JYP Entertainment
Mark Tuan moved across the world just a few weeks after leaving JYP Entertainment with GOT7. Rumors of his departure have been circling for weeks, and now Mark is finally back home in L.A.
Last month GOT7 announced that they wouldn't be renewing their contracts with JYP Entertainment. Their unanimous separation from the label sparked a few rumors about what was next for the group.
GOT7 assured fans that the group's separation from JYP Entertainment did not constitute a breakup. See the details behind Mark Tuan's brief departure to America and how his family reacted to his arrival.
Bon Voyage Mark!
Speculations about Mark's return to his hometown started brewing once GOT7 left their management. Reports alleged that the Los Angeles raised talent would move back home to be closer to family.
Although there have been no murmurings of a GOT7 split, Mark's move has made some fans nervous. Fortunately, the other members of GOT7 eased some of our concerns with their messages to Mark.
The boys showed that there was no bad blood indeed with sweet and hilarious posts on social media. BamBam and JB shared some special memories with Mark that also affirmed fans of their bond.
Although both Instagram posts from BamBam and JB were heartwarming, BamBam's tweet stood out. His post featured Mark's image in Korea for the first time, and his message wished him well on his travels.
Ready To Welcome Mark Home
Although it was sad for Mark's Korean family to see him go, his real family finally sees him again. Mark's father, Raymond, shared a snap of himself wearing a green GOT7 shirt that he said he'd to the airport.
Raymond later shared a fan illustration showing Mark reuniting with his family. The image is a continuation of one on BamBam's header, showing Mark saying goodbye to his GOT7 members.
Mark's brother Joey also took to Twitter to share his sentiments on his brother's return. He shared his gratitude for the strong and close bond that the last seven years of GOT7 afforded him and Mark.
Be Back Soon
Although Mark's friends and family have continuously shared about his travels, he hasn't said much. Thankfully the media outlets Star News and Dispatch bumped into the artist at Incheon International Airport.
Although the media interaction was from afar, a Star News reporter was able to speak to Mark briefly. Star News reports that when Mark was asked when he would be returning, he replied that he'd be back soon.
That wasn't the last we heard from Mark before he touched down in the United States. Tuan shared a selfie of himself while on the flight, and his caption told fans to stay healthy and happy until he returns.