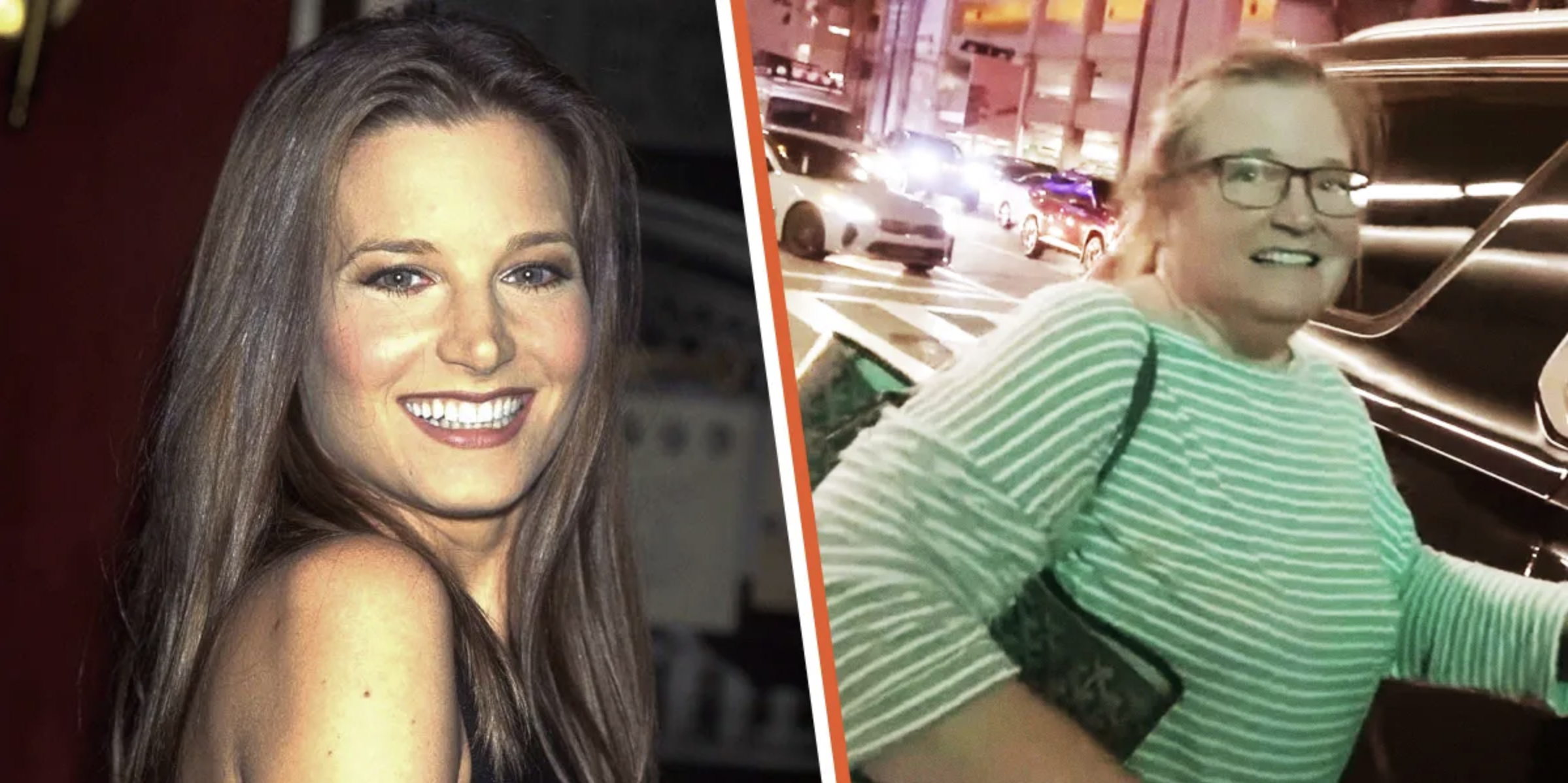 Bridget Fonda then and now | Source: Getty Images
Gray-Haired Bridget Fonda Ages with Grace as a Recluse - She's Seen with Son, 18, & Finally Sheds Light on Acting Return

Bridget Fonda stepped away from her acting career two decades ago due to a terrifying accident and her wish to concentrate on motherhood.
Hailing from a distinguished lineage of well-known celebrities, she is the granddaughter of Henry Fonda, daughter of Peter Fonda, and niece of Jane Fonda.
Recently seen with her son, Oliver Elfman, Fonda responded to inquiries regarding a potential return to the acting world.
Bridget Jane Fonda, a highly acclaimed actress in the 80s and 90s, was once a prominent figure in the film industry. However, in the early 2000s, she chose to bid farewell to her Hollywood career and step out of the limelight.
Since then, sightings of the former actress have been few and far between, as she opted for a more low-key and private lifestyle away from the glitz and glamour.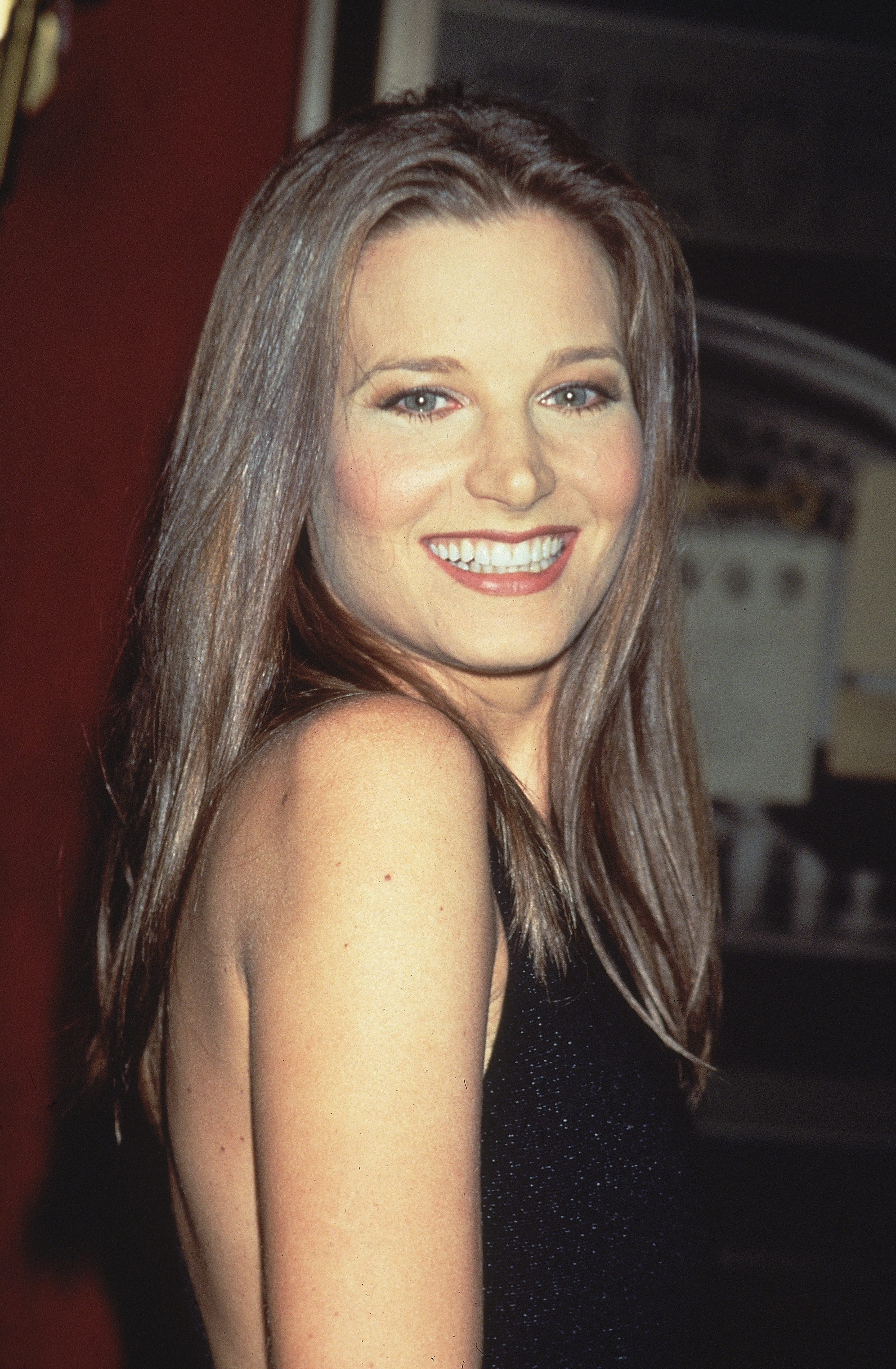 Headshot of American actor Bridget Fonda smiling while looking over her shoulder in a backless black dress in New York City | Source: Getty Images
Fonda, who belongs to the renowned Fonda family, was recently spotted in Los Angeles alongside her son, Oliver Elfman. The pair appeared at ease, casually dressed while running errands and conversing.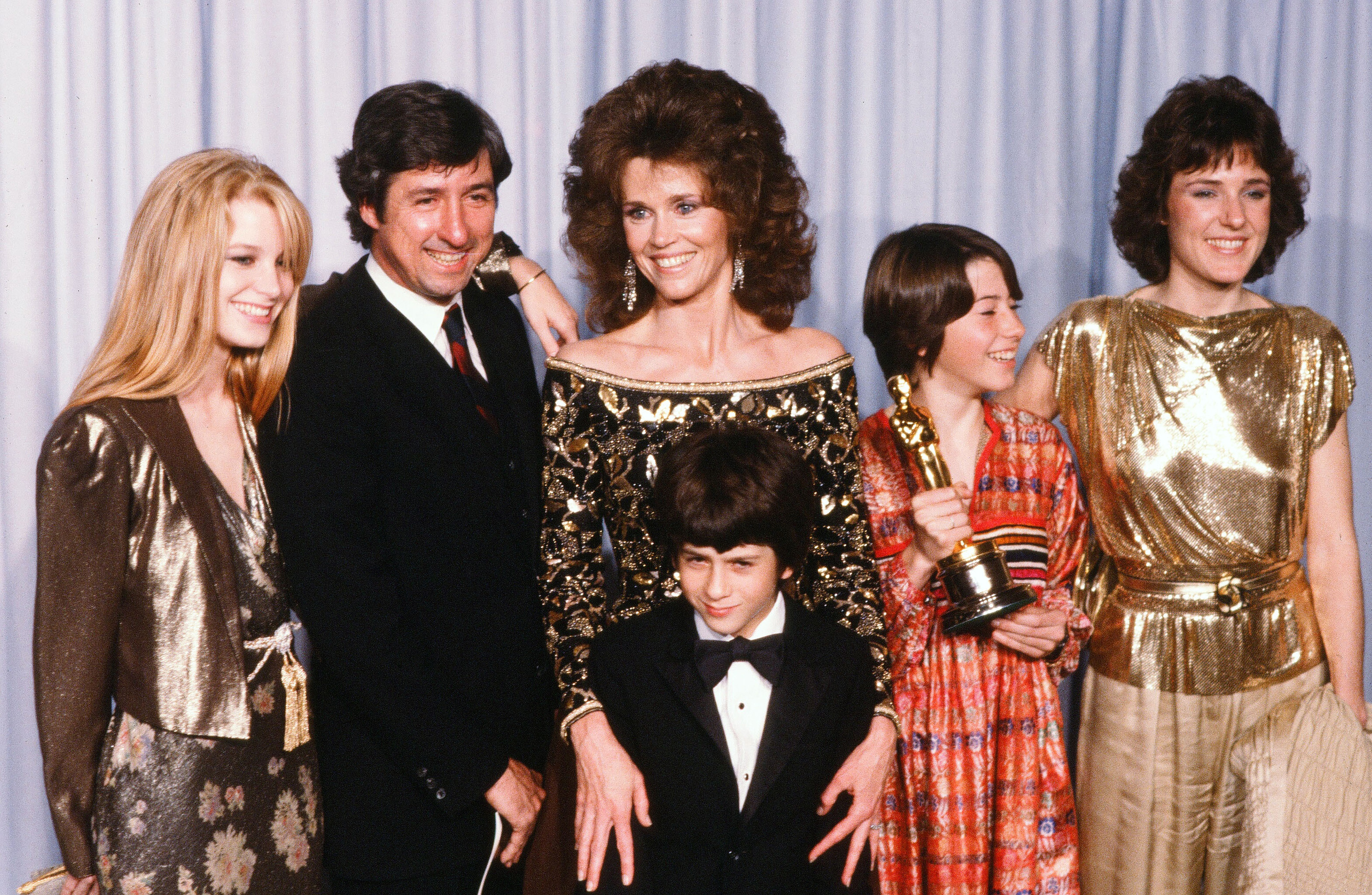 Actress Jane Fonda with husband Tom Hayden and family, Bridgette Fonda (L) ,Troy Garity, Vanessa Vadim and Amy Fonda (R) poses backstage after accepting her father Henry Fonda "Best Actor" award during the 54th Academy Awards at Dorothy Chandler Pavilion in Los Angeles. | Source: Getty Images
As she caught the attention of reporters, questions arose about the possibility of her returning to Hollywood. Having been absent from the big screen for nearly twenty years, Fonda commented about considering revisiting her decision to leave the industry.
Bridget Fonda and Nicolas Cage in a scene from the film 'It Could Happen To You', 1996. | Source: Getty Images
Bridget Fonda Retired from Acting 20 Years Ago
Once a staple of Hollywood glamour, Fonda demonstrated how much she has embraced her life away from the spotlight after not being seen in public for 12 years. Captured on her 58th birthday in 2022, Fonda appeared remarkably different from the persona she was once known for.
Opting for casual and comfortable attire rather than her signature red carpet ensembles, Fonda wore a white sweater, black pants, and navy blue sneakers. The "Jackie Brown" actress showcased her natural, makeup-free look while making rounds in Los Angeles.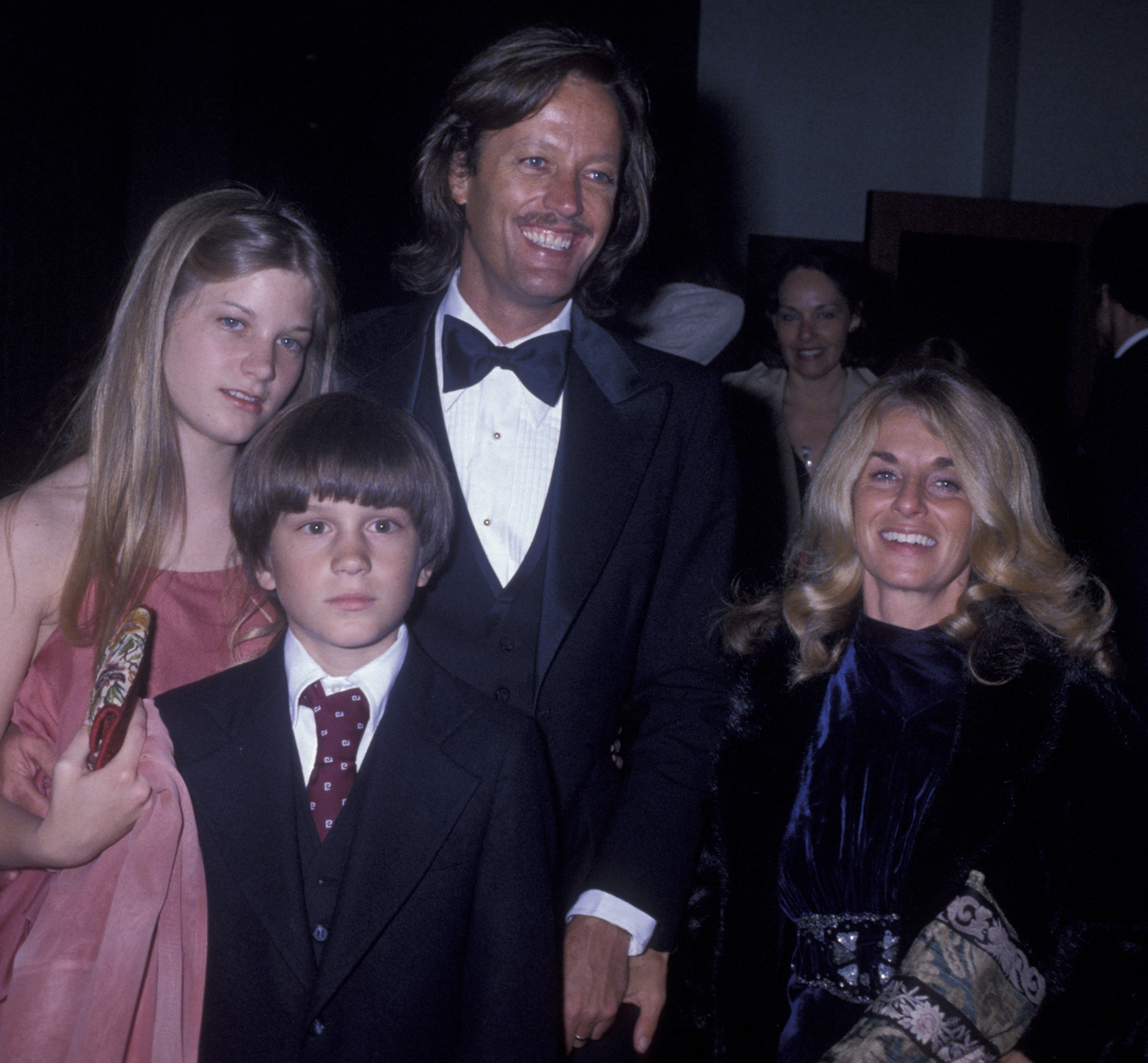 Peter Fonda, wife Portia Crockett, Bridget Fonda and Thomas Crockett attend Sixth Annual American Film Institute Lifetime Achievement Awards Honoring Henry Fonda on March 1, 1979 at the Beverly Hilton Hotel in Beverly Hills, California. | Source: Getty Images
Fonda comes from a long lineage of actors. Her grandfather, Oscar-winning actor Henry Fonda, passed away at 77 in 1982. Her father, Peter Fonda, left a lasting impression with his acting career before passing away in 2019 at 79. Her aunt, Jane Fonda, is an actress and fitness expert who celebrated her 85th birthday last December.
The 90s icon is remembered for her pivotal roles in films such as the 1990 classic "The Godfather: Part III," the 1992 thriller "Single White Female," and the 1993 movies "Point of No Return" and "Singles."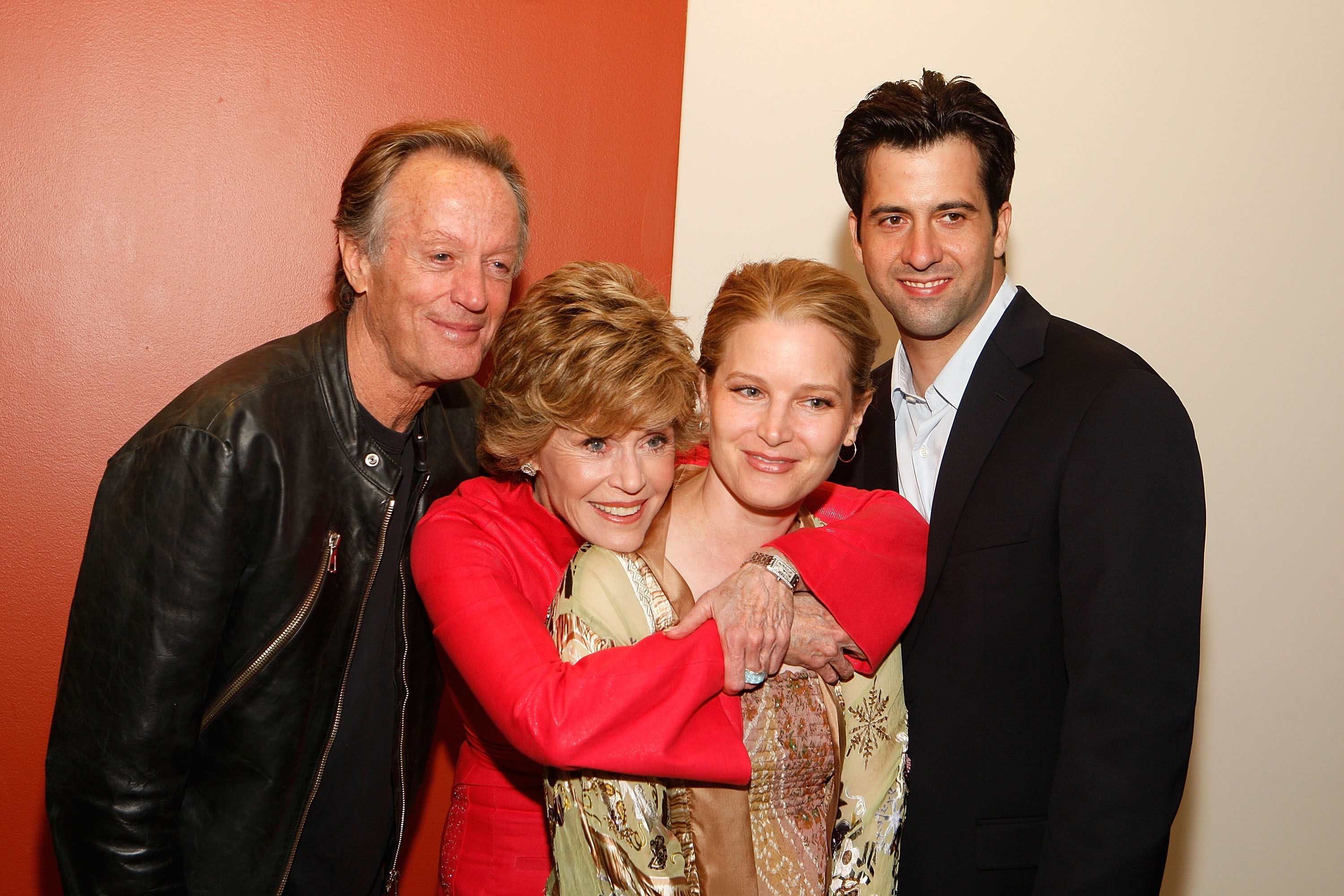 Peter Fonda, Jane Fonda, Bridget Fonda and Troy Garity pose for a family portrait inside the "Three Generations of Fonda on Film" benefit at the Woodruff Arts Center on May 13, 2008 in Atlanta, Georgia. | Source: Getty Images
Fonda also appeared in the 1994 romantic comedy "It Could Happen to You" and the 1997 crime film "Jackie Brown." Her last acting role was in the 2002 television film "Snow Queen," after which she stepped back from Hollywood.
Fonda graduated from New York University in 1986 and attended the Lee Strasberg Theatre Institute. Her life took a dramatic turn in February 2003 when she experienced a horrific car accident on the Pacific Coast Highway.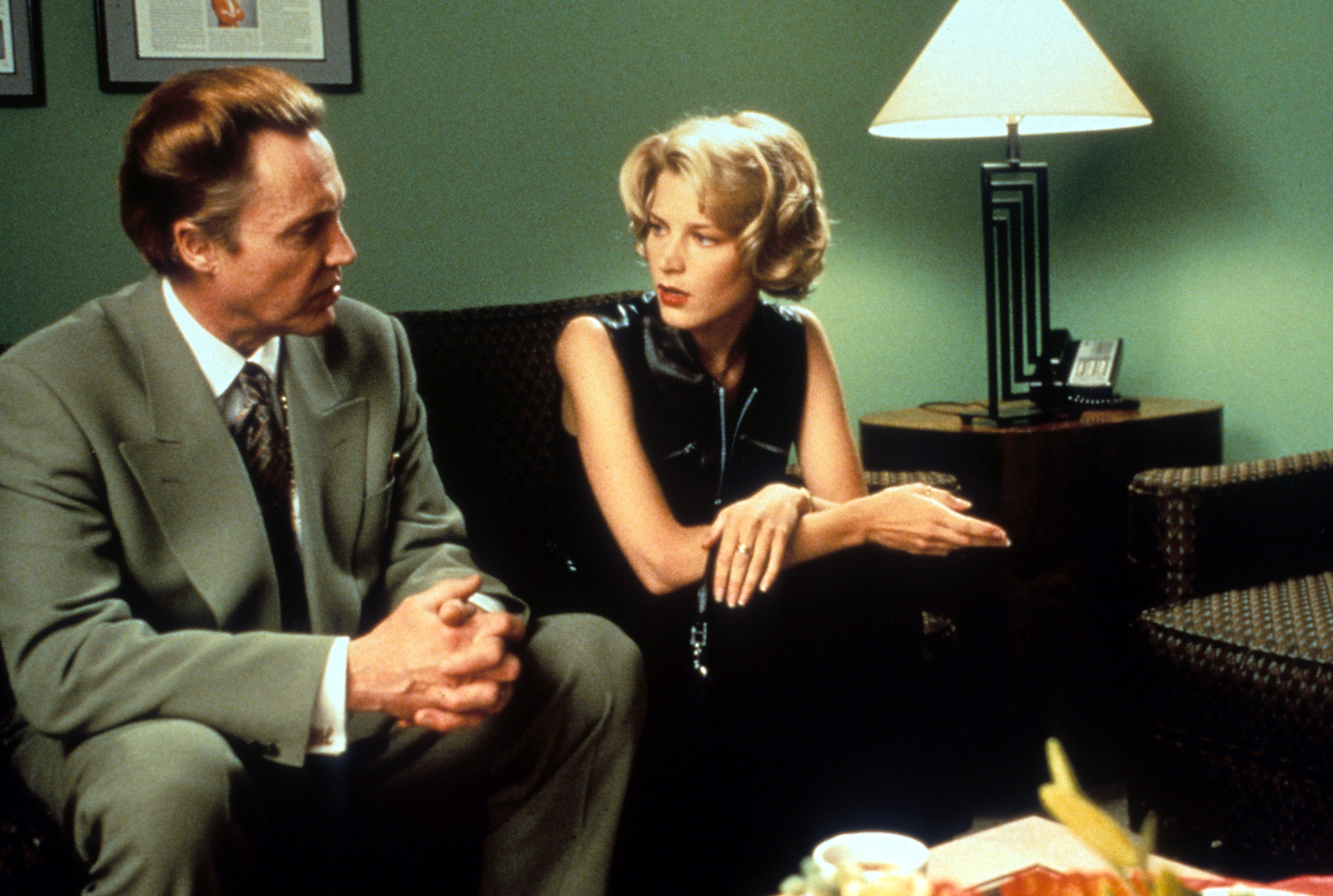 Christopher Walken sits with Bridget Fonda in a scene from the film 'Touch', 1997. | Source: Getty Images
After losing control of her vehicle, it rolled over an embankment and fell downhill. Fonda's survival was attributed to her wearing a seat belt during the accident.
Following the near-fatal crash, Fonda sustained a severe back injury. While recovering, she reportedly reassessed her priorities. The combination of the "Lake Placid" actress's car accident and the birth of her son ultimately led her to leave the acting world and focus on motherhood.
Bridget Fonda Is Happily Married to Danny Elfman
Fonda tied the knot with renowned musician Danny Elfman in 2003. He was born in May 1953 in Los Angeles and comes from a family with Polish-Jewish and Russian-Jewish roots. Elfman launched to stardom as a member of the band "Oingo Boingo."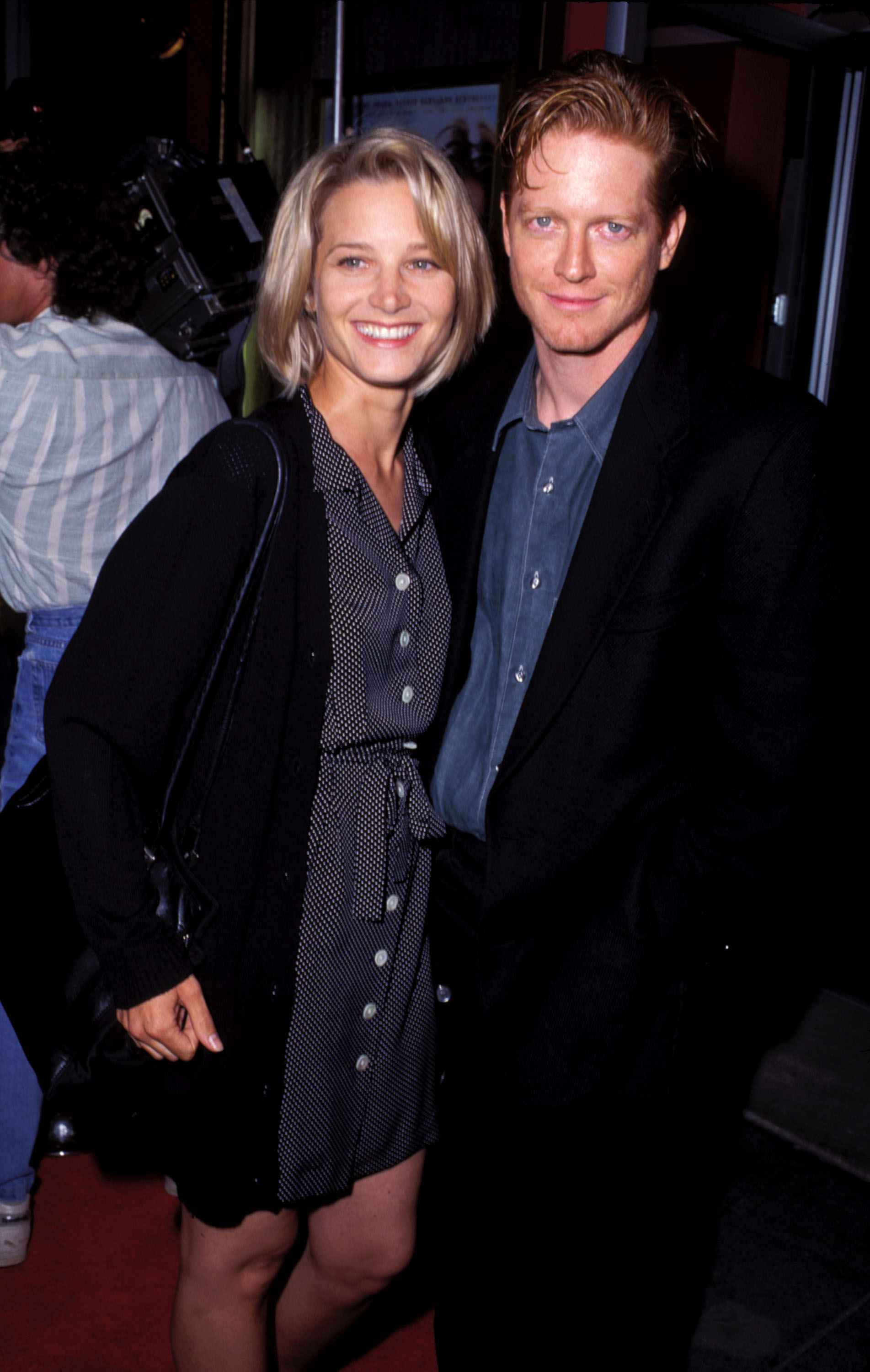 Bridget Fonda and Eric Stoltz | Source: Getty Images
Elfman transitioned into film composition when he was invited to work on the 1985 movie, "Pee-wee's Big Adventure."
Throughout his career, he has received four Oscar nominations, won two Emmys and a Grammy, and was honored with a Disney Legend Award in 2015. His extensive work includes music for the "Fifty Shades" trilogy and "Men in Black."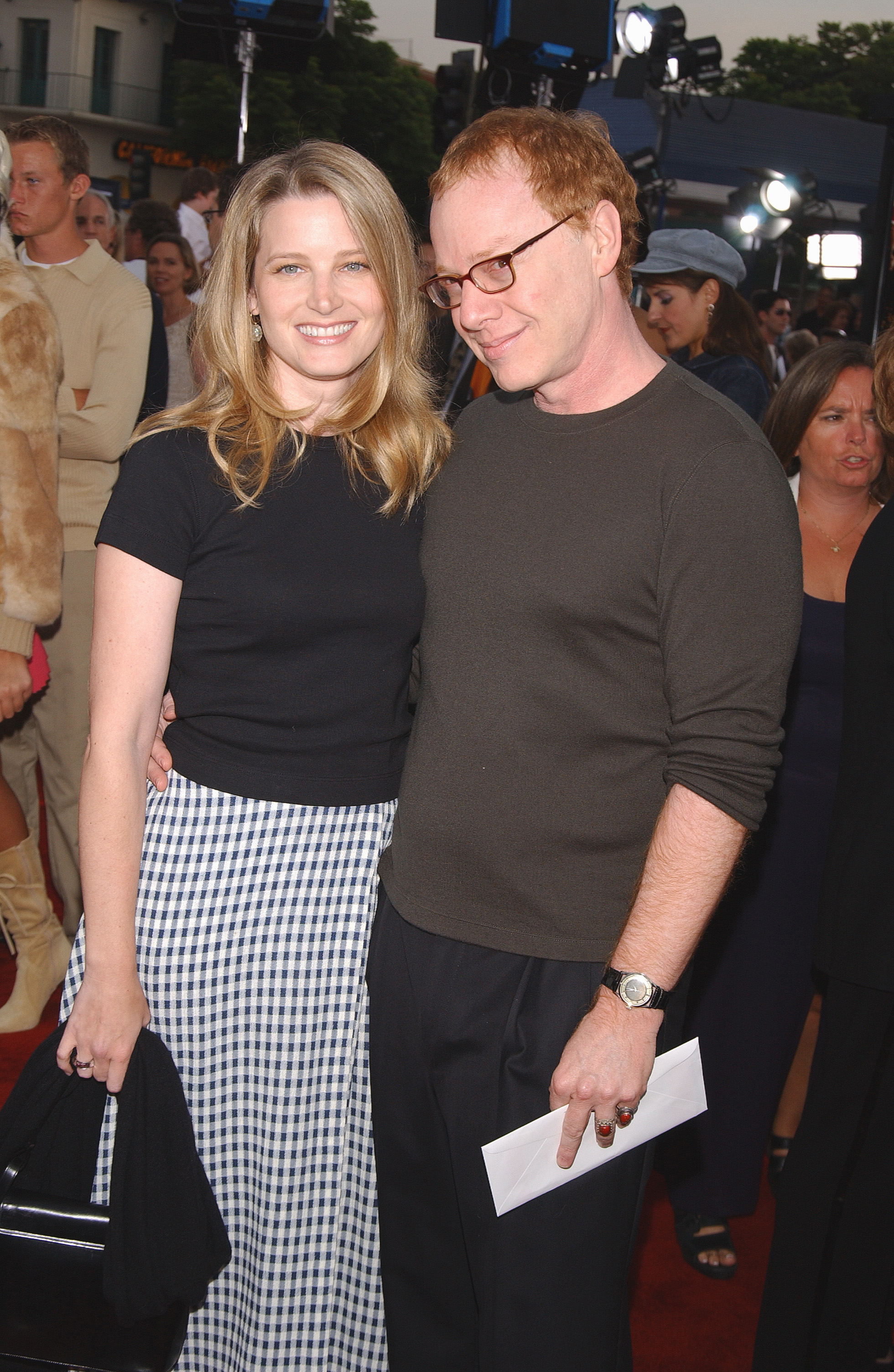 Bridget Fonda and Danny Elfman arriving at the premiere of "Seabiscuit." | Source: Getty Images
Despite their connections to Hollywood, Fonda and Elfman prefer to maintain their privacy and live a quiet life away from the limelight. The couple eventually sold their two Los Angeles homes to move to the countryside in pursuit of a more peaceful lifestyle.
The decision to sell their properties came after the coronavirus pandemic impacted the world. Together, Fonda and Elfman have one son, Oliver, born in 2005, who also prefers to stay out of the public eye.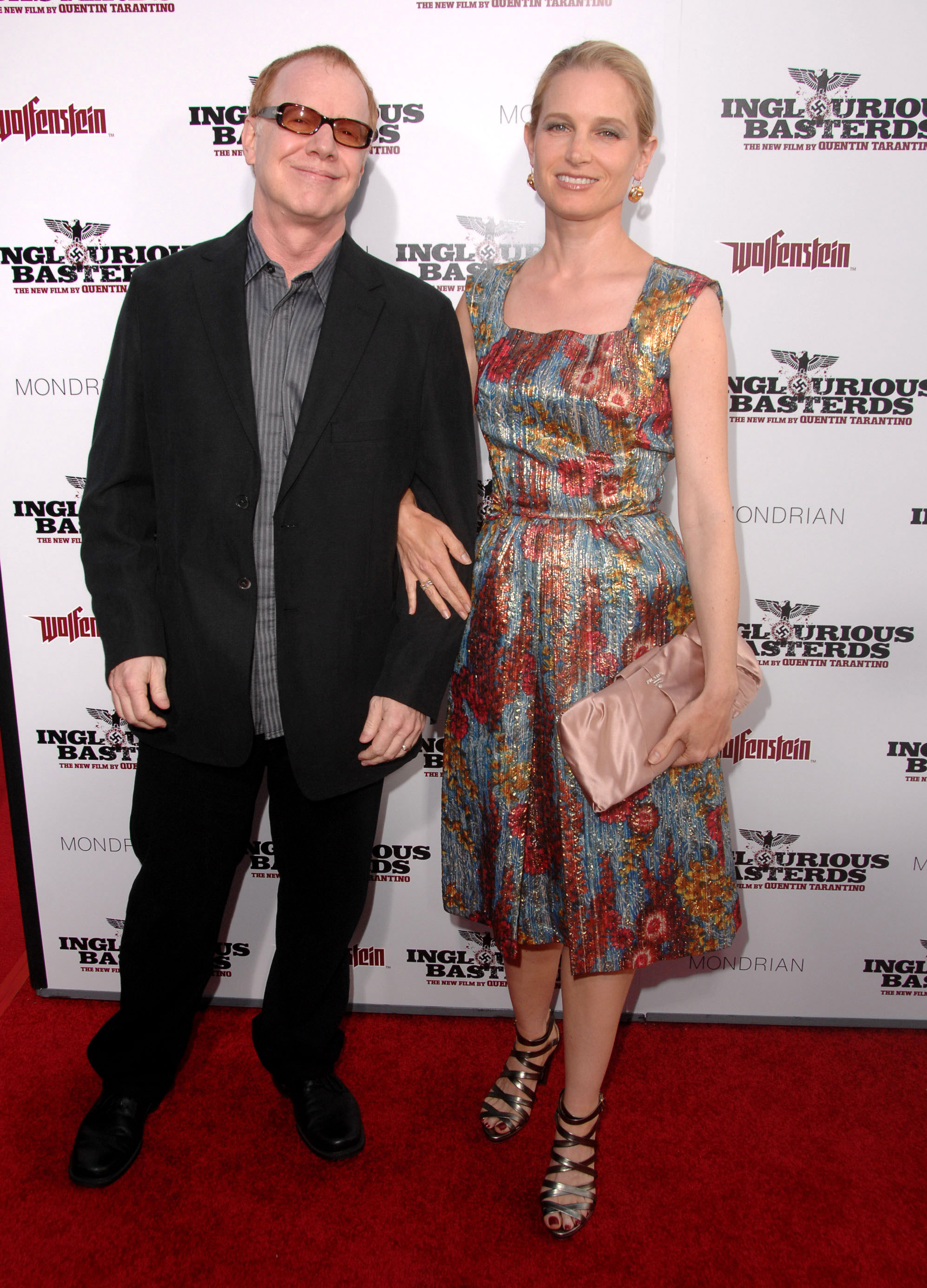 Danny Elfman and Bridget Fonda arrive at the Los Angeles premiere of "Inglourious Basterds" at Grauman's Chinese Theatre on August 10, 2009 in Hollywood, California. | Source: Getty Images
Before meeting and marrying Elfman, Fonda was in a long-term relationship with actor Eric Stoltz, which lasted nearly seven years before their split in 1998. She then dated musician Dwight Yoakam from 1999 to 2002.
Today, Fonda and Elfman reside with their son, Oliver, in two neighboring properties in San Fernando Valley, which they purchased in 2021. The family also owns a ranch in Santa Barbara, further reflecting their preference for a tranquil and private life.
Bridget Fonda Addressed Questions Regarding a Potential Return to Acting While Out with Her Son
Recently, Fonda, was spotted at Los Angeles Airport with her son Oliver. She sported a casual look, her gray hair pulled back into a ponytail and reading glasses on, with no makeup for the evening. She carried her phone in one hand and her suitcase in the other, following her 18-year-old son through the airport.
Fonda appeared comfortable in a striped grey top and black pants, while Oliver wore a blue shirt, plaid pants, and a backpack. When asked by a reporter if she had plans to return to Hollywood, Fonda firmly responded, "No."
When questioned about the possibility of changing her mind, she reiterated her stance and mentioned that she is enjoying her life away from the spotlight.
The former actress also addressed whether any director or producer could sway her decision, to which she again replied, "No." Fans expressed their surprise upon seeing photos of Fonda's transformed appearance on social media.
Some users praised Fonda for her natural beauty and for not succumbing to societal pressures. One comment read, "She's growing older gracefully. Not like those other Plastic Bots. Good for you Bridget. Go girl [sic]!"
Another user expressed disbelief, stating, "I SIMPLY DON'T BELIEVE THAT'S BRIDGET FONDA," while another commenter added, "This is heartbreaking." One person also noted that Fonda looked just as stunning as she did 20 years ago.
Another supporter defended Fonda, asserting that she should not be criticized for her weight gain if she is content with her life.