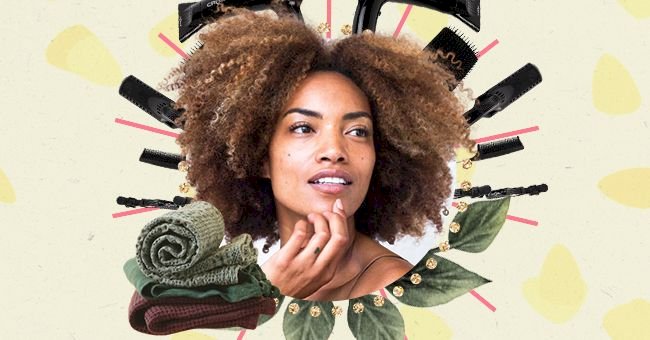 Hair Steaming: Overhyped Or Worth Trying
If you have coiled or curly textured hair, you know the struggle of trying to keep it hydrated while still trying to keep it cute and as healthy as possible.
You have probably learned tricks from your mothers and grandmothers and curly girls like yourself and tried them all. Some are miracle answers, and others are simply a waste of your time.
WomanlyLive is bringing you a new trick to keep your locks growing healthy and moisturized while promoting a healthy scalp. Not only will it help you achieve the long and beautiful locks you've always wanted, but it's a new type of self-care to indulge in.
Hair steaming has been used for many years as a hair treatment for curly or coiled textured hair. It is the process of adding oils that are rich in fatty acids, such as avocado or shea butter, to the hair.
The hair can then be tied up or left down, and the head is placed inside a machine akin to those that your grandma used to sit under when she got her perms back in the day. This machine releases steam which slowly and gently opens up the hair follicle, allowing the product placed on the hair to penetrate deeper into the scalp and hair cuticle.
Your steaming experience will depend on your hair texture. Steaming can last anywhere from 30 minutes to a full hour and a half, depending on how much moisture your hair needs. If your hair is relatively healthy and moisturized already, you can probably get away with a 10-20 minute steam.
It's important to remember that your scalp should never feel uncomfortable or irritated while your hair is steaming. This can mean that either your scalp doesn't agree with the oil you're using, or the steam is too hot.
There are not only benefits of steaming for your hair but also for your scalp too. Dandruff and other scalp-related ailments can be aided by steaming your hair because of the moisturizing aspect.
Your hair will benefit in that the follicle will be stimulated - which means growth will happen faster - your curls can be elongated, and if you repeatedly steam your hair, curl shrinkage will decrease over time.
Once you have steamed your hair, you should continue providing moisture to it. An excellent way to do this is to invest in the perfect dry styling oil, which you should apply to the hair's ends. Avoid the roots when you do this, as your hair can get greasy faster when you use oil to the roots.
You should also minimize the amount of heat applied directly to your hair in the form of things like curling tongs, hair straighteners, or hair dryers. These can all strip the hair of moisture. If you need to apply heat to the hair, make sure you have a good heat protection spray to apply to the hair before applying heat.
Any person, from those with limp and straight hair to those with tight, voluminous curls, can get their hair steamed. It will benefit every hair type and texture because every kind of hair and every scalp needs moisture.
You will most likely see the most dramatic difference if your hair was extremely dry, to begin with, but even those with reasonably hydrated locks will notice the difference in their hair and scalp health after this treatment.