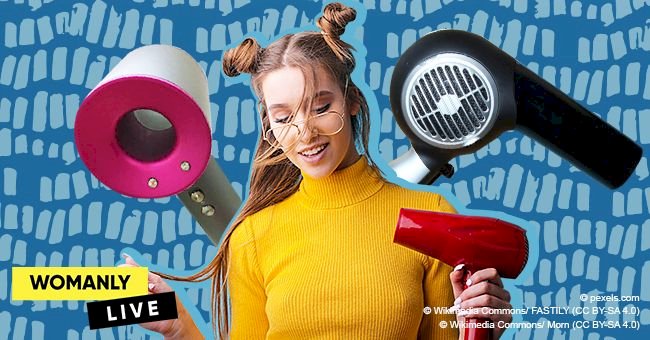 Hairdryers That Promise Professional Results
Hairstyling is an essential step in grooming. Gone are the days when hair care was just about the shampoo and conditioner. The type of hair dryer you use is equally important.
What makes a hairdryer great? There are various factors you can determine the perfect hair dryer for your hair. For curly hair, the best type is the hairdryer attached with a diffuser, however, for thick, long hair, a hairdryer attached with concentrators are the best.
It's better to choose a hairdryer with your hair texture in mind. Below is the list of five hairdryers, perfect for various hair types that promise professional results:
1. Revlon One-Step Hair Dryer And Volumizer Original
This hairdryer is a game-changer and is suitable for all hair types. It takes less time to dry hair because of its in-built ion generator and is easy to use. Not to be used in soaking wet hair, this hairdryer has smooth bristles that don't harm the roots.
It has an oval shape that allows two different brushes to work together at the same time. The longer and flatter side straightens the hair while the rounded corner lifts the hair and gives a bouncy look.
2. Instyler Turbo Max Ionic Dryer
This hair dryer makes use of ions and helps dry hair faster while making them glossy and smooth. It has a customizable heat level and is light in weight. The dryer is a good option if you spend a lot of time drying hair as it does not make the hair frizzy.
3. Dyson Supersonic Hairdryer
With a unique design, this one has the strongest airflow compared to other hairdryers. All the dryer attachments nozzles and diffusers are magnetic, making the attaching and detaching process simpler.
The fingers don't get burned as the dryer doesn't overheat. Its three heat, and three airflow settings, thus, enabling you to have full touch-ups to full blowouts.
4. Deva Curl Hairdryer And Devafuser
This one hairdryer is a must-have for curly-haired people because it reduces frizz and makes hair look glossy and healthy.
The dryer is ionic, ensuring the fast drying of hair. The innovative finger shape of the diffuser attachment easily reaches the roots of the hair.
5. Bio ionic 10x Ultralight Speed Dryer
If you're tired of holding heavy hairdryers and want to give your wrist a break, this is for you. The Bio ionic dries hair quickly while giving it a salon finish.
The best part of this dryer is that it is very durable and comes with a ten year warranty. This dryer is a suitable choice for thick and frizzy hair.