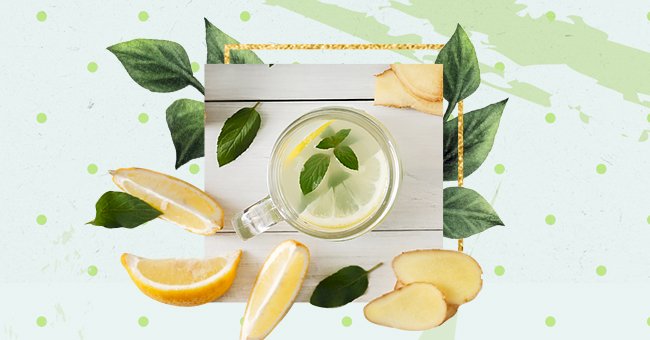 Infused Water Recipes That Promise To Help Reduce Bloating
You are what you eat, but don't forget what you drink too! It gets difficult to see results on your weight loss journey, especially when you're bloated, but infusing your water can help reduce the appearance of bloat.
Infused water isn't just something we use to make our water look fancier or to taste better. Using the right ingredients can help your body get rid of toxins that could be causing your bloat!
Without adding unnatural chemicals to your diet, these simple additions can give your water flavor and help you combat that nasty bloat. So if you want to make your water intake a more pleasurable time, get your recipe books ready!
1. Cucumber, Lemon, And Mint Water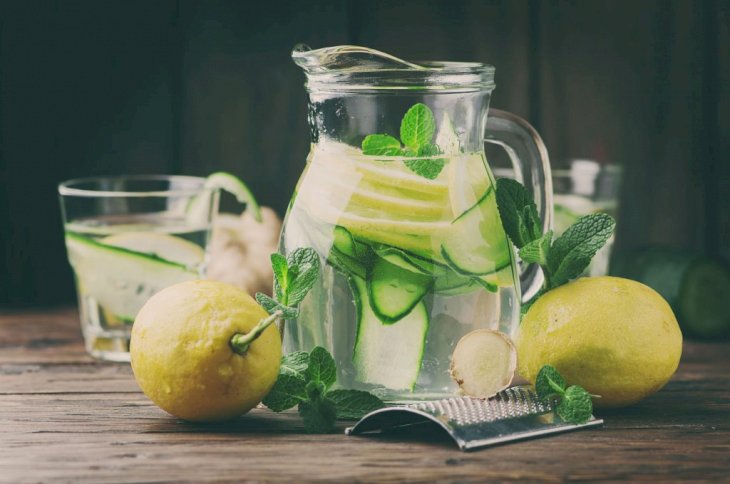 Shutterstock
This combination is supposed to help energize you and provide your body with antioxidants. It doesn't only have a refreshing taste but can help with digestion and inflammation!
Slice half a cucumber and one lemon and add it to a jug with a few sprigs of mint, fill it up with water and let it infuse overnight. You might enjoy having water with a different taste, and if you're missing your soda, this should help curb the craving!
2. Ginger Mint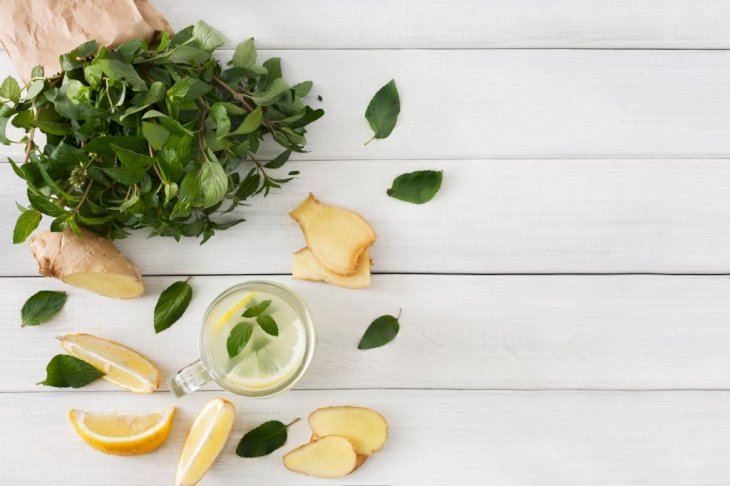 Shutterstock
Ginger has many great qualities; it can help strengthen your immune system and aid in digestion and inflammation. If you suffer from nausea in the morning, drinking this infusion may keep you from gagging at the sight of food!
You'll need a thinly sliced cucumber, two inches of ginger root peeled and grated, two lemon wedges, about twelve mint leaves, and a pinch of Himalayan salt. If you don't want to grate the ginger, you can also finely chop it as long as it's finely sliced; it can infuse well!
3. Watermelon Mint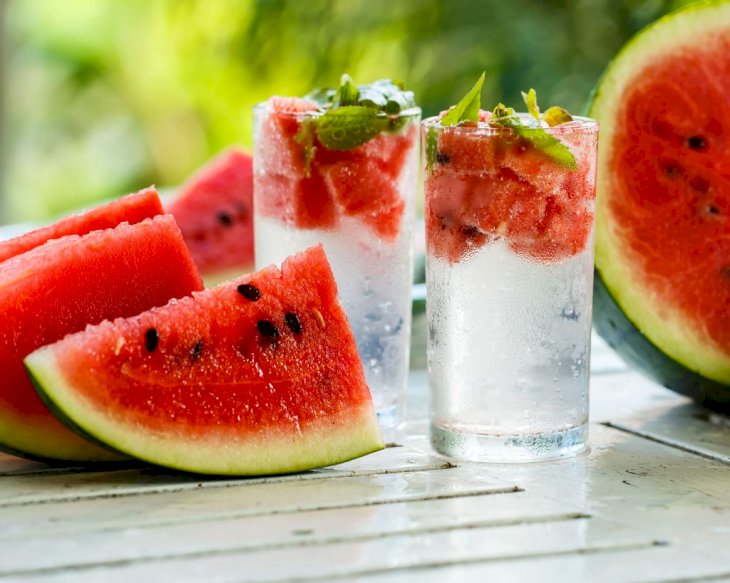 Shutterstock
Watermelon is a summer favorite! It's great as an evening dessert and best when served chilled. But what can it do when you infuse it in water?
Watermelon has minerals that help our kidneys filter out toxins. So cube a cupful of watermelon, grab a handful of mint and put it in a jug of water, and enjoy this summer infusion.
4. Frozen Berries And Lemon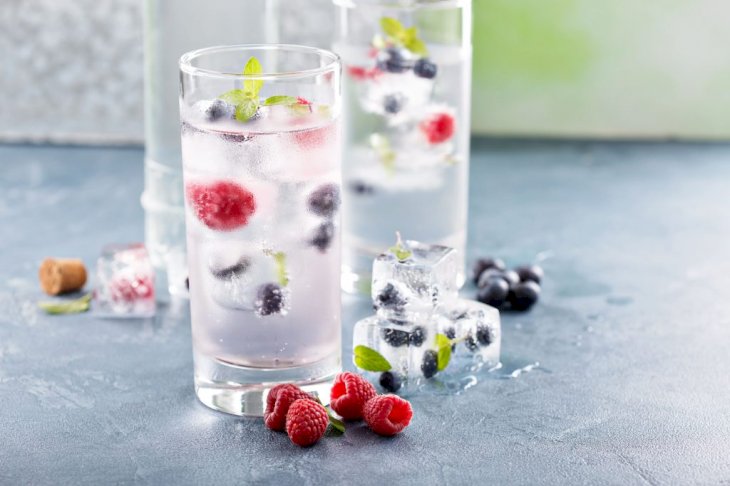 Shutterstock
If you're a fan of cocktails or simply love berries, you have to try this easy and chilled infusion! It helps with digestion, and berries are a fantastic superfood loaded with antioxidants!
Having the berries frozen keeps your water nice and chilled and gives it a cool cocktail effect! When you're done, you'll have some tasty berries to snack on.
5. Strawberry And Basil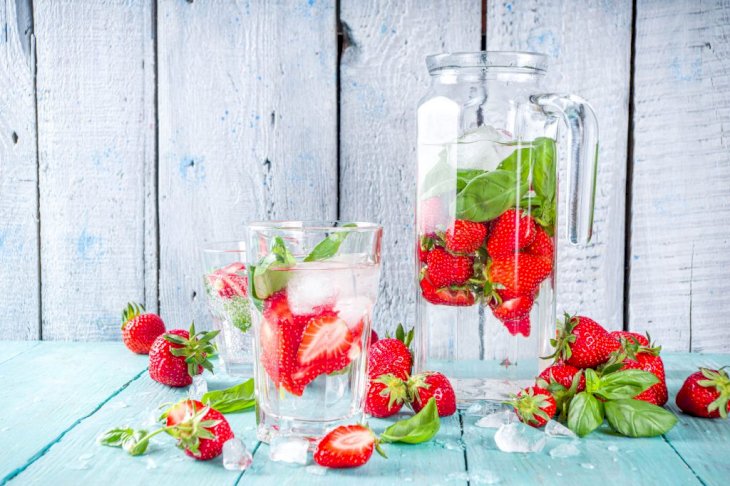 Shutterstock
Infusing a jug of water overnight with eight strawberries, three lemon wedges, the juice of half a lemon, and a handful of basil is sure to help you beat the belly bloat! It's also loaded with antioxidants that can help your body flush out toxins.
6. Mango, Lemon, And Pineapple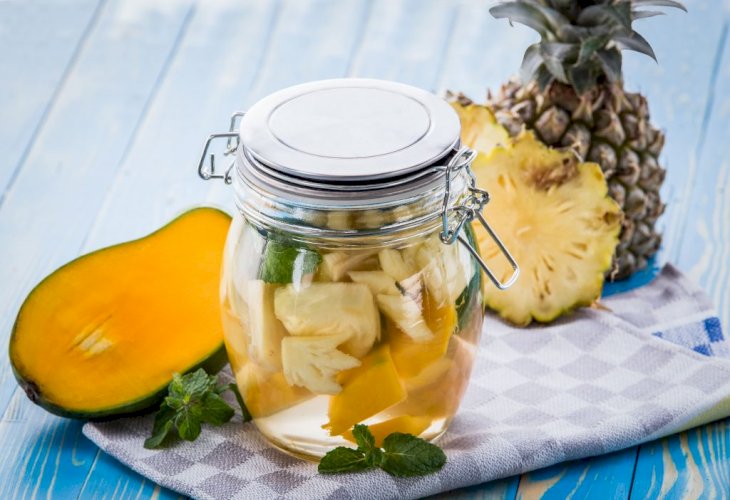 Shutterstock
A tasty summer fruit combo that can help you beat the bloat! Infuse a jug of water with half a cup of cubed mangoes and pineapple and four lemon slices and let it sit overnight.
In the morning, you'll have a summer-infused water that will have you feeling as if you're at the beach in the Caribbean! All you need now is a ticket!