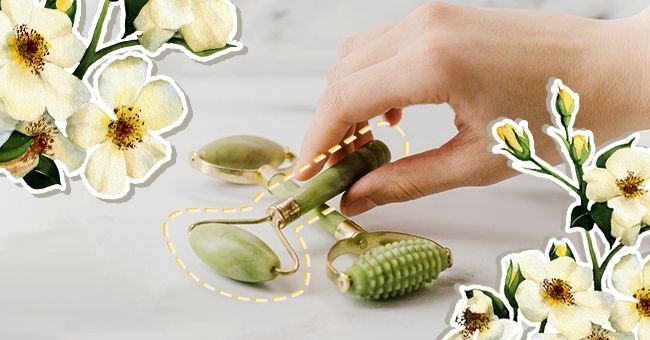 Jade Rollers: Overhyped or Skincare Must-Have
Cutting edge skincare innovations have a tendency to set the industry abuzz. However, some ancient facial tools are known to regularly regain popularity and send beauty lovers into a frenzy again.
Traditional Chinese derma rollers are the recent ancient tools to see a surge in popularity. Often made of jade and other gemstones like rose quartz and amethyst, these tools are championed as miracle workers.
What Is A Jade Roller?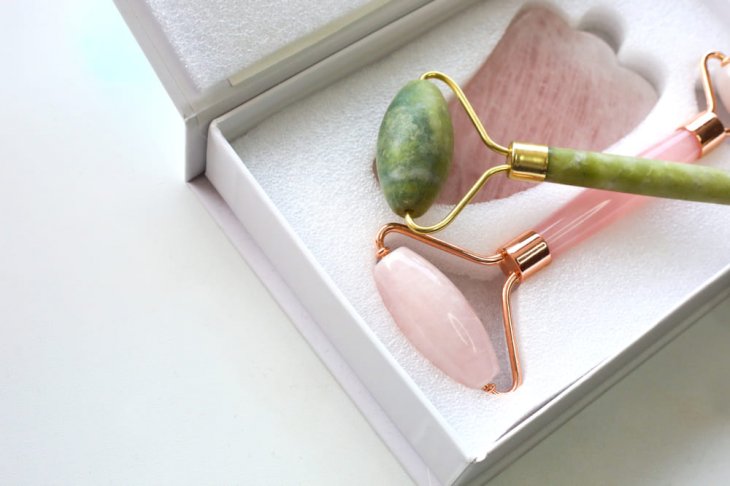 Shutterstock
A derma roller is a beauty tool made of jade or other stones. It is used for face massage. The tool, like the Gua Sha, has been used as far back as seventh-century China.
Crystals have been used in skincare for thousands of years. Beyond their aesthetic appeal, crystals also offer the benefit of being cold to the touch especially when stored in the fridge and their longevity compared to other skincare products.
How Do Jade Rollers Work?
A jade roller is used on the face, neck, and eyes for a lymphatic facial massage after applying serums or oils to give the skin some slip. To get the best out of your roller, it is important to understand the techniques needed to use the roller. Start at the center of your chin and roll outwards in an upward motion to your ear.
Then roll the tool up to the side of your mouth and repeat. Then start at the side of the nose. and roll gently under your eye toward your temple. Repeat the motion over your eyelid before moving on to your forehead. Here you will roll it from your brow to your hairline then horizontally out toward your temple. Repeat the entire process on the other side of your face.
Rise In Popularity
In recent years, rollers especially jade rollers have gained popularity due to multiple reasons. One of the main factors has been social media since 2017 when they became extremely popular on Pinterest and Instagram.
Many influencers and celebrities like Victoria Beckham have actively shared their love for the product. In fact, WWD revealed that an Amazon jade roller that Marianna Hewitt linked via an affiliate link was her top-selling product in 2017.
Benefits Of Jade Rollers
One of the biggest draws of a jade roller is that it is known for its ability to encourage lymph drainage. This immediately depuffs the face as well as encourages a radiant glow.
"The lymphatic system is a network that picks up fluids and waste from the spaces between the cells and then filters and cleans them, so it helps rid the body of toxins, waste, and other unwanted materials,. 70 percent of lymphatic vessels are located just below the skin, so massaging the facial structure is key to helping our face move the excess fluids, which cause the puffiness."

says Leila Carter, founder of Jade Roller Beauty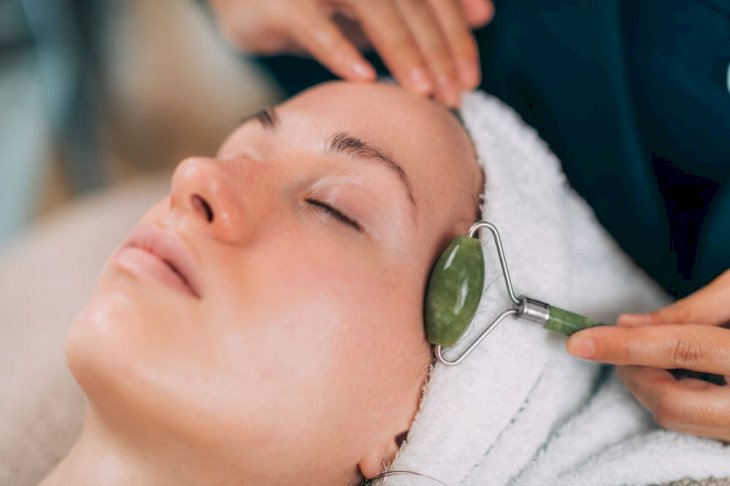 Shutterstock
Jade rollers also improve blood circulation and relieve facial and jaw tension. When kept and used cold they can also help skin appear tightened.
"The practice of applying a cold sensation and pressure to an area has been used for centuries because it works without fail. It's simple: The cold restricts blood flow to a particular area, and pressure pushes fluid, known as lymph, to the lymph nodes, which process it and filter out toxins."

says Joie Tavernise, aesthetician and founder of JTAV Clinical Skincare in NYC.
Types of Crystal Rollers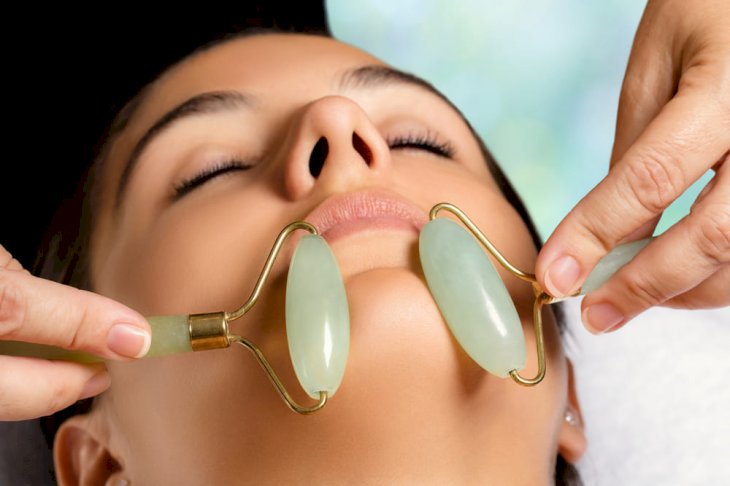 Shutterstock
While current trends have lumped facial rollers as jade rollers, there are actually a wide variety of options. Rollers can be made from several different crystals and many claim they each have different benefits. Here are some examples
Rose quartz: Known as the crystal of love, rose quartz is believed to open up the heart. These rollers reportedly detoxify the skin and fight signs of aging like fine lines and wrinkles.
Clear Quartz: This crystal is usually linked with clarity, light, reflection, and amplification. In terms of facial rollers, this helps promote healthy skin.
Amethyst: Linked to fighting daily stresses, this purple crystal is well-loved. It reportedly also helps calm inflammation and fight pimples especially for those with acne-prone skin.
Blue Soladite: Referred to as a stone of awakening, Blue Soladite is great for hydrating the skin cells. It is also known for its ability to calm inflammation and promote healing and balance.
Jade: Finally, the most common stone used for rollers. Jade works well with irritated skin as it calms inflammation and improves skin elasticity.
Caring For Your Roller
It is extremely important to clean and dry your roller after every use. This is to avoid build-up of oil, creams, and serums as well as bacteria which may cause clogged pores or breakouts later on.
To preserve the quality and lifespan of your jade roller ensure it is stored properly. If you are putting it in the fridge use either an airtight container or a ziplock bag.