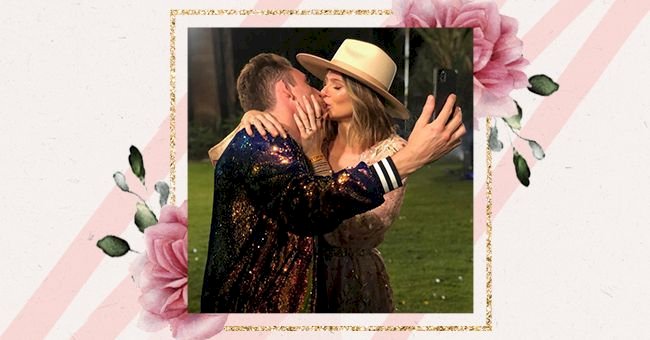 James Kennedy Is Engaged To Raquel Leviss
It seems like the boys and girls of 'Vanderpump Rules' are all grown up now. There have been pregnancy and engagement announcements galore from the original cast, and it seems like there are only more to come.
Following Scheana Shay's baby announcement, there were many messages of congratulations and well wishes for the little family. However, this week there is a new announcement for fans of the show to get excited about.
Everybody raise your glasses to James Kennedy and Raquel Leviss, the soon-to-be newlyweds.
James and Raquel
James and Raquel met back in December of 2015, and by February 2016, they had made their relationship official. James had been dating a 'Vanderpump Rules' costar during season three of the show, but by season 5, it was Raquel by his side on the show.
The two have been together ever since and have seen one another through some rocky times in their lives. However, the couple seems happy most of the time, and it was simply a matter of time before they were engaged.
James revealed in an interview in 2019 that he would most likely be the next 'Vanderpump Rules' wedding and later told Lisa Vanderpump that he loved Raquel so much as was planning to propose.
Vanderpump seemed incredibly supportive of the couple, telling James that nobody else would stick by his side in the way that Raquel has, and then went on to brainstorm proposal ideas with James.
The Proposal
Over the last weekend, following the cancellation of the famous music festival Coachella, Raquel Leviss threw her own party in Palm Springs, which she called Rachella. It was a nod to the music festival but a safe way to celebrate.
James and Raquel had an entire weekend of partying planned, sans alcohol, because of James' journey to sobriety, but things took a turn for the romantic when James popped the question on Friday night.
The pair danced in front of a DJ booth with Rachella wrist bands on and rose gold Rachella foil balloons in the background. The whole scene was one of love and happiness, which was amplified by the proposal.
James and Raquel did not announce the news until Sunday, when their Rachella weekend was over, perhaps wanting to spend some time celebrating alone before the news got out to the public.
We wish this beautiful young couple all of the love and happiness that married life has to offer. We can't wait to see the wedding pictures next!