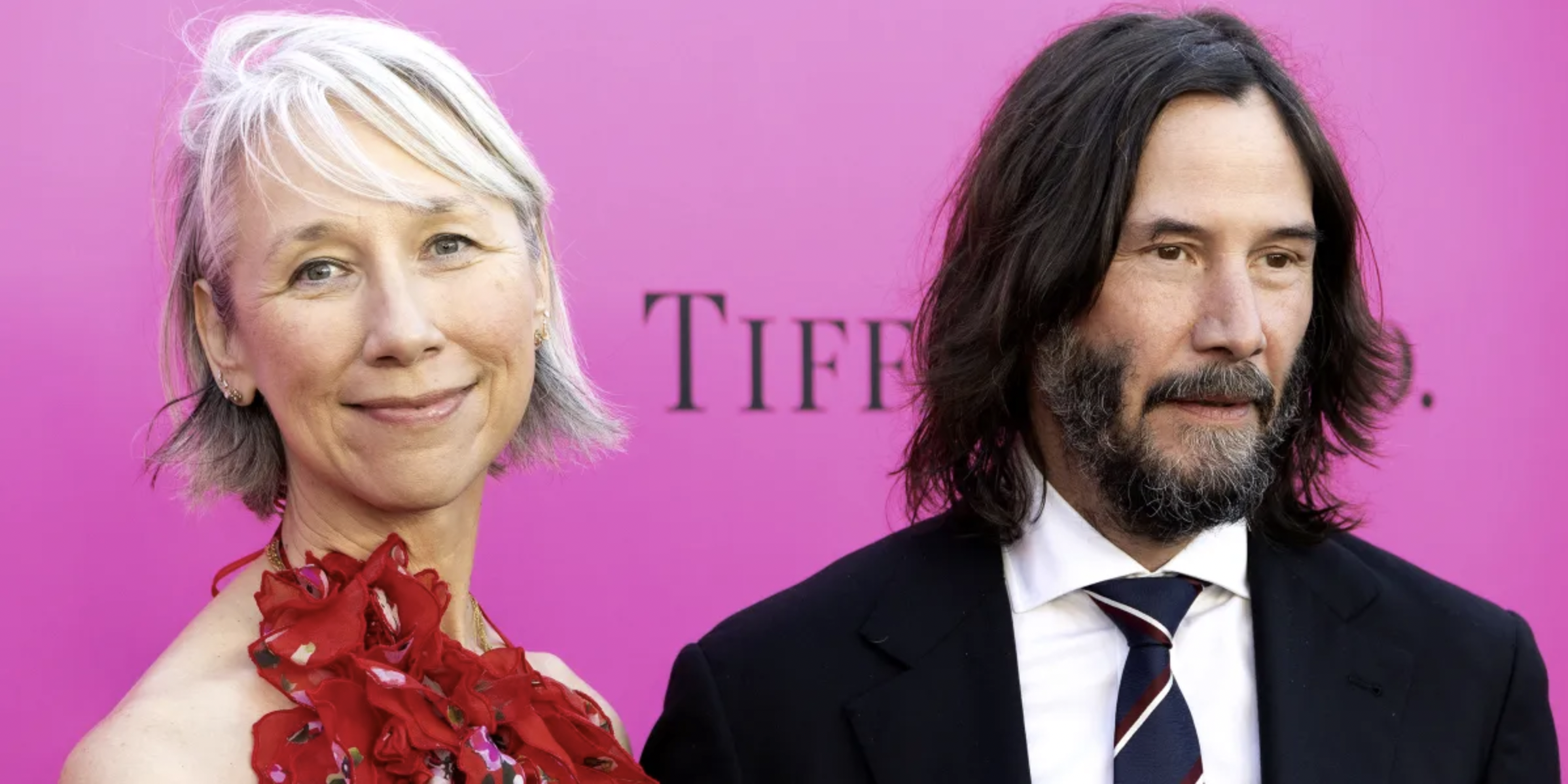 Alexandra Grant and Keanu Reeves | Source: Getty Images
Keanu Reeves' Girlfriend Alexandra Grant Gets Slammed for Looking like a Grandma with Her Gray at 49

Alexandra Grant and her boyfriend, Keanu Reeves, made an appearance on the red carpet together. As the couple shared a moment before the event, some fans focused their attention on Grant's gray hair.
On April 15, Keanu Reeves and his long-time partner, Alexandra Grant, attended the 2023 MOCA Gala, where they garnered attention for their chic outfits and heartwarming display of affection.
Reeves, known for his role in the "John Wick" franchise, opted for a classic black suit and striped shirt ensemble, while Grant turned heads in a stunning red floral printed sleeveless dress featuring a prominent flower on the chest.
The couple walked the red carpet together, posing for photographs and charming onlookers with an endearing moment in which they shared a loving kiss. However, not all reactions were positive, as some social media users criticized Grant for her naturally gray hair.
One individual commented, "Keanu is 58, she's 50. She should just dye her hair." Another person said, "I thought that was his grandma." "Grandma?" agreed another, while one person said, "Dude fell off. Dating a granny."
Despite the negative remarks regarding his partner's appearance, Reeves remained unfazed and expressed his happiness with Grant. When asked about the last time he experienced joy, Keanu Reeves revealed it was during a recent intimate moment with Grant. He said:
"A couple of days ago with my honey. We were in bed. We were connected. We were smiling and laughing and giggling. Feeling great. It was just really nice to be together."
This account of the couple's appearance at the MOCA Gala illustrates their loving relationship and the unwavering support they provide each other, even in the face of online criticism.
The relationship between actor Keanu Reeves and artist Alexandra Grant has generated considerable interest, mainly due to their infrequent public appearances together. However, Jennifer Tilly, Grant's good friend, revealed the couple had been together for quite some time.
Tilly expressed her surprise at the sudden surge in attention following their recent outings, considering that Grant has accompanied Reeves to numerous events in the past.
"It's really astonishing to me how in the last five months, all of a sudden, she goes to an event with him, and everybody goes insane, like, 'It's his new girlfriend,' because she had gone to a lot of events with him. It's just suddenly surfaced that he's been dating her for several years," Tilly shared.
Grant, a talented Los Angeles-based artist, has a background in academia. As the daughter of two professors, she ultimately became a college professor. According to Tilly, Reeves has admired Grant's work and attended her art exhibitions.
Tilly noted that Reeves tends to avoid the spotlight, much like Grant, contributing to the public's fascination with their relationship. She went on to praise Reeves as a "really great guy" and emphasized how fortunate he is to be with Grant.
"I saw him at her last art opening, and he's not, like, wanting the spotlight because he's a really low-key guy, too, and I think why everybody went crazy is that they're sort of the perfect couple. [Reeves] is a really great guy, too, but he's really lucky," Tilly added.
Keanu Reeves and Alexandra Grant started their relationship as friends and worked on publishing the book "Ode to Happiness." They later founded X Artists' Books, a publishing house, in 2017.
The couple's shared penchant for maintaining a low profile and their mutual support for each other's work have solidified their status as well-suited.