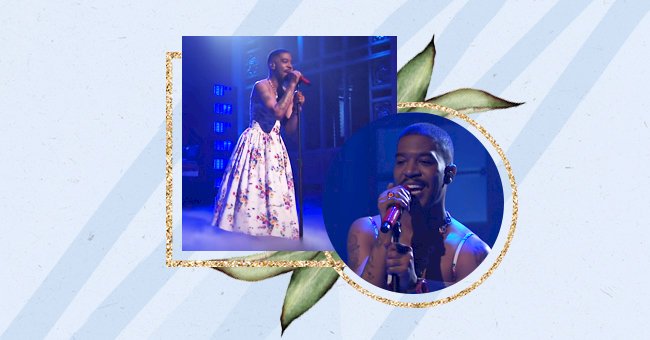 Kid Cudi Dons Floral Dress On SNL
Kid Cudi made headlines for his bold fashion choices on SNL this past weekend. The rapper, musician, notably wore a floral dress among other outfits, which fans quickly likened to late rocker Kurt Cobain.
37-year-old musician Kid Cudi donned a strappy floral dress on the Carrey Mulligan hosted SNL show this past Saturday. The musical guest wore this and another Cobain outfit reminiscent of the Nirvana frontman for two performances.
Cudi also paid homage to late SNL performer Chris Farley by wearing a shirt that had the comedian's image. Farley passed on in 1997 at the age of 33, while Cobain passed in 1994 at the age of 27.
A Tribute To Those Struggling With Mental Health
Cudi wore a green mohair sweater that resembled the green cardigan Cobain wore during Nirvana's MTV Unplugged concert back in 1993. Underneath, he wore the shirt emblazoned with Farley's image. Men's Health Editor Phillip Ellis lauded the move saying,
"We love to see @KidCudi using his platform to pay tribute to artists who have lost their lives to depression and addiction."
Cudi then wore a floral A-line, spaghetti-strap dress floral dress during his second performance, which many fans likened to Cobain's famous floral tea dress. Cobain wore the dress on the 1993 cover of The Face magazine, The Face.
Kid Cudi, The Kurt Cobain Fan
During his musical career, Cobain had been photographed performing in dresses. However, this fashionable move is another instance of Cudi expressing his love for the rocker. The star currently has a tattoo of the late rocker on his arm.
Cudi performed Tequila Shots and Sad People from his new album, Man on the Moon III: The Chosen. However, this is not the first time the star has appeared on SNL. He last took the stage in 2018 with a collaborator Kanye West for their Kids See Ghosts project.
How Fans Reacted To Kid Cudi's Dress
Cudi's performance was received well, with fans immediately concluding Cudi's fashion choices inspired a closer look at mental health struggles. Cobain has passed away from suicide, while Farley passed on from addiction struggles. One fan tweeted saying,
"Kid Cudi pulling the ultimate Kurt Cobain tribute on #SNL on the week of this death,"
The SNL episode landed on the anniversary of Cobain's death. The rocker passed away from suicide at the age of 27 in 1992. Furthermore, Cudi's tribute of Farley is the second one after Adam Sandlers back on SNL in 2019.
Kid Cudi SNL Sketch Appearance
Aside from his performance, Cudi also entertained fans with a sketch show alongside Chriss Redd and his friend Pete Davidson. Another surprise came in the form of Timothée Chalamet. The trio starred in a sketch titled "Weird Little Flute."
In the sketch, the group songs about their love for the flute in a rap number later interrupted by an annoyed Carrey Mulligan. Davidson then buys all the flutes at the end of the sketch. SNL airs Saturdays at 11:30 p.m. ET on NBC.