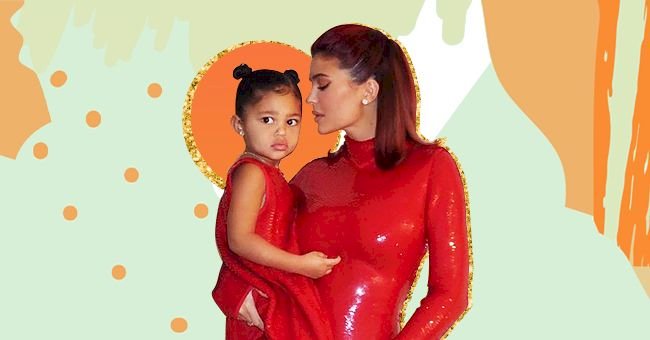 Kylie Jenner & Stormi's Top 10 Matching Mom-And-Me Style Moments
Reality TV star and entrepreneur Kylie Jenner and her daughter Stormi Webster are the epitome of matching mom and me style.
Baby Stormi Webster recently celebrated her third birthday, and it's been three years filled with the cutest matching outfits with mother and beauty entrepreneur Kylie Jenner.
It all started with matching with Jenner matching with Stormi's Fendi pram. The mother-daughter pair has since graduated to matching red Bottega Veneta dresses. Here's a look at t hen of their best.
A Red Christmas
Stomi and twenty-three year old Jenner went for matching red and sparkly Bottega Venetta dresses for last year's Christmas.
Matching Pouts Too
In addition to the matching outfits, Stormi already has the pout like moms. Here Jenner and her "mini-me" opted for cozy brown.
Matching PJs
Of course, the queens of mother-daughter matching style would have matching PJs. Kylie shared this picture of the two of them having a cozy baking day.
Beach Day
Kylie shared this beautiful photo of her and Stormi catching golden hour by the sea wearing matching summer white dresses perfect for a day out at the beach.
All-Black
The pair were hanging out in all black and looking very cool while doing it. Jenner captioned the image "I knew I won when I had you."
Pink Dior
On a holiday trip in the Bahamas last year February, Kylie and Stormi opted for aborable baby pink vintage Dior mini dresses.
A Green Christmas
Celebrating the most wonderful time of the year, Kylie and Stormi wore emerald green Ralph & Russo custom couture dresses.
Babes In Blue
Sun, blue skies, blue water, and blue dresses. They both wore ruched blue dresses by TLZ L'Femme to match the Meditteranean.
Lime Green Bathing Suits
Whether at home or vacation, the mother daughter really do have a matching outfit for every occasion.Kylie and Stormi wore matching neon green swimwear.