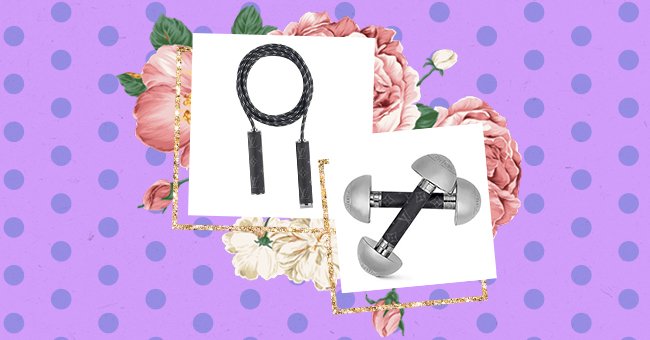 Louis Vuitton Releases Pair Of $2720 Dumbbells
Louis Vuitton is investing in sports goods products and releases luxury dumbbells with the iconic LV monogram pattern.
The French fashion house Louis Vuitton decided to create their own set of dumbbells for those who can afford nearly $3,000 for a pair of this luxurious equipment to boost workout morale while social distancing.
On the official product page, LV says the dumbbells have "a striking aesthetic and sporty appeal. They are an ideal gift for those who wish to exercise in style or elevate their home gym with exclusive Louis Vuitton details."
The 3 kgs dumbbells are made of lustrous metal and finished with the Monogram Eclipse canvas handle and the iconic House signature.
According to the fashion house, they've developed their own set of dumbbells because of high popular demand during quarantine, in 2020.
If pumping iron, that costs probably more than your rent, isn't for you, Louis Vuitton also offers a new range of athletic staples, like a jump rope that costs $705.
But they didn't stop there. LV thought about those whose workout routine was feeling too standard and also launched a water bottle holder worth $1,400, a colorful volleyball that costs $2,720, a $2,280.00 ping pong set, and a pair of $5,350.00 alpine skis.
For those who want to add high fashionable items to their personal protective equipment during the pandemic and a single protective disposable mask isn't enough, LV also thought about them.
With an "eye-catching; both stylish and protective", the luxury label will launch a face shield with monogrammed strap and golden studs emblazoned with the LV logo.
According to Vanity Fair, this shield will actually serve two purposes. The $960 luxury protective item can be flipped upwards and it turns into a peaked hat and comes with transition lens technology that goes from clear to dark, depending on the amount of sunlight.
LV has always pushed the envelope with its items and designs. Adding up to their no sense list of items, they have brought a limited edition Yayoi Kusama x Louis Vuitton Pumpkin Bag, LV band-aids, Louis Vuitton trash bags, and a $100,000 LV toilet seat.