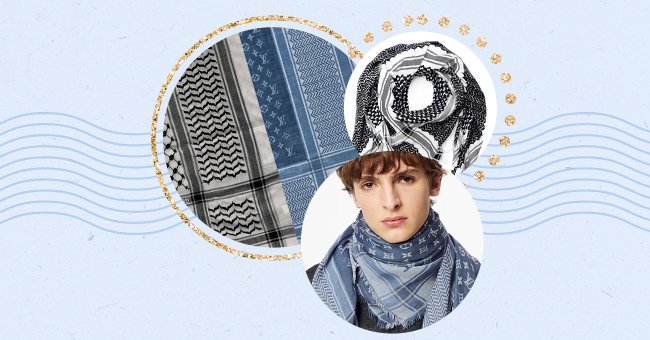 Luxury Fashion Brand Louis Vuitton Faces Backlash For Cultural Appropriation After Releasing Keffiyeh Stole
Social media users are letting their disapproval be known, calling Louis Vuitton out for selling a scarf inspired by the traditional Palestinian keffiyeh for over $705.
The luxury French fashion house's website, where they're selling the "Monogram Keffieh Stole," describes the scarf as: "inspired by the classic Keffiyeh and enriched with House signatures."
The brand's version of the symbolic scarf has been slammed with many social media users expressing their disapproval over Louis Vuitton's alleged cultural appropriation.
Louis Vuitton's 'Monogram Keffiyeh Stole'
"A jacquard weave technique is used to create the intricate Monogram patterns on its base of blended cotton, wool, and silk, soft and lightweight with fringed edges."

The description on the Louis Vuitton site says.
The Louis Vuitton website continues to describe the headscarf as a "timeless accessory," which "creates an easygoing mood."
Backlash From Social Media
Diet Prada, an Instagram account that looks to expose wrongdoings in the fashion industry, slammed the designer in post. The account highlighted LVMH's stance on politics as 'neutral,' yet they're selling a traditional Arab headdress for profits.
This among many unimpressed social media users who've called out the brand's newest style offering, with people accusing Louis Vuitton of "profiting off oppressed people."
Furthermore, people have called the brand out for neglecting to acknowledge the symbolic significance of the scarf as a representation of Palestinian nationalism.
There were also questions around the possible meaning behind the scarf's blue and white colors. Many suspect intentionalities by LV, questioning if the brand had purposely chosen the colors of Israel's flag for the garment.
Addressing Cultural Appropriation
This is not the first instance of the Palestinian keffiyeh being used by designers and taken out of context. Fendi has found themselves in a similar position over their version of the headdress.
Palestinian fashion designer Omar Joseph Nasser-Khoury previously told "The Guardian" that the style use of the keffiyeh, which symbolizes "dispossession, systematic displacement, extrajudicial killings and oppression" by fashion designers, is "irresponsible."
Louis Vuitton's choice to sell a version of the keffiyeh is found to be especially offensive given the socio-political context of Palestine. The commodification of the Palestinian symbol of resistance, when masses turn a blind eye to the plight in the Middle East, is disappointing.
For those who would like to show their support, it's vital to support those who own the culture instead of brands that mass-produce or monetize items while disregarding the culture.