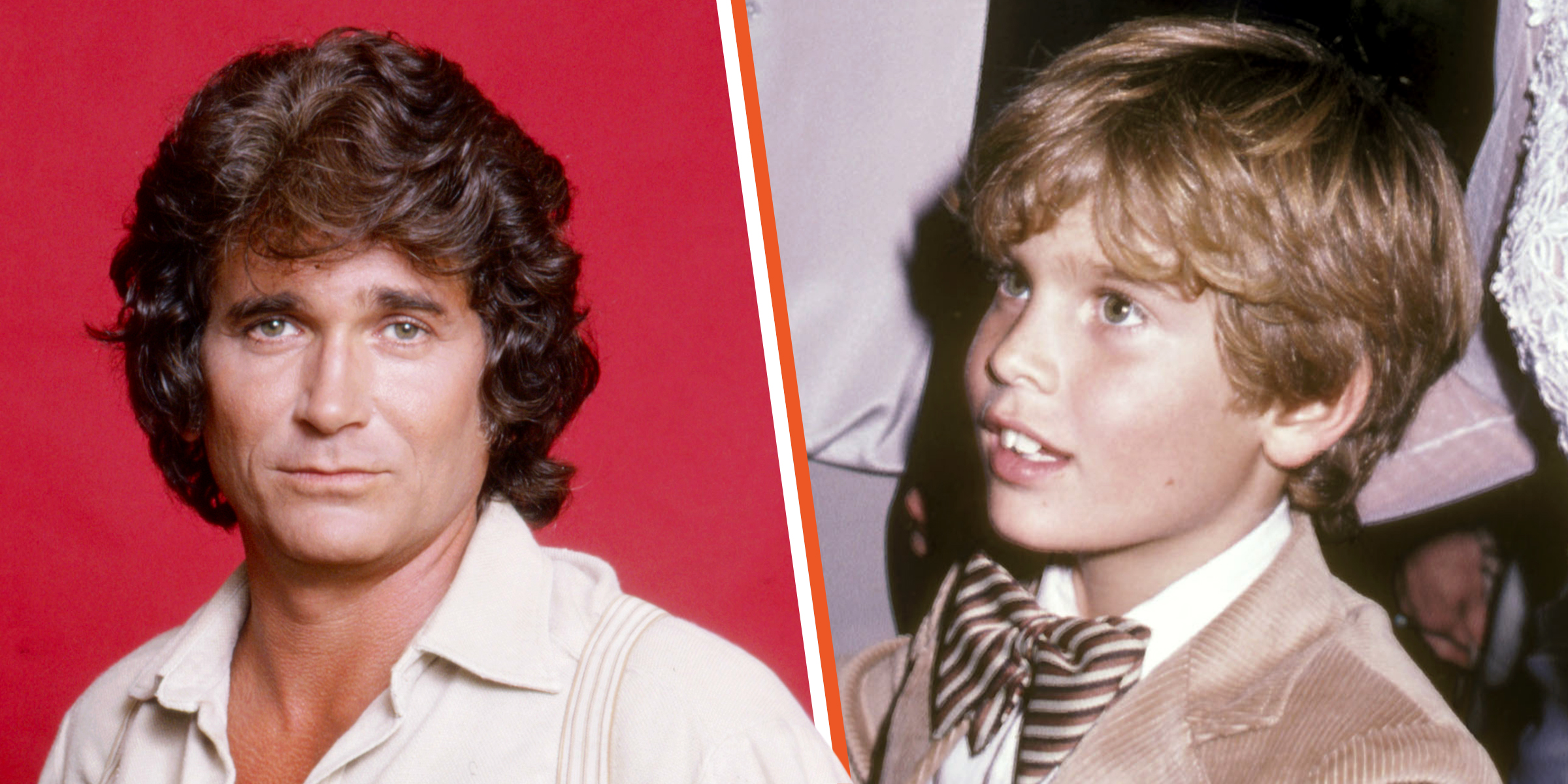 Michael Landon's Gay Son Shows Lookalike Kids After 'Painful' Childhood & Losing Dad at 16
Michael Landon, star of "Little House on the Prairie" and "Bonanza," succumbed to his illness within three months at the age of 54.
The final promise made by his gay son, Christopher, to his father after a "painful" childhood has come to light.
Now 48 years old, Christopher is a devoted father to two children who closely resemble him.
The renowned American actor Michael Landon sadly passed away at the young age of 54, many years ago. He was celebrated for his television roles in "Bonanza," "Little House on the Prairie," and "Highway to Heaven."
Despite a bustling Hollywood career, Landon always prioritized his family. The actor had nine children and was fortunate enough to witness the birth of some of his grandchildren before his untimely death. Each of Michael's children possesses a distinct personality and has pursued their own unique path in life. One of his sons was just sixteen when Michael passed away, and a year later, he shared his experience of losing his father at such a young age.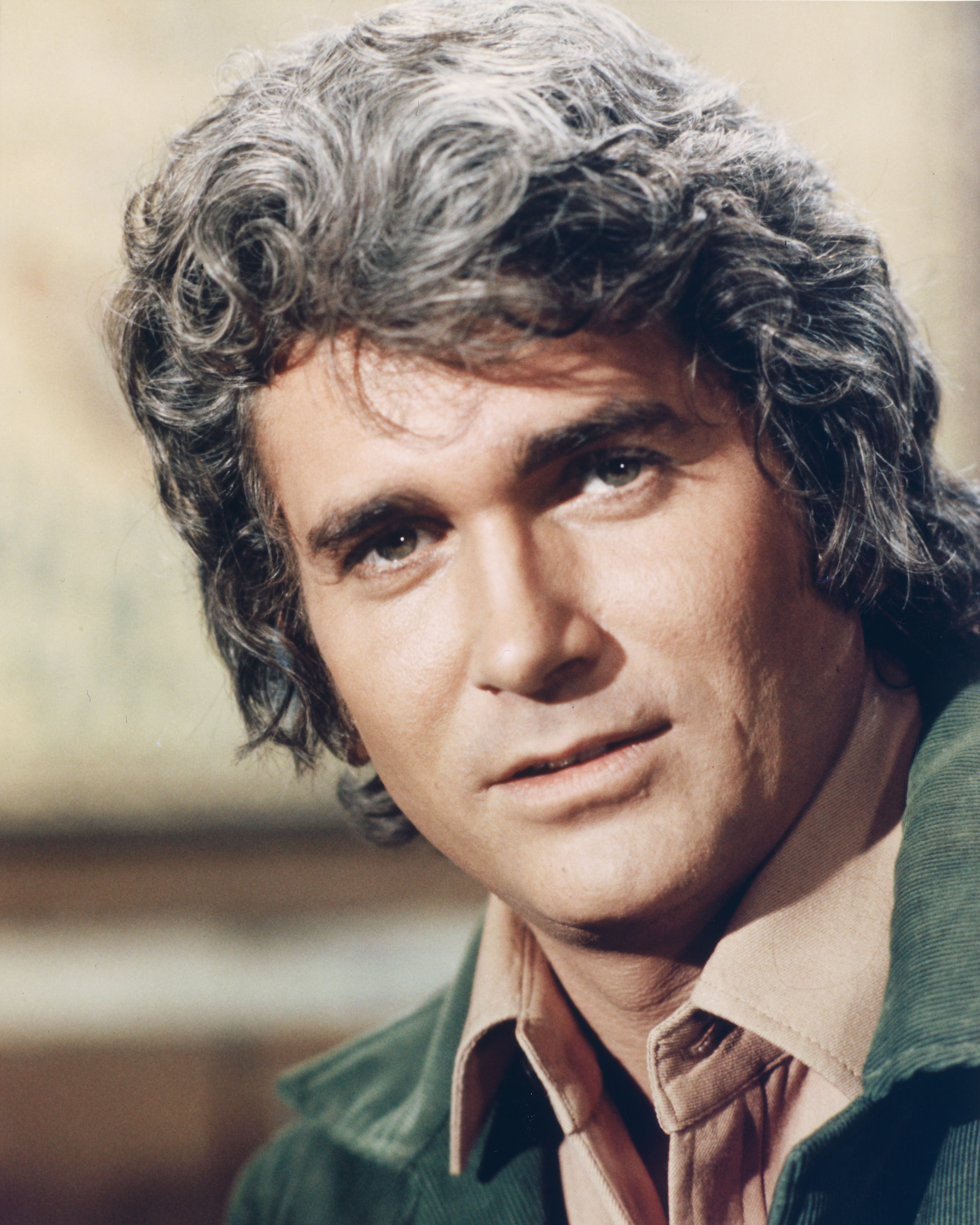 A headshot of Michael Landon, circa 1970 | Source: Getty Images
Christopher reminisced about the day he learned his father was dying and his emotional state prior to receiving the heartbreaking news. He mentioned being in high spirits after acing an English exam on the Friday before his school's vacation.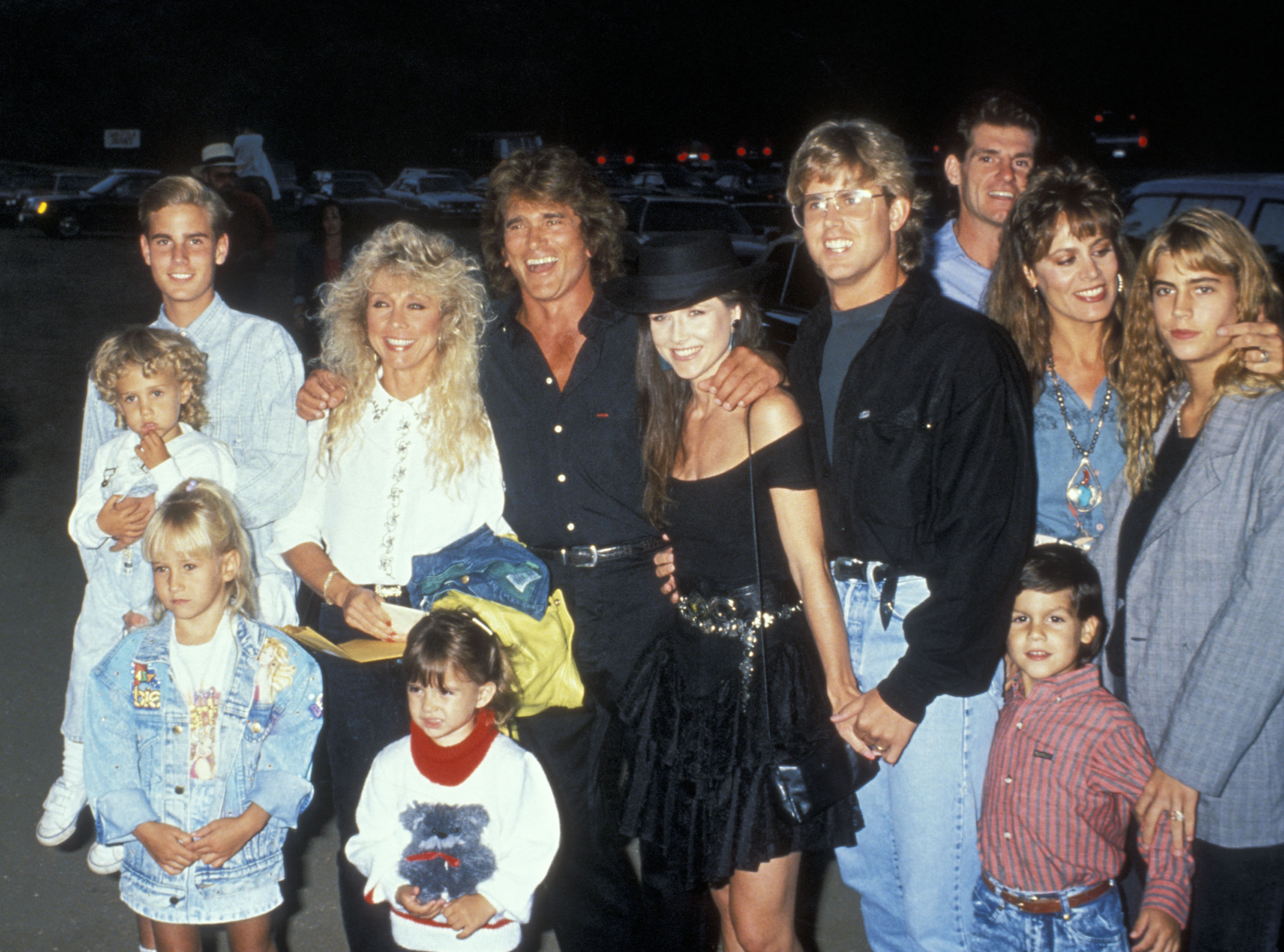 Christopher Landon, Sean Landon, Jennifer Landon, Cindy Clerico, Michael Landon, Michael Landon Jr., Mark Landon, Leslie Landon, and Shawna Landon at the Moonlight Roundup Benefiting Free Arts for Abused Children in 1989 | Source: Getty Images
Christopher's sisters informed him that day about their father's pancreatic cancer diagnosis. Reflecting on the moment he received the news, Christopher observed:
"I could feel every nerve in my body like it was all made up."
Seven months after his father's death, Christopher finally felt prepared to discuss his father's passing and the grief it brought upon his family. His mother, stepmother, and siblings shared the same sentiment.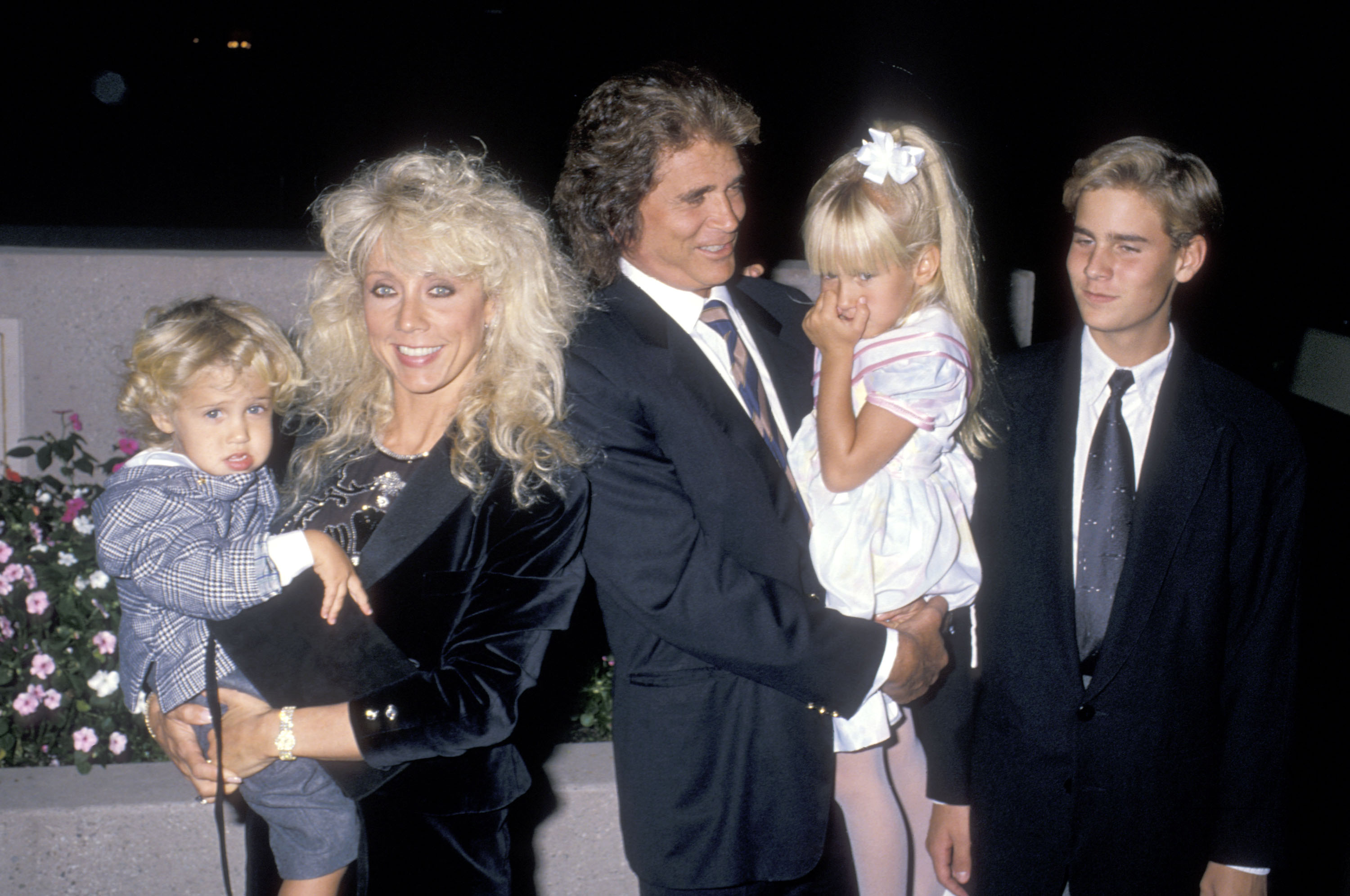 Michael Landon, Cindy Landon, Sean Landon, Jennifer Landon, and Christopher Landon at the National Down Syndrome Congress' Second Annual Michael Landon Celebrity Gala n Culver City, California in 1988 | Source: Getty Images
Michael valiantly fought his illness, devoting all his energy to recovery. Unfortunately, he could not overcome the disease and passed away a mere three months after receiving his initial diagnosis.
The actor underwent chemotherapy, embraced more natural remedies, and adopted a primarily vegetarian diet. Regrettably, by Father's Day in 1990, the harbingers of his impending demise had become evident.
On June 16, 1990, Michael confided in his wife, Cindy, acknowledging he was dying. She had witnessed it herself when they sat together in their living room that day, as he struggled to get out of his chair and ascend the stairs with his portable oxygen tank.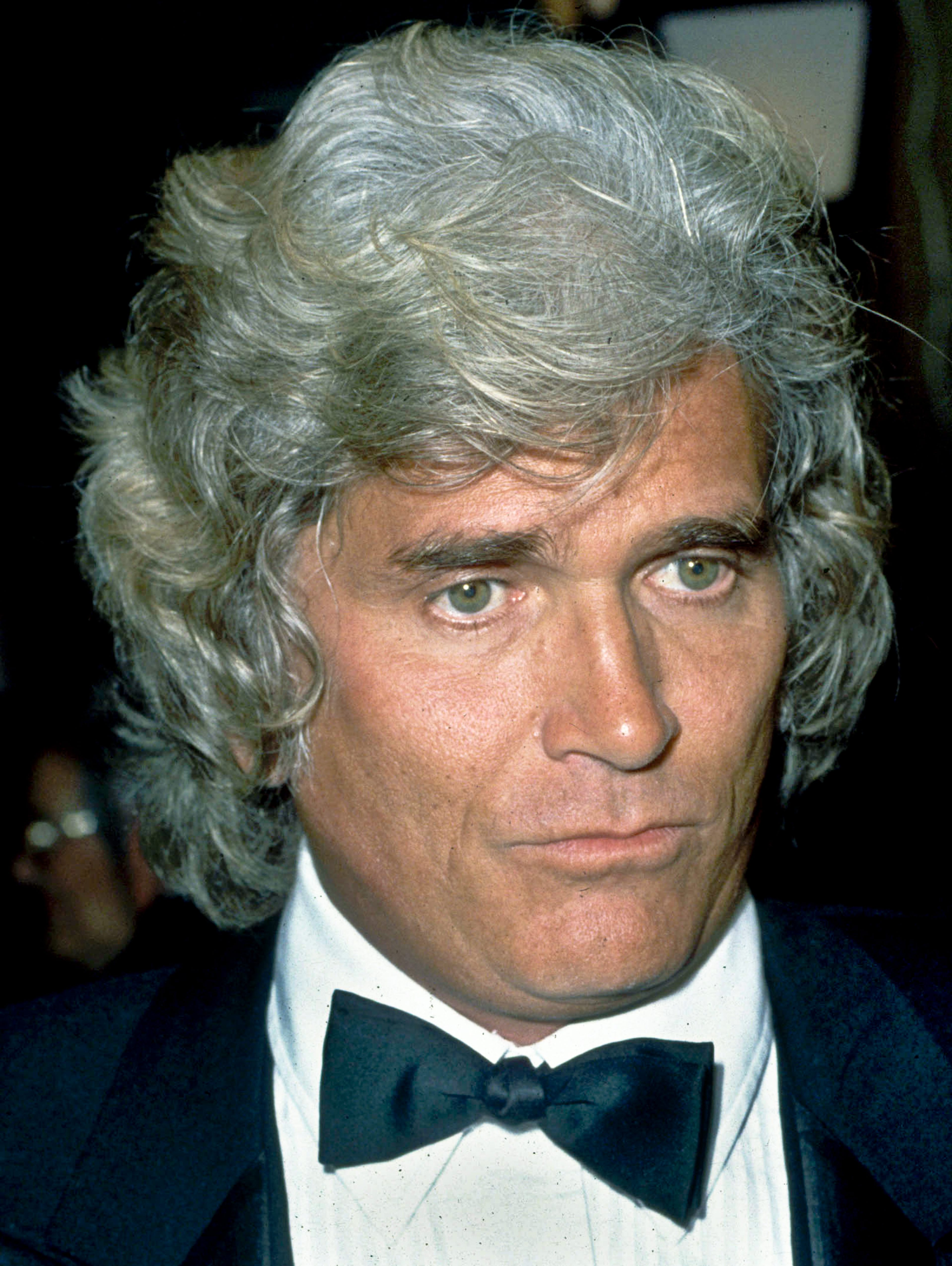 Michael Landon in Hollywood in 1990 | Source: Getty Images
As June came to a close, a nurse cautioned Michael's family that his death was imminent, and they should brace themselves for the unavoidable. Cindy made sure all of Michael's children arrived to bid their farewells, but Christopher still harbored regret.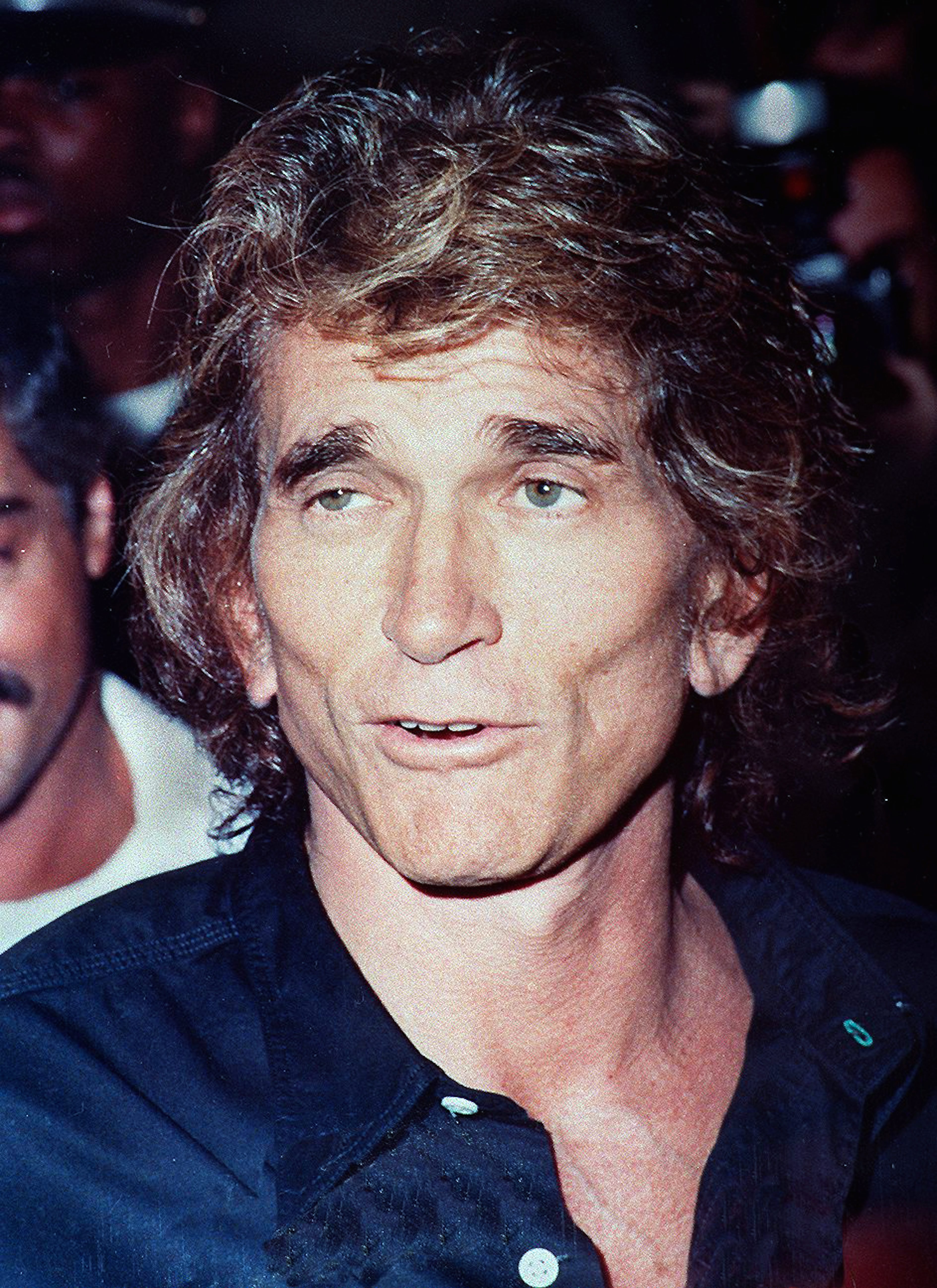 Michael Landon soon after he was diagnosed with pancreatic cancer on May 24, 1990 | Source: Getty Images
The young man lamented not expressing his apologies to his father for the battle he endured with the disease. When Michael passed away in the early hours of a July morning, only Cindy was by his side. His final words were, "I love you." Reflecting on how his perception of death had transformed since his father's passing, Christopher noted:
"Before, when I used to think about death, I'd say, 'I don't want to die at all!' But now I'd say the worst that's going to happen is that I'll see Dad again."
Cindy also shared her experience of witnessing Michael's demise. She acknowledged that while it was challenging for her, the gradual loss of Michael over three months allowed her to accept the finality of his death. Following his father's passing, Christopher understood the importance of truly living his life, rather than merely existing. It was then that he vowed to his father to "[live] and [love] as hard as he can," a promise he has faithfully upheld to this day.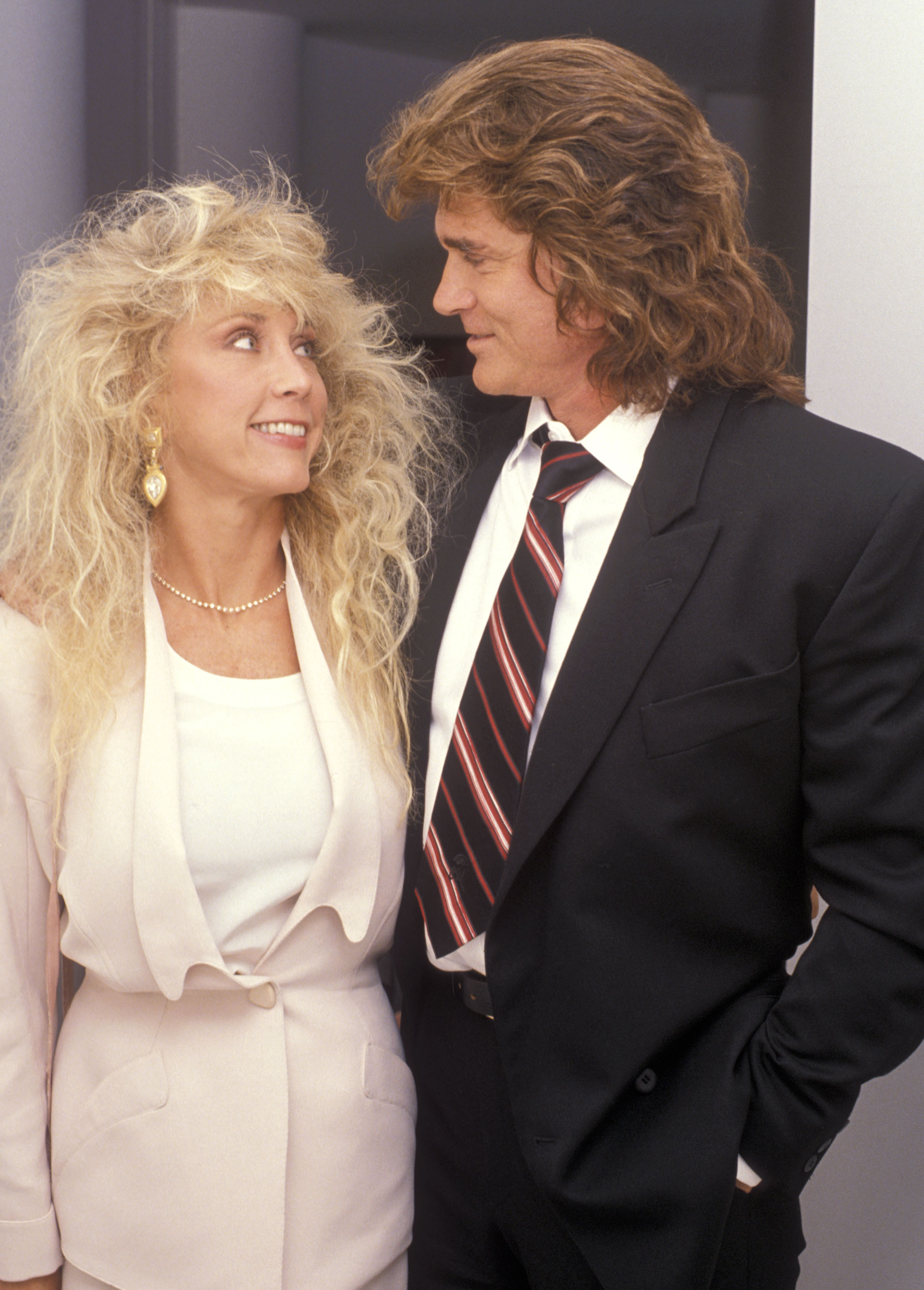 Cindy and Michael Landon at the Malibu Committee for Incorporation's "The Tides of March" - The First and Last Annual Malibu Right to Vote Party in Malibu, 1990 | Source: Getty Images
The Real Story of Michael's Son, Christopher
Christopher pledged to his father that he would live life to its fullest and remain true to himself whenever possible. At the age of 24, this meant revealing the truth about his sexuality.
Growing up, Christopher and his siblings led an exhilarating life—their father was a star, and they could have anything their hearts desired. However, for Christopher, material possessions held little value, as he was grappling with an internal struggle.
Michael's son is gay, and during his time at Beverly Hills High, he found it difficult to cope. Despite his father's fame and living between his mother's home and his father's grand Hollywood estate, Christopher wasn't content. He often spent lunchtime in the school basement, sitting with other children who, like him, felt like they didn't fit in.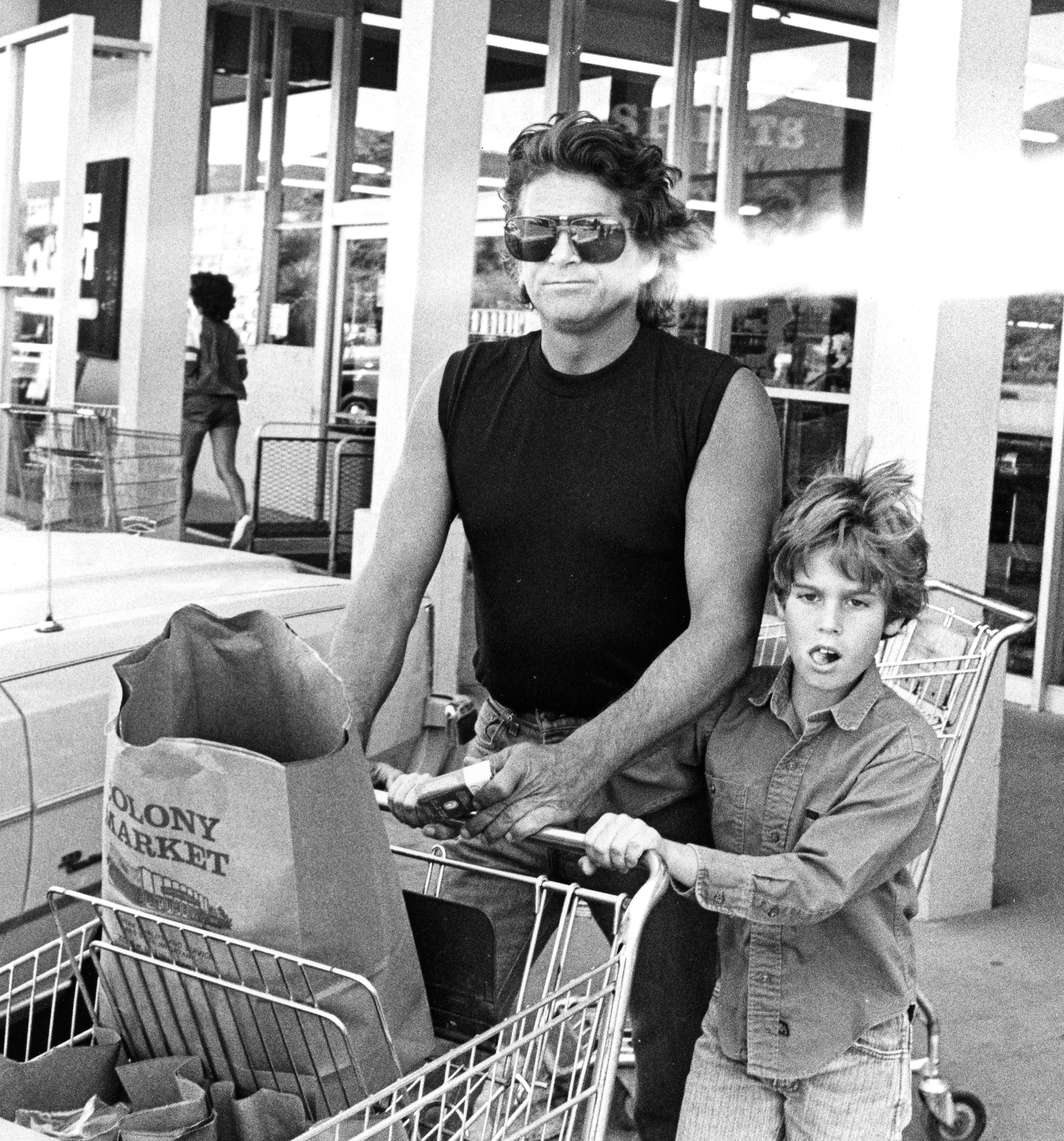 Michael and Christopher Landon at the Colony Market Food Store in Malibu, California in 1984 | Source: Getty Images
In addition to fearing ridicule from his classmates about his sexuality, Christopher worried that he might tarnish his father's wholesome Hollywood image. He confessed:
"For a while, I thought an article about me would come out with the headline 'Little House on the Fairy' or 'Highway to Hell.'"
Besides his concerns about his peers and his father's fans, Christopher was unsure how to disclose his homosexuality to his family. In fact, he didn't even realize it until he fell in love with a boy.
As a young man, Christopher had many female friends but found it strange that he didn't share the same feelings for them as other boys did. He considered exploring why he felt this way until he met a boy he fell for, and the pieces of the puzzle came together.
Christopher's mother was a born-again Christian, and several other family members shared the same faith, making it challenging for him to determine how to tell them about the boy he had fallen in love with.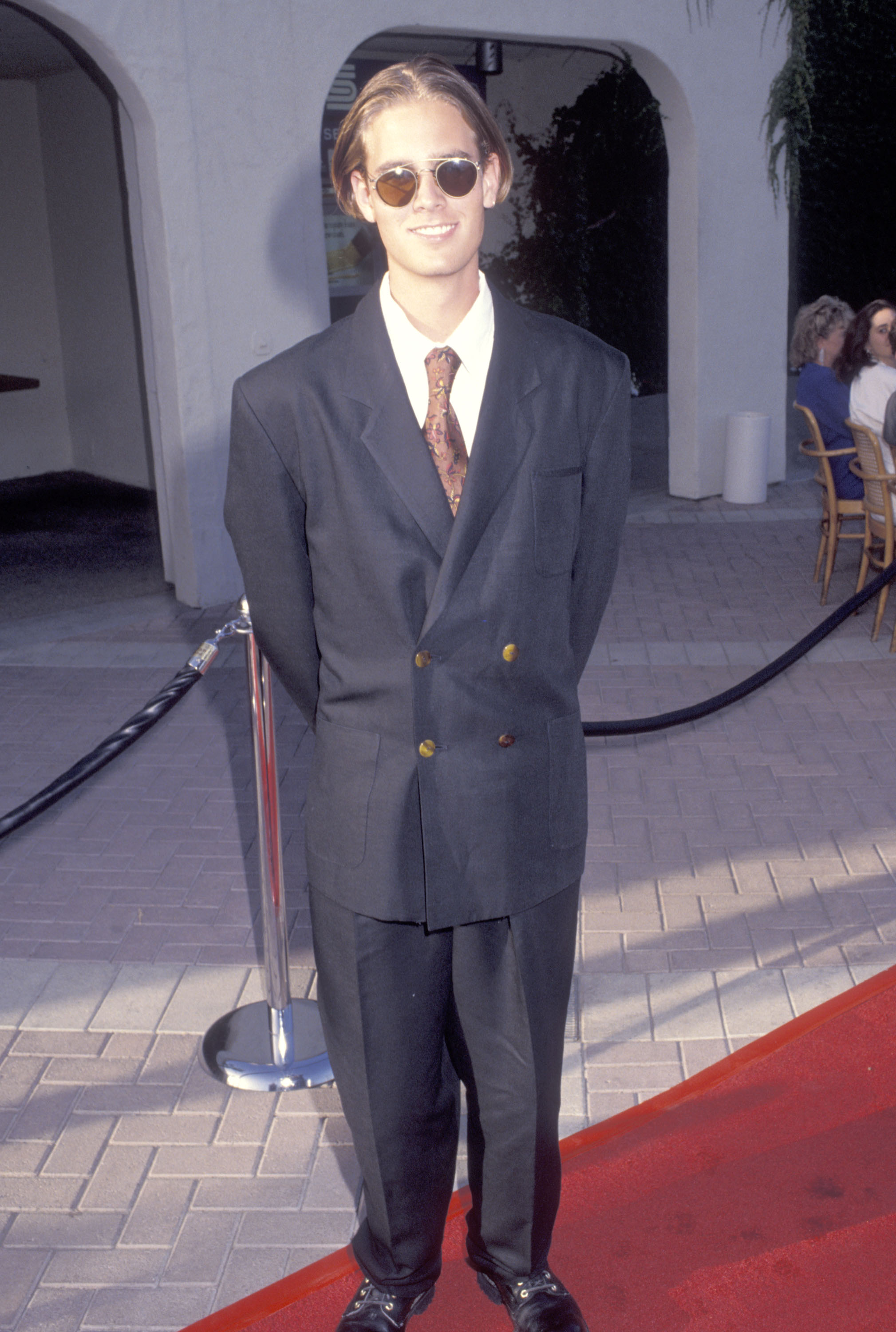 Christoper Landon at the 1992 Outreach Awards Dinner in Hollywood | Source: Getty Images
Christopher managed to keep the secret for only two months before finally confiding in his mother. He remembered:
"[A]s soon as I realized I was in love — about two months after I met this guy — I just came out. I went straight to my mom, and I was like, 'Listen, this is what's going on, and I don't even know how I even feel about it, but I don't want to live a double life.'"
Upon hearing the news, Christopher's mother cried and even blamed herself, but she eventually reached a stage of acceptance. The young man expressed relief that he had challenged his mother's beliefs, feeling that everyone needed such a challenge.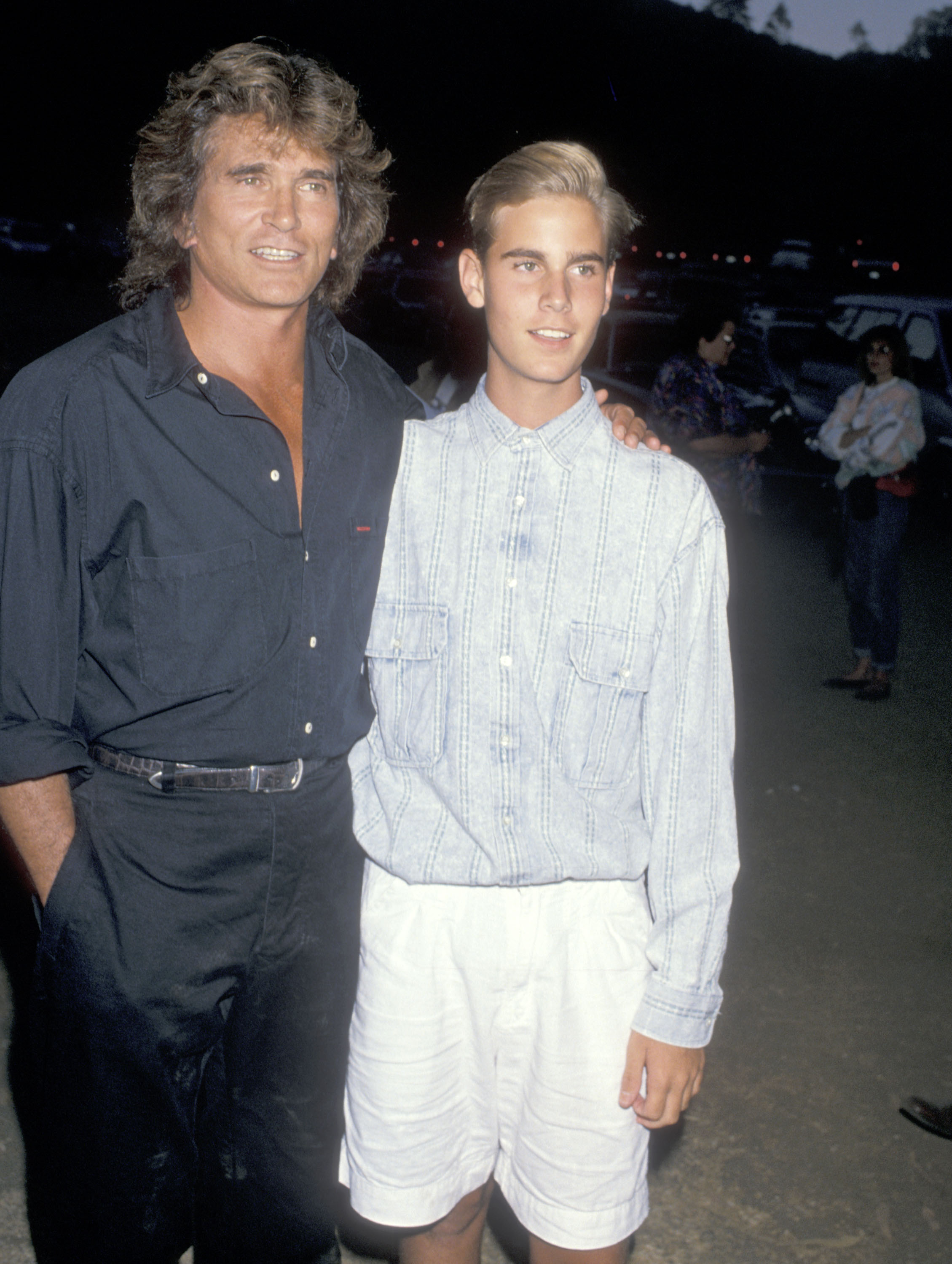 Christopher and Michael Landon at the 1989 Moonlight Roundup Extravaganza to Benefit Free Arts for Abused Children | Source: Getty Images
Although Christopher worried about his other relatives' reactions to his homosexuality, he discovered that they didn't care much and were surprised it took him so long to come out to them.
When questioned whether he thought his father knew, Christopher confirmed that he did, according to Cindy. When Christopher came out to her, she informed him that she and his father were already aware.
Recounting what Cindy told him, Christopher said, "Apparently, he just told her out of the blue, 'I think he's gay, but I'm sure he'll come to that conclusion on his own.'"
Christopher found solace in knowing that his father was aware of his sexuality and wasn't upset about it. He admitted to missing his father dearly but chose not to pursue acting because he had spent too much time in the spotlight and desired a break.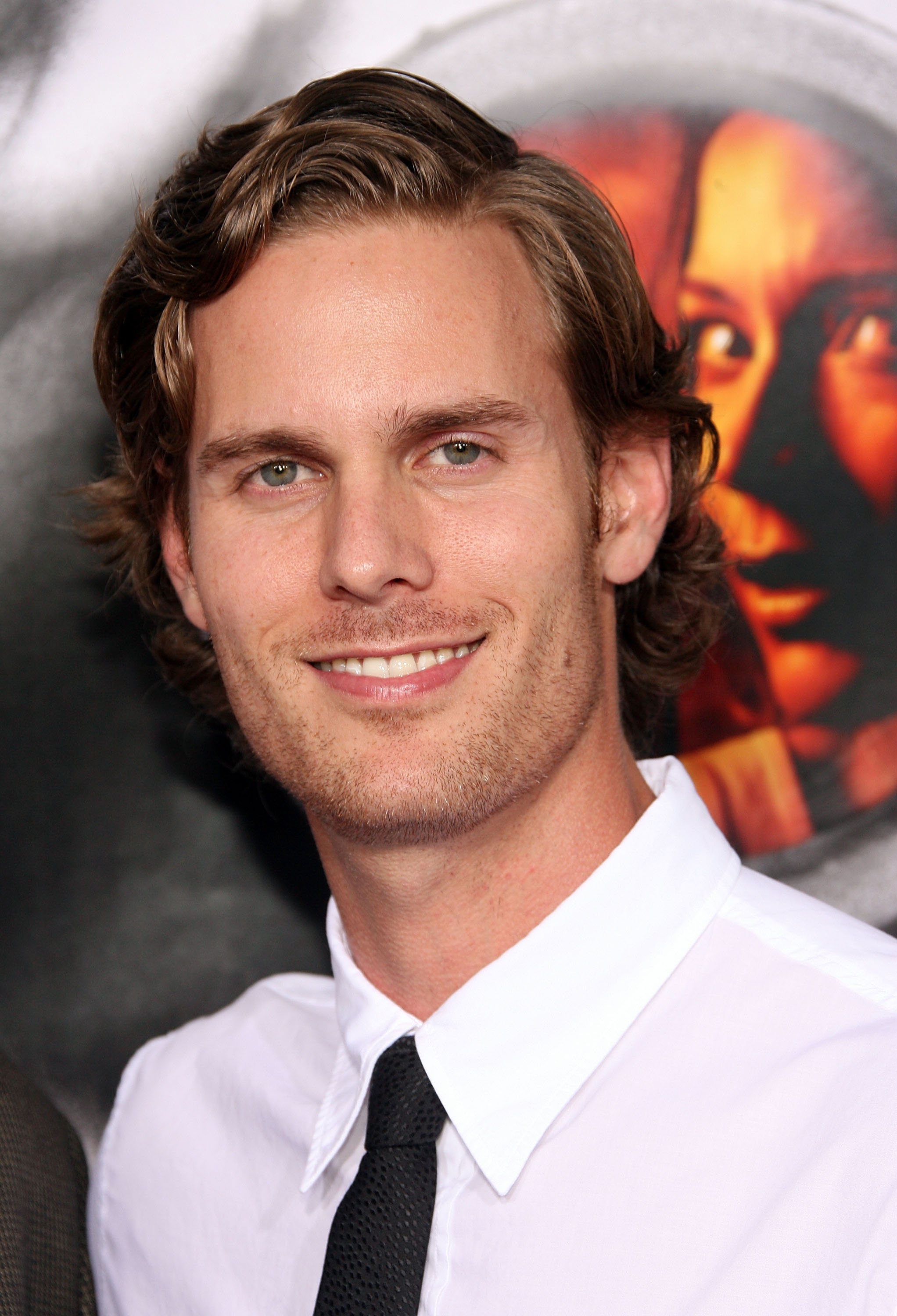 Christopher Landon at the premiere of "Disturbia" in Hollywood in 2007 | Source: Getty Images
Christopher's Life with His Two Lookalike Sons in His 40s
Now, Christopher has kept his promises to his father and even welcomed two sons of his own, Beau Landon-Moriss and August Kelly Landon-Morris. Although his sons bring immense joy to his life, Christopher still faces challenges. Fortunately, he has built confidence over the years and receives support from his loved ones.
Christopher acknowledged this when he posted a photo of his younger self wearing braces and neck gear. In the caption, he mentioned his shyness and fear of embracing his true identity, but he eventually learned to accept himself with the help of his family and friends.
He proudly shared that he was married to the best man and they started their own family together. Christopher encouraged fans by expressing the beauty of life when one can be true to themselves.
In April 2017, Christopher posted a photo of a newborn baby swaddled in a giraffe-patterned muslin blanket, introducing his son, Beau, who was born a week earlier.
In December 2019, Christopher once again shared a photo of a newborn baby, this time cradled by Christopher as his husband, Cody Morris, gazed at them lovingly. Christopher revealed the baby was their second son, August Kelly, affectionately called "Gus."
While the couple received numerous warm and supportive comments on social media, they also encountered some hateful ones, like when someone asked which of them had given birth to their sons and called them "sickos."
Christopher captured the comment in a screenshot and reposted it on Instagram with a caption stating:
"Woke up to this attack on our family. A reminder of how far we have come and how much further we have to go."
Many fans empathized with the couple and expressed disappointment that someone could not see the love and appreciation the family had for one another.
Recently, Christopher and Cody celebrated their eldest son's 5th birthday. Christopher took to Instagram to share a series of photos of the young boy and expressed that Beau had made him a better person, and he was deeply grateful for it. Truly, a beautiful family.