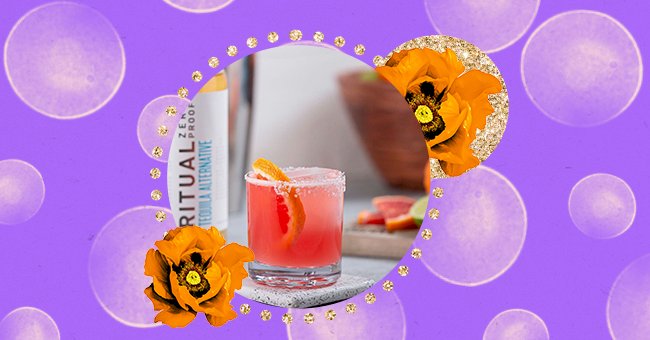 Non-Alcoholic Alternatives: 10 'Spirits' Worth Trying If You're Trying To Stay Sober
If you love socializing with friends with a good cocktail, you might find it hard to take a break from alcohol. 'But why would I quit drinking?' you might ask. Ditching alcohol for a month or more is a way to detox the body, and it's great for our overall well-being.
Personally, once a year I take a break from alcohol — which I call the 'alcohol detox' month. As an introvert who loves socializing with friends over a glass of wine, I needed to find non-alcoholic alternatives to keep up with my social life — then I came across non-alcoholic spirits.
Non-alcoholic spirits are made from botanicals and other distilled ingredients but are alcohol-free. They're an excellent option for those taking a one-month (or more) hiatus from drinking booze. We've wrapped up the ten best non-alcoholic 'spirits' worth trying if you're trying to stay sober.
1. Ritual Zero Proof Tequila Alternative
Ranked as the best non-alcoholic beverage in the world, Ritual Tequila Alternative tastes pretty close to the actual traditional version of tequila.
It makes a tremendous virgin version of it — it was made with margaritas in mind. It is a mix of blue agave, tropical guava, spicy black peppercorn, charred oak and mesquite smoke, and Mexican lime.
2. Seedlip
Seedlip is a pioneer in the botanical type of beverages — they're the world's first distilled non-alcoholic spirits. The company produces its spirits with high-quality plant-based ingredients.
You can find cocktail recipes on their Instagram page and website to get some inspiration to spice up your detox month. For a vegan and sugar-free option, go for Seedlip Spice 94, an aromatic blend of Allspice & Cardamom with fresh citrus top notes.
3. Kin Euphorics
For the health junkies out there, Kin Euphorics makes beverages that blend with adaptogens, nootropics, and botanics. They are "a new category of adult beverage crafted for playful pleasures and conscious connection."
Kin Spritz, their most popular blend, is a sparkling euphoric crafted with fresh citrus, warm spice, hibiscus, and ginger.
4. TÖST
If you love a refreshing sparkling wine on a summer afternoon but want to stick to your alcohol detox, try TÖST. It's a sparkling beverage that tastes like sparkling wine and champagne.
You can still be social without the pressure you're missing something out. The beverage is a blend of white tea, white cranberry, and ginger. The Rosé version is made of white tea, Ginger and Elderberry.
5. Monday Gin
The non-alcoholic version of London-style gin is "free of alcohol and full of spirit." Monday Gin is a complex aromatic blend of juniper, natural botanicals, citrus, and spices. Besides being alcohol-free, the beverage is also sugar-free and zero calories. It goes well with tonic and a slice of lime for a "gin and tonic" that is sober-friendly.
6. Sip Clean
With Sip Clean, you won't miss your rosé wine. It's created using the traditional wine process to generate flavor and balance, then a spinning cone technology removes the alcohol while preserving the flavors of the original wine. This canned wine is made with clean ingredients with only 30 calories per serving.
7. Wilderton Botanical Distillate
This fancy-looking bottle doesn't only look like an alcoholic distillate, but it also tastes like one. The Wilderton Botanical Distillate is a blend of bitter orange, tarragon, and lavender combine for citrus, herbaceous, and floral notes. For recipe ideas, check their website.
8. Aplós
"A hemp-infused, non-alcoholic spirit that calms and uplifts without the negative effects of alcohol." Featured in large media channels such as Vogue, Vanity Fair, and Forbes, Aplós is a spirit with citrus-led, bold and nuanced, ginger and rosemary notes.
Each two fl oz serving of Aplós contains 20 mg of broad-spectrum hemp, sourced from an organic, biodynamic farm in Hudson Valley, NY. "We use a nano-emulsification technology to convert the hemp extract oil into smaller, water-soluble particles, which allows your body to absorb the active cannabinoids faster and more efficiently. Most feel a gentle, calming feeling within 15-30 minutes after just one or two servings."
9. Recess Original Sampler
Another canned rosé wine alternative, Recess Original Sampler is infused with broad-spectrum CBD, L-theanine, and American ginseng to brighten the mood and calm the body. The beverage is available in three flavors: Pomegranate Hibiscus, Peach Ginger, and Blackberry Chai.
10. Feragaia
A clean, aromatic non-alcoholic spirit from Feragaia is Scotland's first distilled alcohol-free spirit. It uses 14 botanicals, including cayenne pepper, blackcurrant leaf, Kaffir lime and apple. Try serving this with light tonic and bay leaves as garnish.
Feragaia's process takes over two months to be blended. It's cut with Scottish water and rested to achieve Feragaia's characterful depth of flavor.