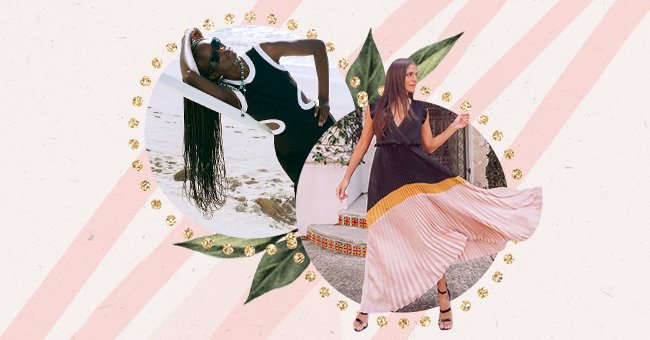 Our Pick: 10 Best Wedding Guest Dresses
You only have one chance to shine. With weddings scaling down nowadays, chances of receiving an invite to attend the physical ceremony are scarce. Therefore, if you're lucky enough to receive an invite, you need to give your outfit some thought.
In Italy, it is only courteous to show up at social gatherings well dressed. However, we aren't saying you appear in an extravagant dress to upstage the bride. Your dress shouldn't be too basic nor flashy, just perfect enough to wear to several occasions after.
Don't get us started on the stressful process of searching for a dress. With several designs and styles in the market, you will get confused fast. Thus, stress less with our selection of these ten perfect wedding guest dresses.
Printed Mesh Dress
Price: $325
Flaunt your figure with this dress. It comes in beautiful purple or black leaving you shining on the big day. Don't worry about flashing the other guests. The mesh material, however, comes with a lining inside the body to protect your modesty.
BCBGMAXAZRIA Women's Long Pleated Dress
Price: $300
This dress has a beautiful color block design making it difficult to not look at. It has a feminine structure emphasized by the pleats, ruffle shoulders, and stunning v neck design. This dress will leave you questioning if you're walking the runway or a wedding ceremony.
Dolce Cutout Two-Tone Stretch-Jersey Maxi Dress
Price: $275
Pair this dress with chunky heels or mules, and you're good to go. It comes with cutouts on the side that are not too exposed, making it a great dress to wear several times. Also, it's designed with jersey material that will hug your curves.
La robe Camargue
Price: $1,080
This dress will last you a lifetime. The design has a sexy cut that shows the right amount of skin. Besides, it's colored in brilliant yellow, making it easy to pair with your neutral accessories.
Milumia Women Plus Size Summer Floral Boho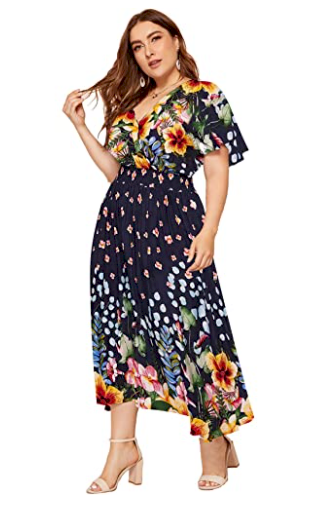 amazon.com
Price: $29.99
This floral dress comes with a tie design that cinches in the waist to flatter your figure. Therefore, you can wear this dress out to another wedding or any other special occasion you may be having without breaking the bank.
Iosefina gathered cotton-poplin midi dress
Price: $1,358
Say goodbye to fast fashion with this stunning yellow number. It has beautiful bell sleeves that make a statement, making sure you can't be missed. All you need to do is throw on some heels, a clutch, and you're good to go.
Lark & Ro Women's Classic Cap Sleeve Wrap Dress
amazon.com
Price: $39
You can never go wrong with a wrap dress. It comes in a flattering wrap design in beautiful black for a chic finish. If black doesn't work for you, check out the rest of Lark & Ro's line, as it has tons of other colors and designs to choose from.
The Reformation Jo Dress
Price: $218.00
This dress is perfect for garden ceremonies. It features a fitting bodice and a relaxed skirt that grazes the knees for a flirty touch. The best thing about this summery design is it's highly versatile and can be worn occasionally.
The Confessional Floral-Print Silk-Satin Maxi Dress
Price: $2,290
If you're a flower fanatic, this dress will do the trick. It is a modest piece that cinches at the waist and drops down to the ground for a goddess-like flattering figure. We also love it for the buttons it has on the side that can be opened to your preference.
Whistles Wrap Dress
Price: $75
Wrap dresses from Whistles are dainty and whimsical. They are fun summer pieces that either mid-length or long. They are also cinched at the waist making it perfect for outdoor gatherings. Besides, they come in gorgeous colors. We love those with animal print, for it adds loads of confidence.