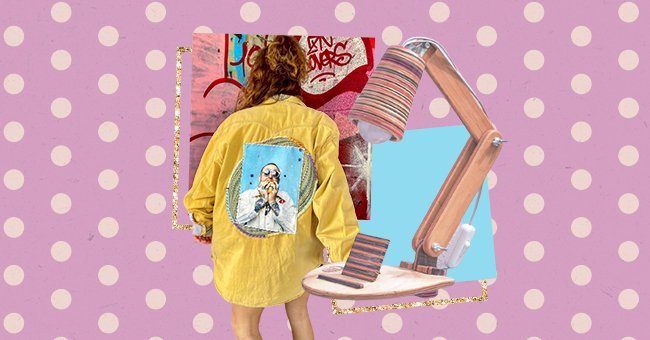 Our Pick: 10 Upcycling Ideas We Love
From time to time, we often see the need for a little household tidying. If you fancy DIY ideas, here's our pick of the ten upcycling ideas we love the most.
Do you know those old colorful tees you bought during your shopping spree last season and don't know what to do with them? What about giving valuable meaning to your Maison jars and transform them into planters?
Before you pile up and toss your oldies in a trash bag, why don't you take some inspiration to turn these seemingly useless pieces into creative and cool objects? We've rounded up ten upcycling ideas you could try today.
Pallet Teepee
Summer is just around the corner, so what about building your teepee? If you have some pallets lying around, why not bringing them to a carpenter and ask him to create this fantastic piece of art? Don't forget to choose a nice painting color and purchase a water-resistant cushion.
Desk Lamp With Phone Holder
Can you believe this gorgeous desk lamp was made of skateboards? Another project to add to your carpenter's list. This desk lamp has a phone holder, and it's versatile for any house style and to any room — you can place it on your night table or office.
Scrunchie
What about a DIY scrunchie made from a vintage necktie? It's 100% silk and 100% upcycled. But if you don't have a necktie, you can use another fabric. Upcycled scrunchies are often made with fabric scraps, leftover elastics, and of course colorful fabrics.
Contrast Collar Shirt Dresses
Old and faded shirts make a perfect upcycled piece. What about this dress made of a men's shirt? To make it more feminine, you can match a waist belt to a cinch in your waist, just like suggested in the picture. If you don't fancy the collar, just use it as an oversized dress.
Upcycled Shirt
The sky is the limit when it comes to creativity and upcycling. This shirt is so cool it makes us want to steal our brother's or boyfriend's shirt and work on our unique and customized pieces. From jackets to shirts to bags — nowadays we can upcycle everything!
Upcycled Jeans Bag
We all have ripped and faded pairs of jeans forgotten in our wardrobes. Why not by giving it a new life and turning it into this versatile bag? This project might be a bit of work, but it's worth it. Search for 'DIY jeans bags' on YouTube or Google and find a tutorial.
Vintage Robe
If you have sewing skills, have you considered creating something different like a robe? Mixing not only fabrics but textures, colors, and prints can only be fun! You can buy brand new sheets and choose how you'd like to combine them or use the ones you already have at home.
Coffee Table
Check out this cool coffee table made out of old skis. Recycled furniture is also an art and if you allow your creativity to run wild you can basically upcycle anything, even old skis! This is another project idea you can bring to your local carpenter.
Colored Funky Chair
Yes, a chair with pompoms, why not? If you're tired of your boring, old chair, get some decoupage, fluffy pompoms, and turn it into a funky and cool chair with a unique and gorgeous design? Your friends and family will love it so much, they will ask you to make one for them!
Upcycled Furniture
The environment can also benefit from upcycling. You don't have to purchase a brand new cupboard or wardrobe for those who aren't skilled enough to transform their furniture. Look for local upcyclers, support local businesses, and grab your unique piece of art.