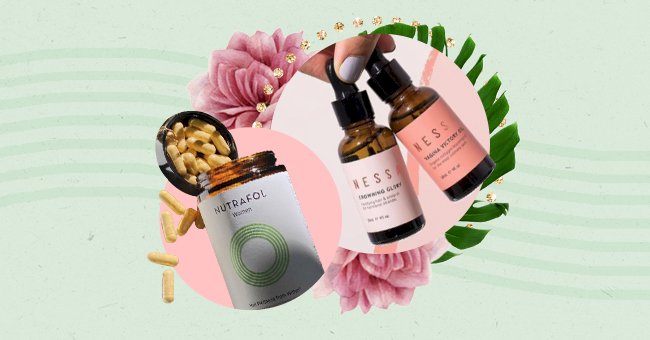 Our Pick: 7 Hair Supplements Worth Trying
For stronger, glossier and thicker hair in as little as 4 weeks, these supplements offer it all. These are our go-to hair supplements worth trying.
If you feel like you've been having "bad hair" days more often than you expected, you're not alone. One in every 5 women over 25 have already experienced some sort of hair issues like hair loss or thinning.
For real-looking hair, faking with extensions and hair treatments just mask a problem. To get it sorted, you should be looking within. A healthy and nutritious diet is the key to solving most hair issues and hair supplements will support ahealthy scalp and hair health. We've rounded up the seven hair supplements you should give a try.
Collagen Inner Beauty Boost
This drinkable supplement is a fermented probiotic developed to support gut health, strengthen the immune system, and boost the skin's natural collagen production.
The Collagen Beauty Boost supplement combines probiotic and grape seed extract, zinc, vitamin C, and a blend of potent berries.
Ouai Oily Scalp Supplements
Jen Atkins is the go-to hairstylist for the Kardashian clan and top models worldwide not by chance. With Ouai supplement, your hair will be healthier than ever.
With biotin, silica, ashwagandha and amino acids as the main ingredients, take just one pill daily and wait 90 days to see the best results.
Nessa's Crowning Glory
This supplement is for new moms who are suffering from post-partum hair loss but don't want to take supplements (especially if you're breastfeeding).
The formula is 100% natural, vegan and it enriches the scalp with vitamins, natural collagen, and omegas helping your hair to be healthy again.
Nutrafol Core For Women
Awarded by Harpers Bazaar, Nutrafol Women won the title of "Best Supplement" in their 2021 Hair Awards with the Core For Women.
The supplement works by fighting inflammation that impairs follicle function. The list of main ingredients are Vitamin E, keratin, marine-based collagen, and hyaluronic acid.
Moon Juice Superhair
This supplement from Moon Juice helps to manage stress and cortisol levels (the stress hormones) thanks to adaptogens ashwagandha and ginseng in its formula.
It targets stress and nutritional deficiencies with added vitamins and minerals to promote healthier, thicker, and stronger hair.
Super Bear Hair
These yummy gummies are filled with biotin, folic acid, coconut oil, and vitamin C and they are the fave hair supplement of the Kardashians.
They support hair growth, improve skin complexion, stimulate collagen production and they don't contain hormones.
Hair Sweet Hair Hum Nutrition
Clients reported hair growth within 3 months of taking these gummy berry-flavored supplements. Hair Sweet Hair comes with the standard set of ingredients that support hair growth.
Besides, they triple-tested the gummies for purity, there are no artificial colors or sweeteners, no GMO, they're also vegan and gluten-free.