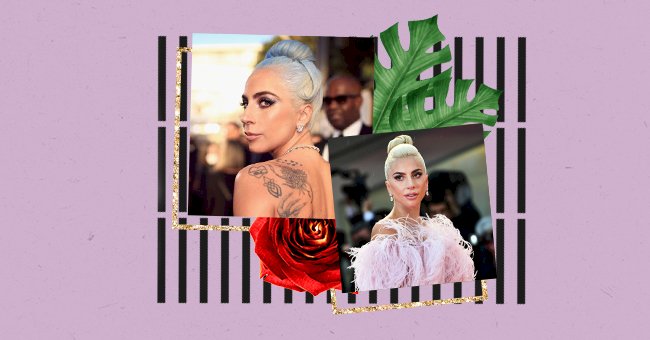 Our Pick: Lady Gaga's Top 10 Best Beauty Moments
Lady Gaga has had some questionable fashion moments over the years; meat dress we're looking at you, but there have been some fantastic moments too. Despite being somewhat controversial, Gaga has been the source of inspiration for many looks.
Whether Gaga is serving full red carpet glam or a simple at-home makeup look, she is undoubtedly gorgeous, and we have all tried to recreate at least one of her makeup looks to try and look like her.
We have compiled a list of 10 of her best makeup looks that we would love to recreate.
The 2008 Lightning Bolt
When Gaga first burst onto the music scene in 2008, she was renowned for her eccentric sense of style and the out-of-the-box makeup and hair ideas that she had. The "Poker Face" video brought us her signature lightning bolt eye.
This was a look that immediately became one of the best makeup looks of all time. In a nod to David Bowie, the songstress recreated this look to become her unique take on the lightning bolt.
The 2010 Grammy Awards
Yellow hair and pink makeup were something that we would expect from Gaga at this point. She had made her mark on the world as the woman with the wacky style, and we all loved her all the more for it.
This look is the perfect example of how Gaga could do no wrong in her fan's eyes. Her wig tracks were exposed, her eyebrows were way too long, and the pink lips were a stark contrast to her black smokey eye. Somehow, though, all of these elements that seemed wrong on their own came together to form something iconic.
The 2011 Black Eyebrows
At this point, eyebrows were becoming something of a beauty obsession. Everyone was filling their eyebrows in or placing concealer over them so that they could build an entirely new eyebrow shape.
Gaga took this to the next level, as ever, and concealed over her natural eyebrows to draw on a pair of very straight black eyebrows. The look was finished off with a mole drawn on her cheek and a fun blue bob.
The 2015 Academy Awards
This Asian-inspired hairstyle and makeup look were beautiful complements to the white gown that Gaga wore on the night. The makeup was done beautifully and was a nice change from the usual outlandish makeup that Gaga wore.
She wore this look with her hair tied back into a sleek low bun, making the entire look refined and elegant instead of somewhat extra-terrestrial looks that we had seen Gaga in before this.
The 2016 Academy Awards
This is perhaps the first time we got to see Gaga stripped of makeup. While the star still had makeup on, it was minimal. She didn't change her brow color; her eye makeup was simple, and her lips were a tasteful dewy nude color.
This look is one that you could (and should) easily recreate. It is a stunningly simple look that won't overshadow your makeup or hair.
The 2017 Grammy Awards
Gaga arrived at the 2017 Grammy Awards with a taste of the old Gaga mischief that we know. Her eye makeup was dark and dramatic, her lips were bright, and her hair was streaked with pink in between her golden locks.
This is a look that is edgy while remaining sexy. There is something sensual about a bright lip that Gaga pulls off perfectly. We would love to recreate this look for a night out.
The 2018 Grammy Awards
Nothing can beat this dramatic, black smokey eye and a nude lip that Gaga wore to the 2018 Grammy Awards. The makeup was done beautifully, and the nude lip allowed the eyes their time to shine.
This look might be a more difficult one to recreate if you are not a professional makeup artist, as black eyes can be very tricky to achieve, but if you feel confident enough to do it, you should try this look out.
The 2018 "A Star Is Born" Premiere
Pretty in pink is not something we ever thought we would be able to say about Gaga, but here it is. The sleek bun and the simple makeup made this entire outfit what it is. Granted, the dress is beautiful, but it's all just a pink floof if not for the hair and makeup.
This look could be easily replicated (bar the gown), and you could wear it to any formal function. If you were wearing more casual clothing, you could even wear this look to some kind of lunch or work meeting.
The 2019 Screen Actors Guild Awards
We loved this look because the dress's drama was perfectly balanced by the little drama in the makeup. This look was so gorgeous because it showed us a hint of the old Gaga and a touch of the new Gaga all rolled into one.
This makeup would be perfect for a night out with an all-black ensemble. Be sure to carry concealer with you, though, because dark lipstick can be messy.
The 2019 MET Gala
The 2019 MET Gala celebrated camp, so of course, we got old Gaga in full force. This was the perfect platform for the star to really allow her creative juices to flow and give us something exceptional.
The bright pink gown matched with her bright pink nails and was finished off with orange and gold false eyelashes. The star also had her makeup done so that her eyes seemed much bigger than they are.