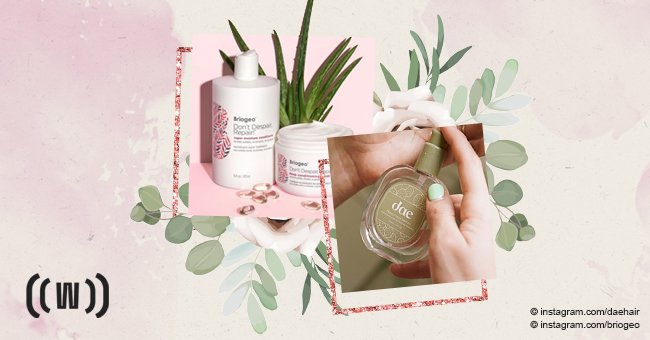 Our Pick: The 7 Best Eco-Friendly Hair Products of 2021
Are you lost trying to find the best organic hair product for your hair type? We've got your back! Here's a list of the best eco-friendly products on the market.
Beauty routines are much more than an act of vanity — just like a morning ritual or meditation practice, it has the power to calm one down, and it makes us feel better, right?
If you'd like to take a step further into your sustainable practice, you should try one or two items from this list and bring natural and conscious ingredients into your hair care. Let's check the best products for you to do that.
Love Beauty & Planet Black Tea Kombucha & Red Ginger Shampoo
Love Beauty & Planet debunks the belief that all drugstore hair shampoos are packed with synthetic ingredients and harmful chemicals. Kombucha isn't only an excellent ally to gut health but hair health too — it gives life and glows to dull and dry hair.
Briogeo Don't Despair, Repair Deep Conditioning Hair Mask
With a deep conditioning mask formulated with argan, biotin, sweet almond, and rosehip oil, Briogeo Don't Despair, Repair is one of the best organic hair masks on the market. After one application, you'll get shiny and deeply hydrated hair.
Curlsmith Curl Quenching Conditioning Wash
Sister with curly hair, you've just found your conditioner. This product is a 2 & 1 Shampoo and Conditioner in just one bottle. If your waves or curls are thirsty and need loads of hydration, feed them with a cocktail of avocado, shea butter, and coconut oil.
Ursa Major Shampoo
What about cleaning your hair while giving a hydration boost? That's what this shampoo does. This lightly-conditioning daily shampoo is lathering and sulfate-free and works well for all hair types, with macadamia extract and scalp-balancing licorice.
Rahua Hydration Detangler + UV Barrier
Hair detanglers coat the hair's surface with an extra layer of oil or polymer that softens the hair. Rahua's detangler comes with passion fruit and mango scents; the product isn't only organic but fully plant-based. It suits all hair types.
Dae Prickly Pear Hair Oil
Considered a "miracle worker", Dae's hair oil is lightweight and works as an overnight hydration treatment or as a finish on dry hair. A mixture of natural oils (sweet prickly pear seed, meadowfoam seed, and moringa leaf extract) is sulfate and paraben-free.
Klorane Dry Shampoo with Oat Milk
This award-winning French dry shampoo is here to make your hair feel clean and refreshed when you don't have time to wash it. With hypoallergenic and plant-based ingredients, there's one Kloran dry shampoo sold every 9 seconds worldwide!