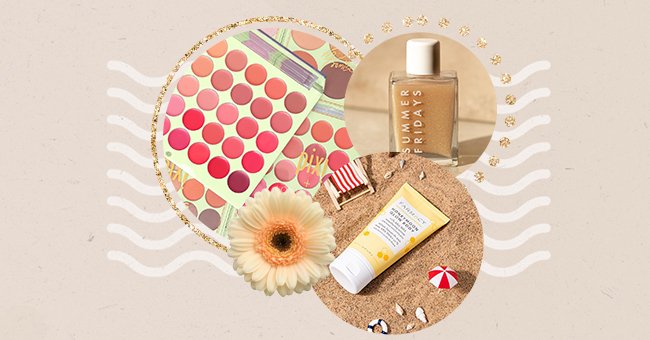 Our Pick: The Best Beauty Launches Of Summer 2021
This summer, indulge yourself in splurge-worthy formulas for a healthy, radiant glow. From Farmacy Beauty's Honeymoon Body Glow to Pixi's Cream Rouge Palette, these beauty products will brighten up your day like nothing else!
Every season presents an opportunity to curate a new beauty routine. Unlike winters, the warm weather is all about basking in lightweight, hydrating and glowing formulas. In case you're curious, we're hinting at serums, facial treatments, cream blushes, and the like.
To help you kickstart your summer regime, we've scoured the internet to find the cream of the crop. So without further ado, here are the best new beauty products to add to your carts. You're welcome!
Farmacy Beauty Honeymoon Body Glow
Farmacy Beauty Honeymoon Body Glow is a hydrating and resurfacing serum. This non-greasy formula contains lactic and salicylic acids. Together, these powerful ingredients exfoliate, smooth out, and brighten the skin.
About-Face Shadowstick
About-Face Shadowstick is a highly pigmented single-stroke eye creme. It comes in eight shimmery and matte shades and promises a statement-eye look. Moreover, this eyeshadow won't budge for up to 10 hours straight.
Dermaflash Mini
If you're fond of dermaplaning, then you'll love Dermaflash Mini. It is designed to get rid of peach fuzz and dead skin painlessly. You can use it to target hard-to-reach spots around your eyes, brows, and lips. Lastly, you can use it as a massaging tool to reduce inflammation and puffiness.
Glow Recipe Watermelon Glow Hyaluronic Clay Pore-Tight Facial
Glow Recipe's all-new Facial is a dreamy delight in a pretty pink jar. This exfoliating treatment contains hyaluronic acid, BHA, and PHA. These nourishing ingredients unclog pores and wash away dead skin cells. They also help hydrate and brighten the skin.
Nars Air Matte Sheer Cream Blush
This soft-touch cream blush comes in matte and shimmery finishes. Its velvety-soft mousse-like formula is perfect for a natural blush in the summer. Moreover, it contains jojoba gel which helps nourish and soften the skin.
PIXI x Louise Roe Cream Rouge Palette
Louise Roe and Pixi collaborated to create this Cream Rouge Palette. You can use this multifaceted formula solo, mixed or layered on your lips and cheeks. Choose from 25 dreamy shades to create the perfect customized look.
Summer Fridays Pool Time Glowing Body Oil
It's beach o'clock, everyone! But before you get going, dab on a little Summer Fridays Pool Time Glowing Body Oil. It contains notes of coconut and vanilla blossom, and promises a sun-kissed glow.