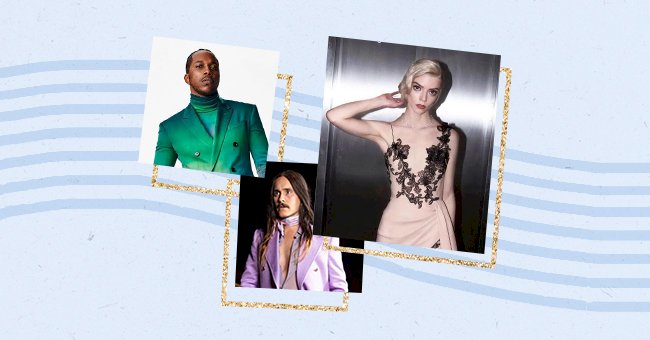 Our Pick: The Best Dressed At The SAG Awards
Awards season is almost over, but we still have a few more awards shows to watch before they're over for the year. On Sunday, the SAG Awards were hosted (virtually), and actors got dressed to the nines for the occasion.
The entire awards ceremony was done virtually. Some other shows have been a hybrid between virtual and in-person attendance. Everybody from nominees stayed safe at home for this one, though.
Nicole Kidman
Kidman wore this almost ethereal feeling gown by Giorgio Armani and looked stunning in it. She paired the dress with an effortless fishtail braid and subtle makeup that added to the gown's fairy princess feel.
Kerry Washington
After being nominated for her role in 'Little Fires Everywhere, Washington wore this custom Etro gown and one-of-a-kind headpiece that gave us serious mermaid vibes. Washington posed in a swimming pool with this dress for something that we have never seen before in an awards ceremony photoshoot.
Lily Collins
As always, Lily Collins was gorgeous in her Casadei and Cartier outfit. The gown was as beautiful as the jewels and the shoes, and the outfit was perfectly complemented by Collins' makeup, which was flawless as usual.
Jared Leto
Lilac is a color that we will never get tired of, but Jared Leto might have pulled it off in a way that nobody else could. This suit is immaculate, and the confidence with which Leto wears it makes it look gorgeous.
Dan Levy
While Dany Levy had two SAG Awards outfits, his first was our favorite. This classically stunning custom cream suit by The Row was gorgeous on Levy, who paired the outfit with a pair of sunglasses to set the look off.
Cynthia Erivo
It seems like Cynthia Erivo can't attend an awards ceremony, virtual or otherwise, without landing up on a best-dressed list. This Alexander Mcqueen gown was beautifully matched with Forevermark jewels and subtle makeup to create the perfect virtual awards ceremony look.
Regé-Jean Page
There is simply nothing like a black-on-black outfit, and Rege-Jean Page perfectly displayed that with this outfit. Page was dressed in Louis Vuitton and paired the look with sunglasses, perfect for an at-home awards ceremony.
Leslie Odom Jr.
Taking colorful to a new level, Leslie Odom Jr., who recently became a father of two, wore a Berluti suit that rivaled a rainbow. Few people could carry such a colorful outfit off so well, but Odom Jr. did it with confidence and grace.
Jamie Chung
Jamie Chung is the definition of grace and beauty in this gown by Oscar De La Renta. The fiery red dress perfectly complimented the star's blonde hairs framing her face. She also carried a "Stop Asian Hate" slogan clutch bag, which allowed her to take a stand on a public platform to get attention.
Mindy Kaling
Royal blue is a color that we absolutely love to see on the red carpet. It is striking and bold, and no matter what kind of gown it is, royal blue is always beautiful. Mindy Kaling showed that this is true in this Alex Perry gown.
Anya-Taylor Joy
Anya-Taylor Joy has had an incredibly successful year so far, both in awards and best-dressed lists. She has been in almost every single best-dressed list this awards season, and the Sag Awards were no different. She looked breathtaking in her Vera Wang gown.
Viola Davis
Viola Davis can do no wrong on the red carpet. Davis is another star that has been on almost every single best-dressed list this awards season, and we couldn't leave her behind on this one, either. The star wore a lime green Louis Vuitton dress and Forevermark jewels to complete the look.
Florence Hunt
Hunt has only recently burst onto the scene after having starred in 'Bridgerton,' but she is already showing the world that she is more than ready to take on the red carpet. She wore a beautiful and fun gown, making it the perfect dress for a young woman.
Gillian Anderson
If we said we didn't have a woman crush on Gillian Anderson every day, we'd be lying. Anderson is the perfect example of the woman we want to be when we grow up. The SAG Awards showed the world that Anderson is not slowing down anytime soon. She wore a breathtaking strapless Dolce and Gabanna gown in a deep red paired with her signature updo.
Aldis Hodge
Aldis Hodge showed us that there is never any such thing as over-the-top. This outfit was loud and colorful, and Hodge pulled it off with grace and confidence that only he could. The Dolce and Gabanna suit was paired with black shoes with a gold accent on the heel that perfectly matched the suit.