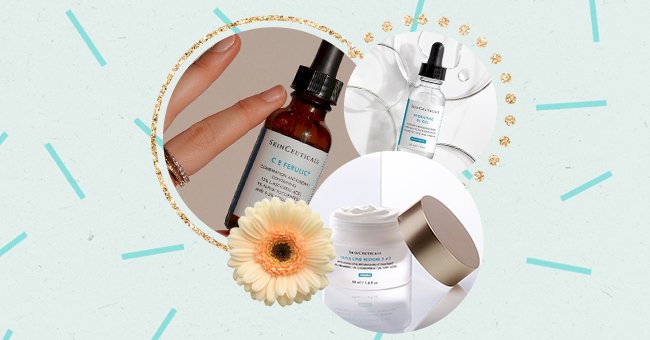 Our Pick: The Best SkinCeuticals Products To Try
The skincare industry is overflowing with numerous brands, including established names and new tenants. If you're after a brand that values tried and true formulas loved by dermatologists and beauty experts alike, look no further than SkinCeuticals.
"It's a brand that is truly backed by science, no product is released unless it has been tested with rigorous scientifically proven testing methods. It's also a brand that also listens to dermatologists and relies on the demands of our patients."

-says Dr. Julie Russak, New York City board-certified dermatologist.
SkinCeuticals was founded by a dermatologist to aid his skincare patients, to help stimulate their skin's healing and repair process. Over time, this cult-favorite skincare brand has evolved into something much bigger, innovative, and effective. Check out the best SkinCeuticals products worth trying.
SkinCeuticals C E Ferulic
SkinCeuticals C E Ferulic is packed with pure vitamin C and E, which help neutralize free radicals, shielding the skin from environmental stressors. This skin-replenishing serum also reduces signs of aging, fine lines, and wrinkles, boosting the skin's inner glow.
SkinCeuticals SilyMarin CF
SkinCeuticals SilyMarin CF is powered by vitamin C, which protects the skin against oxidative stress, acting as an anti-aging ingredient. Also present are silymarin, ferulic and salicylic acids, which help reduce oiliness, improve skin texture, and reduce the appearance of fine lines.
SkinCeuticals Hyaluronic Acid Intensifier Serum
SkinCeuticals Hyaluronic Acid Intensifier Serum is packed with hyaluronic acid, proxylane, licorice root, and purple rice. Together, these potent ingredients support skin's barrier function, lock in moisture, improve skin firmness and restore its elasticity.
SkinCeuticals Triple Lipid Restore 2:4:2
SkinCeuticals Triple Lipid Restore 2:4:2 is a skin-replenishing formula enriched with essential lipids, vitamin E, and essential oils. It is a fast-absorbing moisturizer that deeply hydrates and brightens the skin, restoring its youthful appearance by reducing fine lines, wrinkles, and signs of aging.
SkinCeuticals Hydrating B5 Gel
SkinCeuticals Hydrating B5 Gel can easily become your summer-favorite hydrating serum. It is packed with the ultimate hydrator hyaluronic acid and tissue-repairing vitamin B5 and visibly improves the skin's appearance by combating fine lines and dehydration.
SkinCeuticals Phyto Corrective Mask
SkinCeuticals Phyto Corrective Mask is packed with hyaluronic acid, a calming dipeptide, and pure active botanicals. It is a calming facial mask that soothes skin sensitivity, combats redness, and rejuvenates the skin's natural glow.
SkinCeuticals Gentle Cleanser
SkinCeuticals Gentle Cleanser is a soothing cleansing treatment containing orange oil, which calms irritated and sensitive skin. It is a non-irritating formula that washes away dirt, excess oil, and product buildup, making the skin soft, smooth, and radiant.