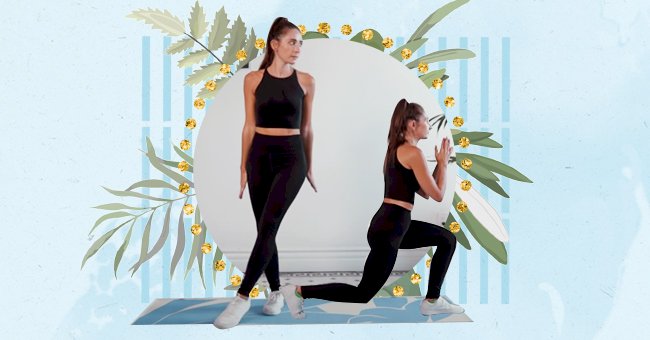 Our Pick: The Best YouTube Workout Videos To Try This Year
From boxing to yogalates and HIIT cardio routines — grab your mat and your water bottle and find the perfect workout video on YouTube.
Last year we experienced a boom in at-home fitness plans, workouts and yoga classes. The number of fitness app, streaming workouts, and YouTube channels skyrocketed. If you want to stay fit and keep up with your fitness routine or want to start a new one, it doesn't matter — you can find it all.
YouTube channels are the easiest and cheapest option. From HIIT to Pilates, to movement classes, from 5-minute to 1-hour length, you can always find something that will meet your fitness goals. We've rounded up 10 of the best YouTube workout videos to try this year.
30-min calories killer
Full-body cardio with no equipment needed, get ready to break a sweat, and burn a good amount of calories with this workout.
Not recommended to newbies, this 30-minute high-intensity class will make you sweat. Recommended for medium to advanced level-people.
Train like a Hollywood star
Jeanette Jenkins, the Hollywood trainer, offers a 45-minute cardio and abs-sculpting workout on the POPSUGAR YT channel.
This workout includes moves like burpees, tuck jumps, and shuffles to get your heart rate up, burn major calories, and challenge you!
Two killer workouts in just one!
Heather Robertson has combined two killer workouts in just one 45-minute class — HIIT and Cardio and abs in 4 circuits, 2 rounds of each.
Good background music, very professional and straight to the point, Heather has collected in this video more than 2 million views and gathers nearly a thousand positive comments.
No equipment, no noise, no impact
In this 20 minute HIIT workout, Natacha Océane will guide you through a circuit of 5 exercises, repeated 4 times. Each exercise is performed for 30 secs and followed by 30 secs rest.
Some of the exercises are lateral bears + kneel-to-squat, Alternating knee strikes, and side-to-side squats, and they are part of Natacha's home program.
Dance party workout
With 14 million (yes, million!) views, this full-body dance 15-minute cardio routine is a throwback to the 2000's music! Burn calories, dance, and sweat like you're 15 again with Beyoncé, Pussy Cat Dolls, Usher, and Rihanna.
The great thing about this routine is that it doesn't take too long and it's the perfect way to begin a fitness routine if you haven't been active in a while.
500 calories in 30 minutes
The greatest thing about this routine is that it is designed for everyone, whether you're a newbie or advanced in fitness.
Rachel gives modifications for every exercise in this routine for anyone who is a beginner, can't do jumping exercises, or just wants to take it a little easier. She recommends doing this workout three times a week to see changes in your body.
Dance Afrifitness
For those who love dancing, this is an excellent African dance workout. Featuring popular afrobeat songs, this routine will boost your mood while you're working up a serious sweat!
Rachael Okesola, the Afrifitness channel creator, also offers the 28-Day African Dance Challenge on her website.
Home boxing workout
Are you up for a greater challenge and try a new activity? Nate Bower, a certified boxing instructor, shows you how to get started with boxing on his fitness channel.
Different from most boxing YouTube channels, Nate offers routines that you can make at home. You just need some space and maybe a friend to join you.
Yoga & Pilates fusion
With a combination of Pilates exercises and yoga asanas, this class will raise your heart rate. It will help you tone and strengthen the hamstrings, glutes, abs, and obliques, increase your flexibility, and speed up your metabolism.
Juliana will guide you through a 20-minute Yogalates class in a breath-taking surrounding and with relaxing background music.