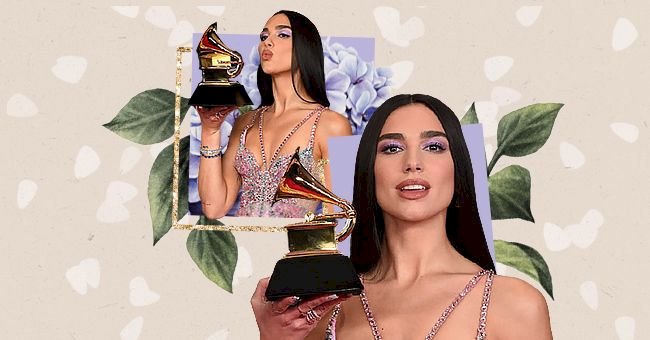 Our Pick: Top 10 Best-Dressed At The Grammy Awards
Here we go again; stars, diamonds, heels. Awards show the lifeblood of the entertainment industry. We spend all year waiting for awards season to come around, and when it does, we're giddy with excitement.
It's like being five-years-old and getting told all of your favorite candy bars are putting on fancy dresses and walking on a red carpet. Okay, maybe not quite like that, but still exciting. The most recent awards show has been the Grammy Awards, and the outfits were stellar.
We're taking a look at the top 10 best-dressed at the Grammy awards this year.
Taylor Swift
If you had legs like Taylor Swift, you'd want to show them off, and show them off she did! The star looked gorgeous in the floral mini dress by Oscar De La Renta. The mini was paired with simple pink heels and a chic updo.
Swift has been on most best-dressed lists since she started attending red carpet events because all of her outfits are stunning. It seems like the star can never get it wrong. This time was no different.
Dua Lipa
There's something to be said for the sex appeal of the outfit paired with Dua Lipa's inherently playful and silly nature. The combination seems odd, but it works in Dua Lipa's favor for sure. The star was beautifully dressed in a Versace gown.
The star's hair and makeup were done to perfection and reminded us somewhat of a young Cher (who was on our all-time best-dressed list at the Grammys) with long, sleek black hair.
Chrissy Teigen
It has not been an easy year for Chrissy Teigen and her husband John Legend, but the star went all out for the Grammys this year. She channeled her inner flapper and had a dress finished with fringe details. She paired the look with an oversized blazer and black strappy sandals.
John Legend went for a more understated look, wearing only a black and gold Versace robe. The couple spent the ceremony at their home in LA and therefore did not need to dress up, which it appears Legend decided not to do.
Tiara Thomas
One can never get tired of looking at a beautiful LBD. While this dress was not exactly little, it was gorgeous. A black dress is an excellent way to stay trendy and add drama to the outfit without too much.
Thomas paired her dress with minimal jewelry and gorgeous braids. The star was effortlessly beautiful and had confidence about her that could not be matched.
Mickey Guyton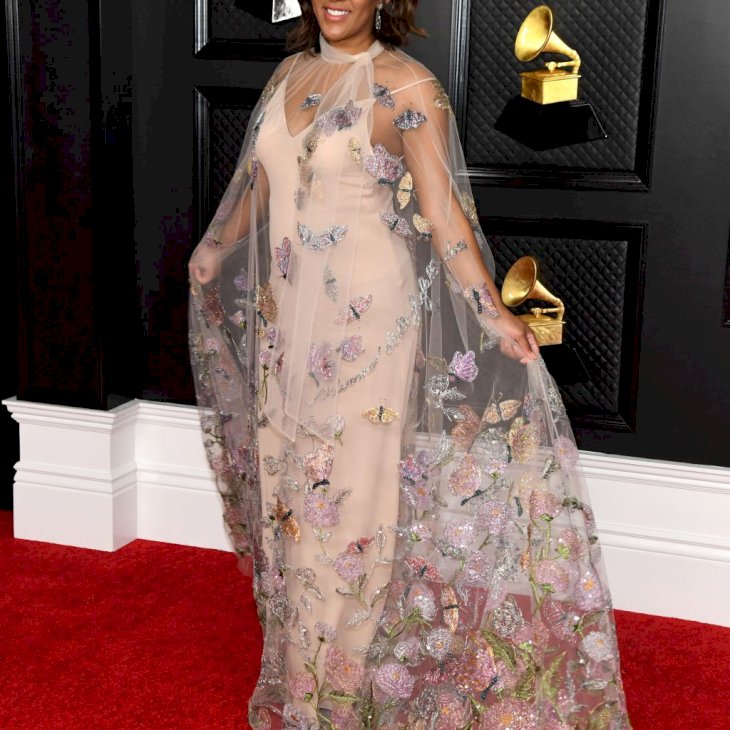 Getty Images
You cannot go wrong in a Valentino gown and Neil Lane jewels. Guyton is a testament to that fact. The star was breathtaking in her nude dress with a see-through floral net over the top. The outfit was gorgeous.
The jewelry was just understated enough to let all of the attention fall on the dress, and the hair and makeup finished the look off beautifully.
Kendrick Sampson
There is nothing like a man in a tailored suit, and when that man is Kendrick Sampson, all the better. Sampson was gorgeous in a matte black suit with black velvet trim, and if you were lucky enough to be that close to him, you would be able to see the specks of glitter on his collarless dress shirt.
Sampson could never have been left off of this list when he looked like that at the Grammys. He was classy and elegant as well as wildly attractive.
Harry Styles
Harry Styles has been breaking so-called style 'rules' since he posed for vogue in a ball gown. The Grammy Awards are no different. The star performed at the Grammy's in a leather suit with a green feather boa around his neck.
Styles' hair was styled in a messy slicked back style that looks both like he's just rolled out of bed and like he's been preparing it for three weeks in anticipation of the ceremony. Harry Styles is a fashion icon in our book.
Jhene Aiko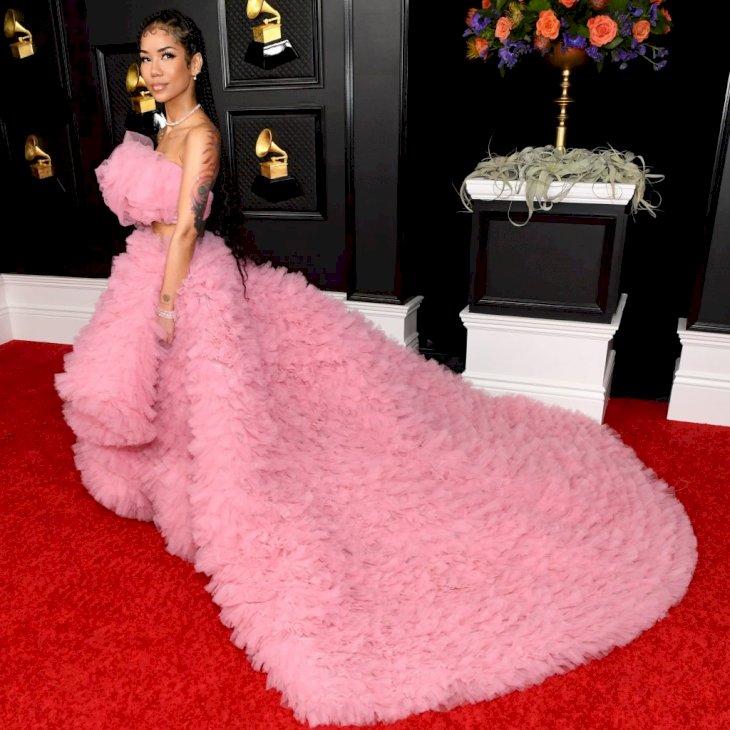 Getty Images
Who can deny that a beautiful pink cloud of a ball gown is breathtaking? We definitely can't, and that's why Jhene Aiko has made our best-dressed list. The star was stunning in a pink skirt and crop top by Monsoori.
She paired it with a chunky necklace and her signature braids. The look was altogether exquisite, but we expected nothing less from Aiko.
Nina Parker
Ariel better step aside because Nina Parker is the finest mermaid on the block. The star wore a gorgeous mermaid cut dress in a beautiful green color. The gown was magnificent, as was the Instagram post made by Parker about her look.
The look was finished off with beautifully curled hair and a fresh makeup look that allowed all attention to be focused on the dress.
Tanya Rad
Tinkerbell has nothing on Tanyabell in this cute and funky pink mini-dress. This look is one of our all-time favorites as it brought a sense of fun and excitement to the red carpet. The star even did her hair in the same style as Tinkerbell.
The mini was by Nicole & Felicia and was paired with a cute fluffy heel to add to the merriment of the outfit. Rad's makeup truly accentuated her eyes, and the jewelry tied the entire outfit together.