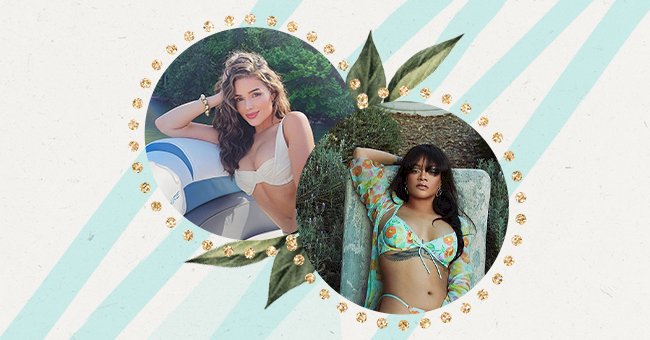 Our Pick: Top 10 Celeb Swimsuit Moments
The weather is getting warmer, and the clothing is getting smaller as we gear up for summer. We've been waiting all winter to get back into our swimsuits and have pool and beach days again.
While everybody can do a swimsuit moment, nobody can do a swimsuit moment quite like celebs can. They have a way of taking any swimsuit and making it seem like it was made especially for them.
It is infuriating and inspiring that they can look that good while wearing next to nothing, which is why we've decided to take a look at the best celebrity swimsuit moments.
Bella Hadid
Being a supermodel in a bikini might be one of the most glamorous things ever. Being a Palestinian-Dutch supermodel in a bikini takes it to a new level, though. Bella Hadid is living proof of that.
This navy blue bikini set would look incredible on anybody, but the fact that it is on Bella and seeing it in a bathroom that looks like it should be in a museum has elevated the entire look and put it on our list.
Heather Rae Young
Each of the 'Selling Sunset' ladies is gorgeous in their own right, but we couldn't resist adding Heather Rae Young in her cheetah print bikini and black cap to this list. It is a simple yet sexy look.
She is wearing an elegant gold chain, and mismatched earrings poolside is something that we can overlook, considering that it makes the bikini seem much more glamorous than the average swimsuit.
Olivia Culpo
Okay, here's the thing, Olivia Culpo could make a trash bag look glamorous, which is probably why she effortlessly made this monotone bikini set seem like it could make it to the red carpet someday.
The bikini is simple enough, but when Culpo wears it, it is elevated to new heights because of the elegance and grace with which she wears the piece. The hair and makeup probably help a lot, too.
Kourtney Kardashian
All Kardashians love a good swimsuit moment and never miss an opportunity to post their swimsuit adventures on their various social media pages. Kourtney Kardashian has shared many bikini pictures on her Instagram.
This red moment was one of our favorites, though. Kourtney Kardashian in a red bikini, worn upside down, is a moment that we would like to embody every time we wear a swimsuit. This is by far one of the best Kardashian swimsuit moments ever.
Kayla Fitzgerald
Kayla Fitzgerald might formerly have been known for her roles in 'Slasher' or 'The Amazing Race,' but from now on, she will be known for this multi-colored bikini moment that she shared on Instagram.
The vibrant bikini paired with the simple white skirt and crop top in the second frame of the picture series is the perfect set, and what's even better is that she linked the place where you can find the set so you can recreate this moment.
Bella Thorne
Bella Thorne is hardly ever seen wearing much more than a bikini, so it has become something of a nonevent when she posts herself in a bikini on her Instagram. However, we had to include this video purely because of the glamour.
A white bikini will always be a classic, but a white bikini bejeweled on the sides is something that every girl has wanted to own in her lifetime. It is classy and elegant while still being flashy and eye-catching.
Kylie Jenner feat. Stormi
Having a good bikini day on your own is quite something; having a good bikini with your daughter is next level, though. Kylie Jenner and Stormi have worn many matching outfits, but this is by far our favorite.
The bikinis are loud and interesting while remaining understated enough to let the ladies in them shine like only they can. We're currently trying to figure out where to find mom and daughter bikinis just like these.
Lizzo
Lizzo has been a champion of body positivity since she exploded onto the music scene back in 2017 and is never afraid to show her body off with a good bikini pic posted on her social media pages.
This yellow bikini moment is gorgeous because the color looks incredible on her. She wears the set with so much elegance and confidence, proving that you don't have to be a supermodel to look incredible in a swimsuit.
Rihanna
Celebs wear many different brands daily, so it is not uncommon to see them promoting one another's brands on their social media pages. However, promoting your own brand and looking smoking hot while doing it is a level up.
Rihanna lounging around in her Savage Fenty bikini is a moment that lives in our minds rent-free. The matching robe elevates this look from Miami beach to a seaside cafe in Malta.
Jessie James Decker
Being a mum of three must be hard work. Running around your kids and making sure that they are happy and healthy is a job in itself, which makes us wonder where Jessie James Decker finds the time to look this good in a bikini.
Jessie posted this photo series on Cinco De Mayo and followed it up with a video on how to make skinny margaritas, all while wearing the most beautiful floral swimsuit we have ever seen. It is classy and elegant and perfect for this gorgeous mama.