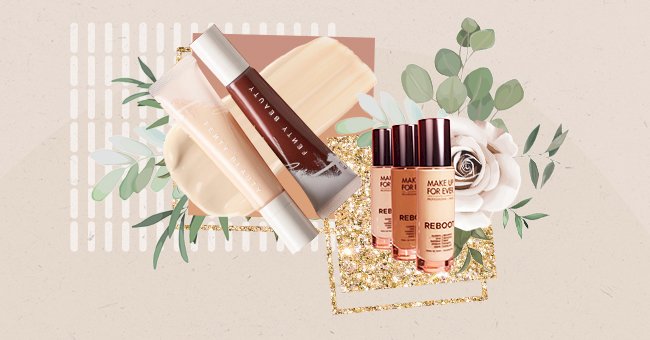 Our Pick: Top 10 Foundations For Women Of Color
Before a few years ago, finding many people of color were faced with a challenge when looking for a shade of foundation that matched their skin tone.
Ever since Rihanna came out with her astonishing roll-out of fifty foundation shade, the make-up industry has never been the same again.
Women of color are now being catered to and can find foundation shades that fit their skin tone as well as their individual preferences. Whether you're more of a powder girl or liquid, dewy or matte there's a foundation for you. Here are a few that we like:
Rare Beauty Liquid Touch Weightless Foundation
Price: $29
Buildable to medium coverage, Rare Beauty has delivered a plethora of seriously impressive products. The foundation is lightweight and comes in a vast forty-eight shades.
Make Up For Ever Reboot Active Care Revitalizing Foundation
Price: $39
This revitalizing foundation not only offers a smooth satin finish, but it's also hydrating and brightening because of the ginseng, mondo grass.
Fenty Beauty Pro Filt'r Hydrating Foundation
Price: $36
The makeup industry was turned on its head when Fenty announced its unprecedented fifty shades of foundation. The inclusive brand later launched this foundation and put smiles on faces once again. The hydrating foundation a long-lasting dewy finish.
Maybelline New York Super Stay Foundation
Price: $12
A drugstore brand that stands up for itself and matches up to some of the luxury brands that we know and love. This foundation lasts and lasts for an all-day flawless finish.
CoverGirl Full Spectrum Matte Ambition All Day Foundation
Price: $9
If you're looking for a decent foundation that won't break the bank, there are many, and this is one that you may consider. It provides full coverage and feels lightweight.
Black Opal True Color Skin Perfecting Stick Foundation SPF 15
Price: $11
Though liquid foundation may be the go-to option for many, we all have our preferences when it comes to foundation. This stick offers full coverage and it has SPF for extra sun protection.
Bobbi Brown Skin Long-Wear Weightless Foundation SPF 15
Price: $49
If you have oily skin, foundation shopping may also look like a balancing act between matte and moisturizing. Bobbi Brown's iconic weightless foundation gives you both.
Iman Cosmetics Luxury Concealing Foundation
Price: $14
This concealing foundation has buildable coverage that also gives your skin that slightly airbrushed finish, blurring blemishes.
AJ Crimson Beauty Dual Skin Creme Foundation
Price: $45
Products that can do a little bit of everything are a convenient time-saver for those days that you want to get your face made up, and go. This foundation also double as a concealer or be used to contour.
Sephora Collection Best Skin Ever Liquid Foundation
Price: $20
We love a product that can multi-task and Sephora's foundation is not only a good foundation, but it's formulated with ingredients that are good for your skin like hyaluronic acid, squalane.