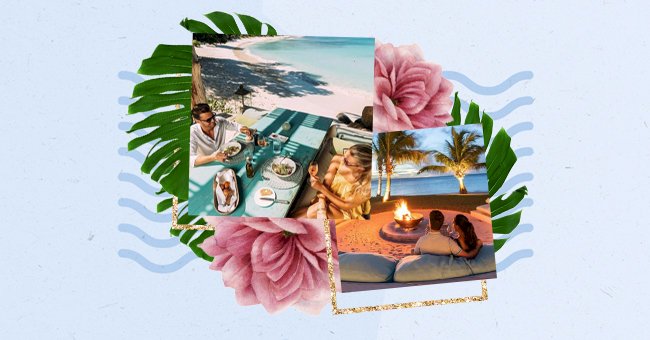 Our Pick: Top 10 Luxury Vacation Spots For An Indulgent Trip
Have you been home for too long and can't wait to travel again? After so long, you deserve a stylish and luxurious break, right? Find what you deserve here.
Winter is finally over, spring had arrived a month ago, and summer is soon to be here. If 2020 was an exhausting year for you and now you're searching for the most indulging luxury vacations you could have, you've come to the right place.
Book an unforgettable experience with one of these high-end spots, or get inspired to plan your next getaway this year. We've rounded up the top ten luxury places for an indulgent trip.
North Island - Seychelles
White sand magazine-style beaches, crystal clear water, and breathtaking landscapes, you'll feel like you're in a dream. Seychelles is one of the most idyllic luxury vacation spots in the world.
Eleven luxury villas make up the North Island's accommodation, located 18 miles away from the mainland. But with a private pool, personalized dining experience with a Michelin star chef, you won't need to leave your villa for anything!
Belmont Hotel Caruso - Almafi Coast, Italy
Suspended in the high lands of the Almafi coast that overlooks the cliffs and rocks, Belmont Hotel Caruso stays in a former medieval palace.
Belmont Hotel Caruso is a celebrity hotspot with a spectacular infinity pool and unique dining experience, famous for hosting ex-presidents, movie stars, and famous writers.
Wa Ale - Myanmar
Located on a private island on the country's southwest coast, Wa Ale is an eco-conscious piece of heaven. Even if Myanmar doesn't sound a place you would go, maybe you should change your mind.
The eco-lodge offers a retreat in both villas or beach bungalows and you can enjoy every minute there snorkeling, kayaking, or diving.
Soneva - Maldives
Apart from the crystal clear waters, white beaches, and tropical climate that the Maldives has to offer, if you stay at Soneva, you'll experience a fairy-tale-like vacation.
From opulent options of having a private seawater pool or a tree-house style bungalow, get ready for the most unforgettable vacations in your life!
Time + Tide - Madagascar
Time + Tide Miavana is an incredibly luxurious resort located on remote Nosy Ankao island, an archipelago located in the northeast of Madagascar.
Miavana's palatial villas have all been specially designed by the same architects who designed North Island in Seychelles. Enjoy the jaw-dropping view and pristine waters of Madagascar from your private deck.
St Regis - Bora Bora
Bora Bora is a small island in French Polynesia famous for its pristine beaches and for drawing A-list celebs to enjoy themselves there. St. Regis offers everything from sunset couples massages to romantic dinners and bicycle rentals, sailing on-site, and yoga classes.
Be Tulum - Mexico
Be Tulum is a boutique hotel in the trendy and Insta famous Tulum, at the bottom of the Riviera Maya in Mexico. The hotel has its own full-blown spa and restaurant commanded by a Michelin-star chef. What about a plunge pool in your suite? You can have it all.
Le Barthélemy - St Barts
Le Barthelemy is a synonym of elegance and luxury. With spacious and comfy rooms, some with a small plunge pool, the hotel also offers an exclusive spa. Water sports enthusiasts will have a blast with kayaking, kite-surfing, and snorkeling offers.
Singita Grumeti - Tanzania
What about a safari adventure? Singita sits in a preserved area surrounded by the lush green and breathtaking nature of the Serengeti National Park.
The lodge offers nine cottage suites and one villa styled as colonial manor houses, antique bathtubs, a wraparound veranda, and a plunge pool that will make you not want to leave anymore!
The Mulia - Bali
The Instagram sensation, The Mulia, sits on Nusa Dua, a tiny island nearby one of the most touristic spots in Southeast Asia, the Indonesian island, Bali.
Whatever luxurious indulgent wish you have for a room, you can have it here. From a Finnish wood sauna to a steam room, you can spoil yourself in any way.