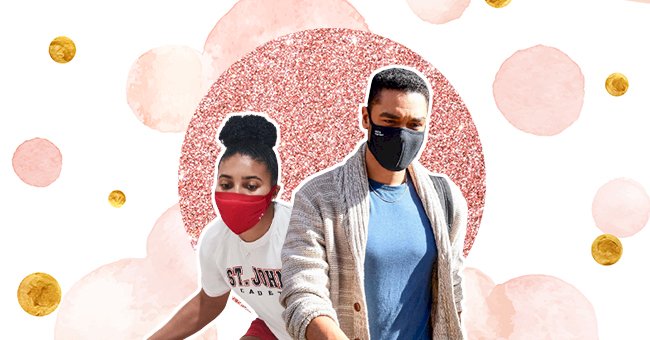 Our Pick: Top 10 Masks For Double Masking
A study from the Centers for Diseases Control and Prevention (CDC) revealed that wearing two face masks can block more than 90 percent of viral particles.
"Masks are not 100-percent effective, so you're going to stop some droplets but not others. If we're trying to increase the number of droplets we block because the virus variants are more transmissible, that means we need better mask materials and more layers."

Andrea Love, PhD, a regional manager for Nexcelom Bioscience, told "NBC News."
Wearing a cotton mask over a surgical mask (or double masking) has been proven to reduce a person's exposure to the Coronavirus significantly. With new variants emerging, we all may want to heed the CDC's advice to ensure extra protection. Here are some of the masks you can use to double mask:
Disposable Face Mask (50 Pack)
These disposable masks have three layers and elastic earloops. The CDC has also recommended knotting the earloops for higher efficacy.
CandyCare Disposable Face Mask (25 Pack)
Similar to the previous face mask, these disposable masks are three-ply. They have a center filtration non-woven fabric layer, and a pack comes with twenty-five masks.
Evolve Together Face Mask (7 Pack)
A popular choice among celebrities is the black Evolve Together masks. They have four layers, including two non-woven outer layers, meltblown center, non-woven inner layer.
Sudilo Disposable Face Masks (50 Pack)
These black disposable masks are also bestsellers on Amazon. They've got three layers and a smooth feel for breathability.
Fossil Face Mask (3 Pack)
Wear this over your dispoable surgical masks. These cotton masks include adjustable straps to ensure a good fit and they're double layered.
Gap Adult Unisex Full-Coverage Accordion Mask (3 Pack)
GAP offers these bestselling cotton masks in several different colors and prints. They also include an adjustable nose and if you wear glasses, that may come in handy.
Weddingstar 3-Ply Adult Washable Cloth Face Mask
A mask that's comfortable and breathable? Yes and yes! You have a wide variety of colors to chose from, and it has adjustable ear straps.
Under Armour Sportsmask (2 Pack)
If you are into sports or want to stay protected at the gym, these masks were designed with people like you in mind. It provides good airflow and a "cool feel."
Everlane The 100% Human Face Mask 5-Pack
Everlane's masks come in a few stylish colors like tie-dye, pastel, or neutral for you to choose from. Each of these 100 percent cotton masks is double-layered.
Zenbu Face Mask
The Zenbu cotton face masks also offer a wide range of colors. The organic cotton masks have a pocket if you'd like to add a filter.