Our Pick: Top 10 Meghan Markle Style Moments
Meghan Markle has stolen our hearts and brought her fashion sense along for the ride. The gorgeous brunette has never missed an opportunity to turn heads during her appearances. So much so that Markle is now synonymous with class.
From deep plums to browns, tans to blues, Markle has brought effortless style to the forefront. As we prepare to witness her post-title attire, we can't help but reminisce on her royal style. Those monochrome looks were drop-dead gorgeous.
Moreover, we loved her mix of high street brands with high-end designers. The result was always stellar. No wonder she had a fan page dedicated to her style. In case you're wondering, yes, it's still running. Here are our top ten Meghan Markle, style moments.
The Second Wedding Dress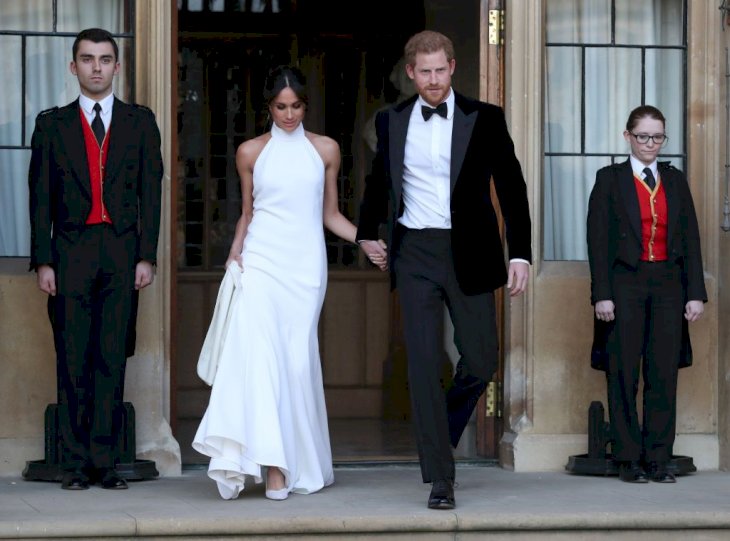 Meghan Markle and Prince Harry on their way to their wedding reception Source | Photo: Getty Images
Many articles have talked extensively about Markle's first wedding dress. While we agree the effortless and straightforward outfit was an instant hit, we are more inclined to gush about the second wedding dress.
Markle's California sensibilities peeked through with a backless Stella McCartney floor-length gown with a halter neck. The blushing bride was a sight for sore eyes white dress, flaunting her flawless brown skin.
Brown on Brown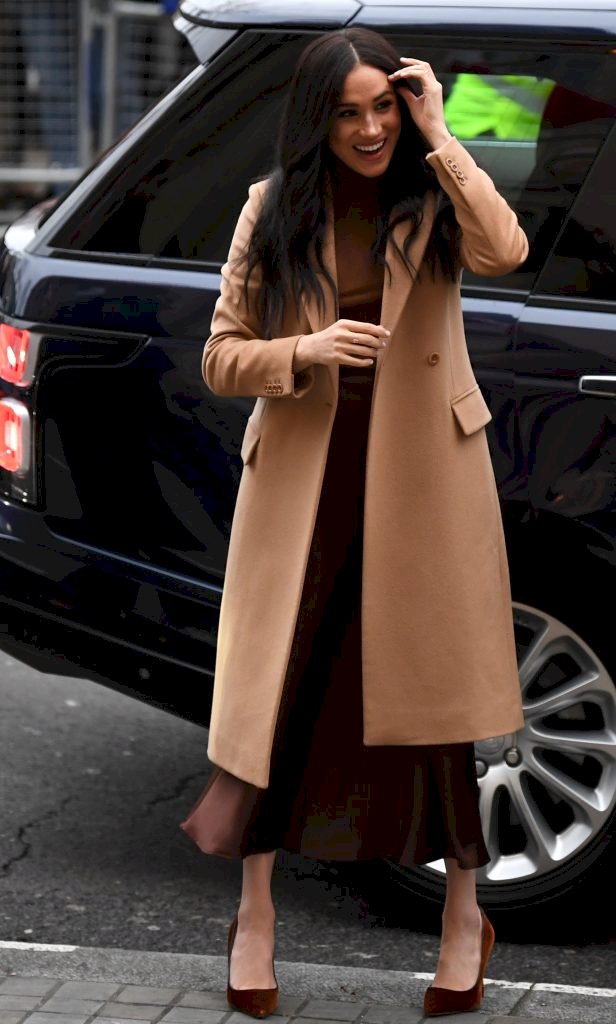 Meghan, Duchess of Sussex arrives for her visit with Prince Harry to Canada House Source | Photo: Getty Images
This next outfit was a precursor to the bombshell news that Harry and Markle were stepping down from their roles as senior working royals. Despite this historical moment, the loving couple looked very much the united and happy pair.
Markle was decked head to toe in shades of brown. The former royal wore a brown turtleneck with a silky, coffee-colored ankle-length skirt. On Markle's feet were some gorgeous fall-inspired brown heels and on her arm a handsome prince.
Green on Green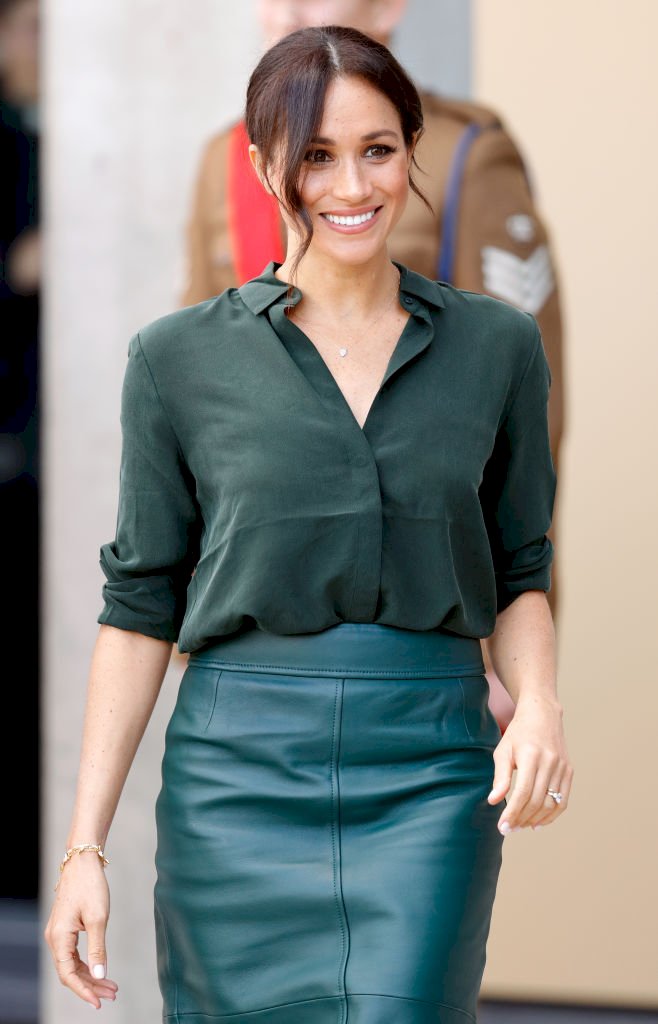 Meghan, Duchess of Sussex visits the University of Chichester's Engineering and Technology Park Source | Photo: Getty Images
Markle makes a case for green. The former actress leaned heavily on tonal monochromatic looks. Like the brown outfit, Markle was relaxed in a green top and skirt ensemble. Moreover, her hair was held back, and the look was accessorized with minimal jewelry.
Markle also wore nude-colored heels. The choice of shoes is perfect as it did not compete with the outfit. Instead, the outfit shined. We love the textured leather against the chiffon top. Simply perfect.
That One Shoulder Black Dress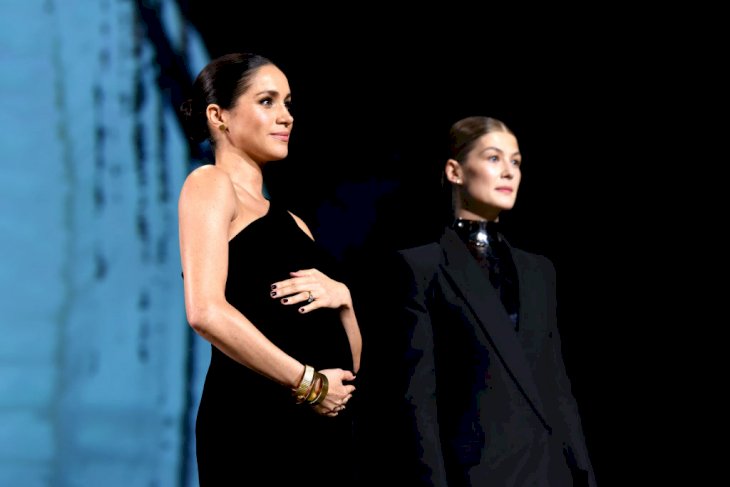 Meghan, Duchess of Sussex and Rosamund Pike on stage during The Fashion Awards 2018 Source | Photo: Getty Images
Markle favors a great Givenchy. Out of her Givenchy looks, this one-shouldered piece takes the cake for its style, power, and simplicity. The lovely Markle was a vision of maternal beauty as she cradled her belly in this black velvet dress.
Her hair was sleeked down the middle and held at the back in a low bun. Markle kept jewelry at the minimum with only gold statement bracelets on her arm. The look was tied together with deep plum nail polish with gorgeous smoky eyes.
The Pink Duchess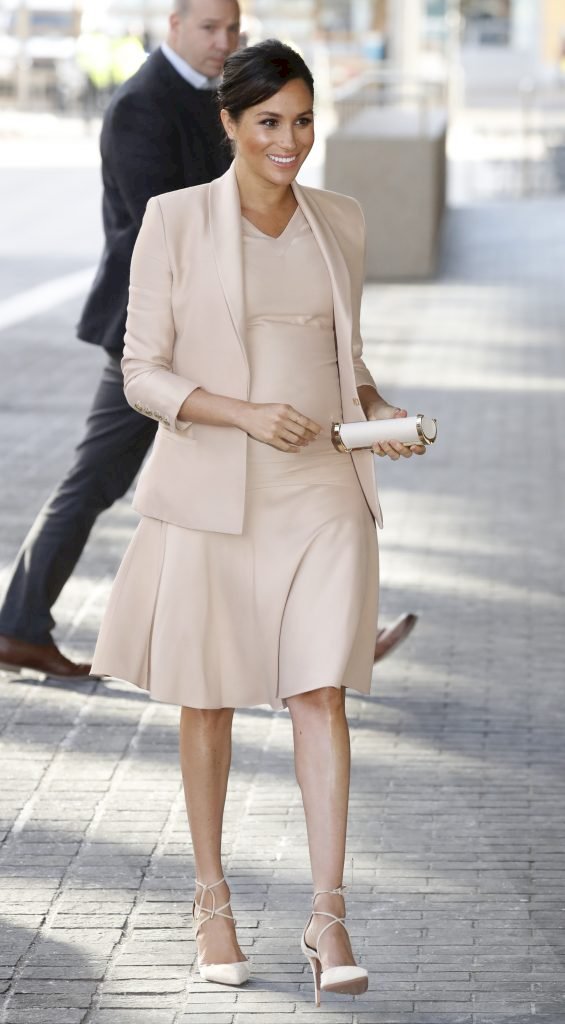 Meghan, Duchess of Sussex arrives at The National Theatre Source | Photo: Getty Images
We might seem a little biased, but Markle wowed during her first pregnancy. Everything the then first-time mom touched turned into maternity-style gold. Nothing is a better example of this than her unforgettable head-to-toe pale pink outfit.
The former duchess wore a pale pink dress and blazer from Brandon Maxwell to her first official engagement as royal patron of the National Theatre. Furthermore, the look was the height of class accessorized with Aquazurra heels and Carolina Herrera clutch.
White Dress Galore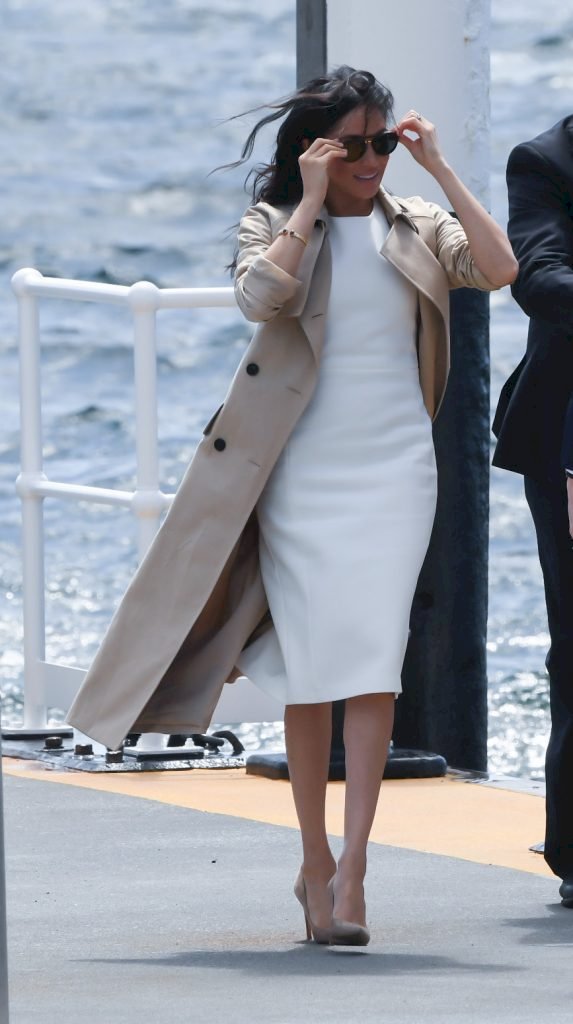 The Duchess of Sussex, Meghan Markle arrives at the Man o'War Steps Source | Photo: Getty Images
There is no dress better than a white, Markle-style dress. If you are looking to recreate the look, think longer hemlines, nude heels, and minimal jewelry. The result? A polished finish fit to make your appearance at court.
Since the wintery season is upon us once again, get a nude trench, the same shade as your shoes, for a luxe feel. Markle loved pairing the casual feel of white clothes by leaving her full mane out on display.
The Morrocan Tour
While on tour in Morocco, Markle wore a head-turning Dior Gown with silvery embellishments on its long sleeves. The neck's detailing was a draped neckline adding a satin clutch and pumps, also from Dior.
A favorite hairstyle of the royal, Markle wore her hair sleeked back, allowing her diamond Maison Birks earrings to shine through. Of course, Harry was by her side, wearing a black suit that complemented Markle's dress wonderfully.
Nautical Stripes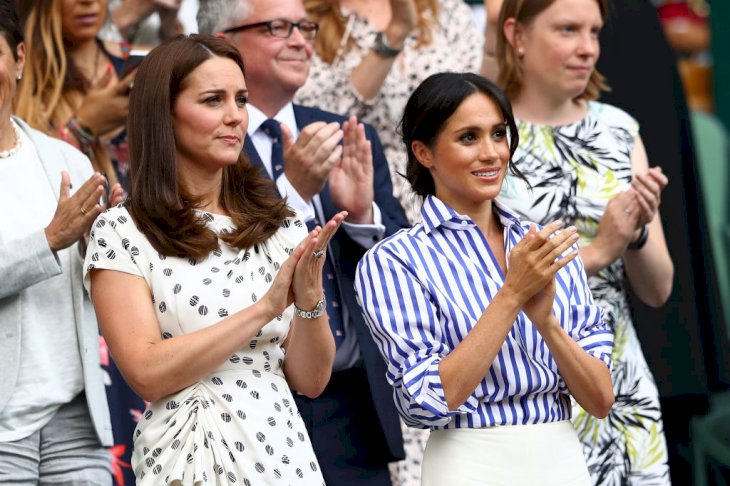 Catherine, Duchess of Cambridge and Meghan, Duchess of Sussex at the Wimbledon Lawn Tennis Championships Source | Photo: Getty Images
It was not always gowns and dresses for Markle. Pants and suits were also a staple in her wardrobe. As we restrain the need to make a "Suits" joke, we will settle for Markle's take on pants. Our favorite has to be her nautical look at the Wimbledon.
Every time we land on an image of this particular outfit, we find ourselves wishing for summer. A lovely, safe summer where we could sport a striped blue and white blouse like Markle plus crisp wide-legged white pants. Also, don't forget the straw hat.
Our Lady in Red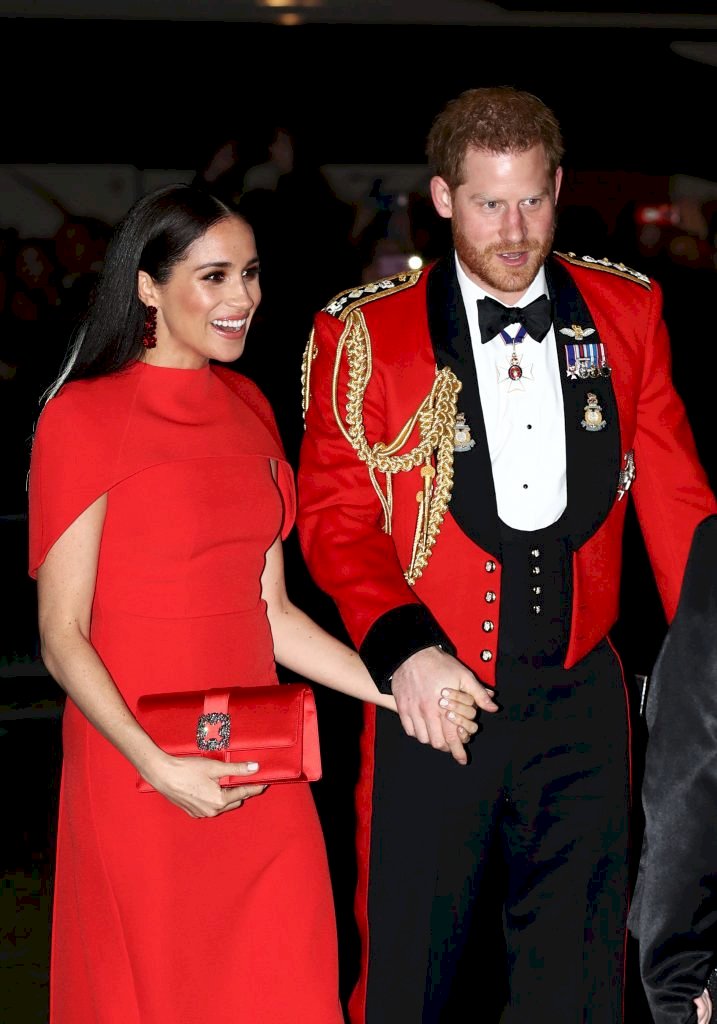 Prince Harry, Duke of Sussex, and Meghan, Duchess of Sussex arrive to attend The Mountbatten Festival of Music Source | Photo: Getty Images
Markle in red is like Harry in uniform. A perfect combo. Luckily at the Mountbatten Music Festival, the adorable couple served us with both. Sporting sleek straightened hair with a gorgeous smokey eye, Markle wore a floor-length Safiyaa dress.
For a clutch, Markle had on a satin Manolo Blahnik pouch and ruby-colored Simone Rocha earrings. The red was a perfect match to Harry's gold and red ceremonial jacket. The pair looked every inch like the fairytale lovebirds.
Hello, Jackie O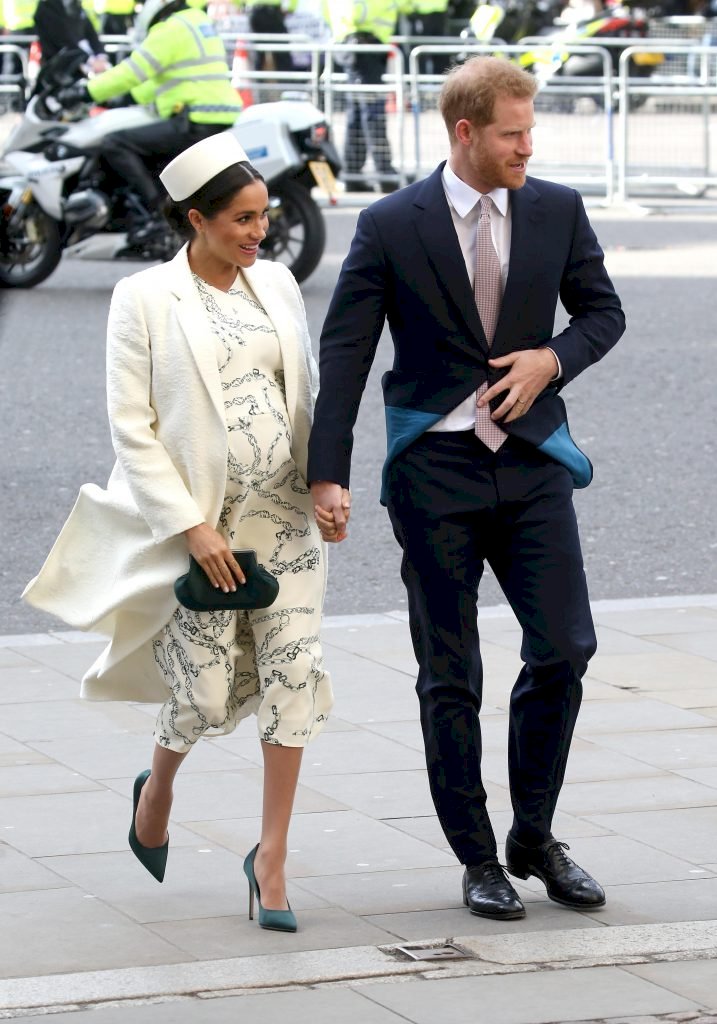 Meghan, Duchess of Sussex, and Prince Harry, Duke of Sussex attend the Commonwealth Service Source | Photo Getty Images
Whatever you do, the pillbox hat will always draw up images of Jacqueline Kennedy. Perhaps it was the way she wore it. It gave off sleek, classy vibes that were straight-up royal. So, who else was an elegant and classy royal? Markle of course.
Wearing a printed dress from another royal of our own making, Victoria Beckham, Markle attended the Commonwealth Day service at Westminster Abbey. A frequent lover of white, Markel wore a white trench and, of course, a white pill-box hat.