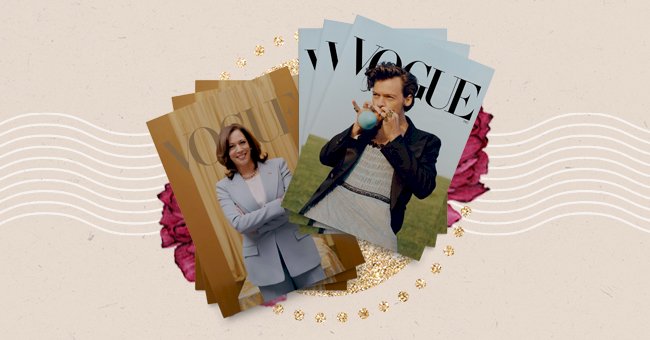 Our Pick: Top 10 Recent Vogue Covers
'Vogue' is a magazine that many women read daily and eagerly anticipate the magazine's next issue. The content is always wonderfully informative and engaging and a lot of women rely on it for some peace and quiet at the end of a long week.
The fact that the covers are always so beautiful and exciting just makes the magazine even better. Many celebrities covet the cover of Vogue magazine to feel like they have taken another step in their career.
We have decided to look at the top 10 covers from recent years and tell our readers why we love them.
Amanda Gorman
We don't even need to discuss the fact that Amanda Gorman is the first poet ever to grace the cover of a magazine, let alone that she is a woman of color, but we wouldn't feel right if we didn't. She is gorgeous, and seeing her skyrocket to success has been heartwarming for so many people.
The cover was styled beautifully with neutral earth tones complementing her skin tone perfectly and subtle pops of color, ensuring that the cover had the drama that we've grown accustomed to seeing from 'Vogue.' Gorman's hair and makeup were done beautifully. The subtlety of her glam perfectly complemented the neutrality of the cover.
Gigi Hadid
Gigi Hadid has only recently become a mother and was asked shortly after her daughter was born on the magazine's cover. She agreed but ensured that the magazine knew that she would not be a size zero and had no desire.
We love this cover because it shows the healthy recovery process after giving birth and that not every woman will immediately bounce back to her original body. The cover was styled beautifully, with the background being dark and truly highlighting Hadid in the foreground.
Kamala Harris
Not including Kamala Harris in this lineup would have been ridiculous. With all the success that she has had in the past year, being on the cover was inevitable: she would be getting the magazine's cover.
The best part about this cover is that it reflects Harris's true personality. It is professional and clean and makes us think of the success that Harris is bound to experience during her time in the office. The cover is subtle and understated enough to be humble but striking enough to be 'Vogue.'
Naomi Osaka
Naomi Osaka has recently shot to fame after becoming an incredibly successful tennis player, and there is no reason why she wouldn't be on the cover of this magazine. She has all the power and all the beauty to be on the cover.
This cover was beautiful because it embraced her true style while still being glamorous enough to be on the magazine's cover. Having a rising star on the cover is an excellent way to show that anybody can do it.
Harry Styles
Harry Styles' 'Vogue' cover was one of the most popular covers of all time, and like any good pop culture moment, it sparked a lot of controversies. Harry Styles in a dress is something that we will never forget, though.
The dress made a statement about who gets to wear which pieces and showed that clothing has no gender. We loved this cover simply because of the statement that it made and the stand that Harry took.
Emily Ratajkowski
While Ratajkowkski's cover was not technically a magazine cover because it was digital, the fact that she announced her pregnancy with it made us compelled to include it. The cover was simple and beautiful.
Ratajkowski used the platform to announce such big news made the cover all the more exciting, Having and having it be a digital cover made little difference in this case because we were just as interested in the article because of the news that came with it.
Naomi Campbell
There is no doubt that Naomi Campbell is an icon. She is gorgeous and stately, there is nothing that she has done that she has not taken on with strength and confidence, including the 'Vogue' cover.
The cover was gorgeous because of the stately outfit that she wore and the stark contrast that it bore to its background.; having The beautiful white gown was indeed a sight to behold, and her hair and makeup were flawless, too.
Lizzo
Everyone's favorite sassy flute-playing queen was bound to end up on the covers of magazines after her meteoric rise to success following her song 'Truth Hurts' and 'Vogue' is one of those covers is the cherry on this cake.
She looked gorgeous in a deep red gown with lips and nails to match. The sleek updo that she has in her hair was the perfect way to tone the drama of the dress and makeup down and give it an overall classy but sassy look.
Simone Biles
Simone Biles has been in the spotlight for quite some time now, but being on 'Vogue' came only recently, and when you see the cover, it is not hard to understand why she might have been chosen as a cover star.
In her element and doing what she loves on the cover is sets this cover apart from all of the others. Instead of posing in front of the camera, she simply does what she loves around the camera and lets it follow her.
Gal Gadot
There are those stars who need a lot of hair and makeup to be done before they step in front of the camera and allow the world to see them, and there are those stars who seemingly tumble out of bed and onto a shoot.
Gal Gadot is one of those celebs; she was breathtaking on her 'Vogue' shoot in a sequined gown with minimal makeup and slicked-back hair. The fresh face perfectly set off the drama of the dress, and the stark contrast between the glam and the background of the cover was the perfect juxtaposition.