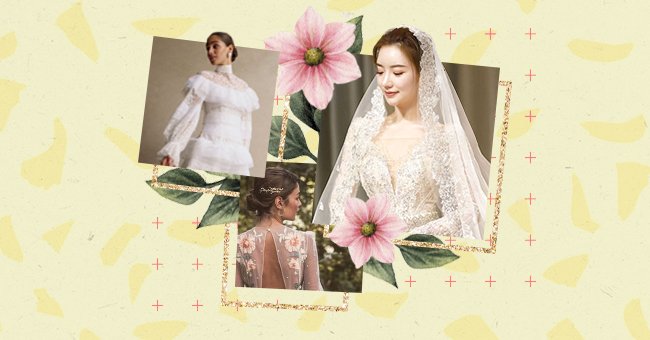 Our Pick: Top 20 Most Romantic Wedding Dresses
Whether you're the girl who's been planning her wedding day since she was ten years old or the girl who's never thought about and just got engaged and needs to start planning, you have thought about your wedding dress.
They say that finding the perfect dress is like finding the perfect man; you stop looking when you find the right one. How do you know when the right dress is indeed the right dress, though? How do you forget about that one dress that was $1000 over your budget? Should you get your dress made?
While we can't answer any of the above questions for you, we can compile a list of 20 different options of dresses you can purchase or get made for your big day.
Romantic, classy, and elegant, illusion lace is the perfect way to add some edge to an otherwise traditional gown. You can have illusion lace on its own or with a lining underneath it to have a more modest look.
If you want your traditional wedding dress to have a more romantic feel, you could add an embellished bodice to your gown to add a touch of glam and romance to an otherwise plain wedding dress.
Having details on your wedding dress can make it unique to you. To make those details romantic, you can go for some pastel-colored florals on your gown. This is a simple touch but truly makes a gown gorgeous.
The original touch of romance still hasn't gone out of style. Tulle is so delicate and pretty and makes a wonderfully romantic touch on your wedding dress. If you want an extra level to your tulle, you can add a blush color to it.
Another way to add some modern-day sass to your wedding dress is an open back. This adds a level of sexiness that you might want on your wedding day while remaining classic and classy enough for your grandma to approve of.
A more modest alternative to an open-back wedding dress is a keyhole wedding dress. This allows for the feel of an open back without your entire back having to be open. This kind of dress is perfect for the more conservative woman.
Daring and bold, a tinted wedding dress is the dream of every woman who doesn't like to be predictable. Having a wedding dress that isn't white might not be every woman's cup of tea, but some women can think of nothing better.
If you're an indecisive woman, you need a dress with a convertible neckline. This allows you to have a strappy dress, boob tube dress, or one-shoulder dress. You could even have all three in one night if that's what you would like.
Once again, this dress is for the daring woman—anything but predictable and indeed something that your wedding guests will never forget. A short-skirted dress adds a sense of adventure to your wedding dress.
A more conservative woman might opt for a high neckline on their wedding dress. It adds an extra air of class and sophistication while still being fashionable. If you're not concerned with modesty but still want a high neckline, you could opt for a keyhole back with this neckline.
We all know the irritation that sleeves prove to be sometimes, and it's not a problem you want on your wedding day. This problem can be solved with detachable sleeves. Keep them on for the ceremony and take them off for the reception.
Now, I've never worn a skirt that irritated me, but I have worn long dresses that inhibit my excellent dancing abilities. A detachable skirt is a perfect feature on a wedding dress so that you can have a traditional wedding dress for the ceremony and take the longer skirt off for the reception so that you can dance the night away.
This is such a simple feature that makes a stunning impact. Embellished bodices are so popular, but this less popular alternative is just as beautiful and oh-so-classic. Perfect for a girl who wants a traditional dress with a little pizzazz.
With all the lace, embellishments, and dyes that wedding dresses are adorned within recent times, it is the classic art of embroidery that's forgotten about. Embroidery makes any dress look extra romantic and classy.
Women in this world value comfort over style any day of the week, even their wedding day. With this style of dress, you won't have to choose one over the other. Classically romantic and stylish this dress is comfortable and perfect for a more laid-back woman.
Effortlessly beautiful, free-flowing, and figure-hugging all at the same time. This dress is perfect for a woman that wants a balance between elegant, laid-back, and beautiful. You'll look classic and gorgeous and be able to dance all night.
While they don't sound very romantic, bishop sleeves are the perfect romantic wedding dress feature. They are elegant and effortlessly add a sense of quiet beauty to your wedding dress. If you're looking for a different way to do classy, this is it.
How many times have you read or seen the movie The Great Gatsby? If you answered any more than twice, this is the wedding dress for you. Reminiscent of 1920s flappers, this wedding dress is fun while remaining romantic.
A more relaxed and casual approach to the bishop sleeve, the poet sleeve still adds a sense of elegance and style and has a sense of fun and mischief. If you're the kind of woman that has elements of both grace and mischief in her personality, this might be the dress for you.
A classic, the corset might never go out of style. A corset cinches your waist, boosts your bust, and gives you the confidence you might never have known. This dress will have you feeling and looking like a romantic bride.