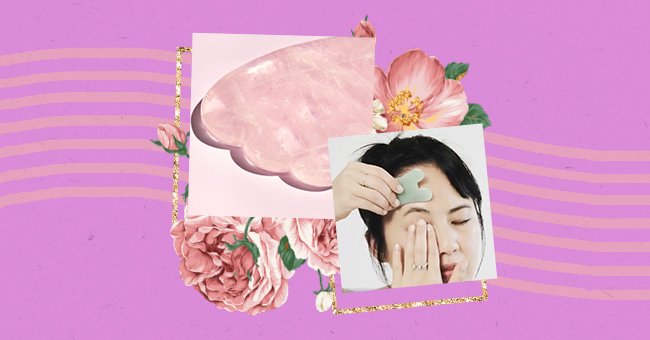 Our Pick: Top 7 Guasha Tools For At-Home Facial Massage
Jade rollers move over because gua sha is the next best thing. If you're wondering what exactly gua sha is, here the low down. Gua sha is an ancient Chinese beauty method of using a facial tool that enhances flow and movement under the skin to reduce blockages so that skin tissues are nourished.
We know that staying at home over the last couple of months has made some of us skimp on our visits to the esthetician's office. Consequently, our faces could do with serious TLC at the moment. Luckily, with the fantastic benefits of gua sha, the effects tend to be long-lasting.
Gua sha daily or twice a week will for results. It could feel awkward at first, but eventually, your hands will get the hang of it. Use this weekend to give your face an at-home facial with at least one of these seven gua sha tools.
Rose Quartz Gua Sha Teardrop
Not only does this gua sha look cute, but it's functional too. It's designed with three scalloped edges and an outwardly defined perimeter that is perfect for different massage techniques. The scalloped edges are best used in areas where you need that added pressure.
Intro Gua Sha Tool - Xiuyan Jade
Using this tool correctly will give you instant gratification. This gua sha has a rectangular shape making it easy to navigate around the jawline and the sides of your face. Also, it comes with a bag that is great to keep it safe when traveling.
Gua Sha - Stainless Steel
If you're trying to tackle puffiness, this gua sha will just do the trick. It's designed from a stainless steel material that can self-cool itself, reducing morning puffiness. Also, if you're struggling with acne, this gua sha is perfect for it has anti-bacterial properties.
Pink Moon Over the Moon Duo
Good things come in pairs, and that's especially true for this duo. With this purchase, you get a serum to be used alongside the provided gua sha. Furthermore, the gua sha easily fits into the hand, making it easy for you to stimulate lymphatic drainage.
Opalite Crystal Gua Sha
It's a crime not to include this gorgeous tool in your self-care routine without this gorgeous tool. It's designed from crystal Opalite that is great at reducing the appearance of puffiness, making your cheekbones look more pronounced, and improving blood circulation.
Bian Stone Gua Sha
We love this gua sha because it looks super luxe. It comes in a larger size than those in the market. Therefore, you can use it on your body and face. Also, it has tons of scalloped edges, giving you a ton of options when massaging your skin.
Jenny Patinkin Butterfly Gua Sha Sculpting Tool
This gua sha stands out for its beautiful butterfly design. Moreover, the shape allows you to get creative by targeting most areas on your face. Apply light pressure to see instant depuffing results and achieve glowing skin.