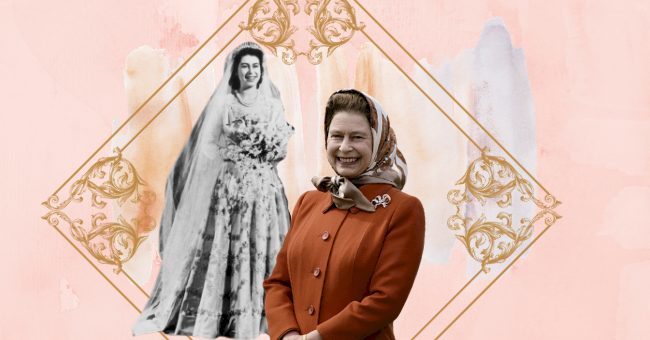 Our Picks: Ranking Queen Elizabeth's Top 10 Most Stylish Moments In History
As one of the most iconic figureheads in the world, it is no surprise that Queen Elizabeth's every move is scrutinized. So it's no surprise when her style choices make waves in the fashion industry.
The Queen has always had an impeccable sense of style and poise. Over the years she has proven to be an expert in crafting looks that are both contemporary, timelessly elegant, and still sticking to the expectations of royal tradition.
From her eclectic color choices to her understated yet poised tweeds, the monarch's style is fascinating. From her jeweled toned outfits to her vast hat collection, here are ten times she left fans stunned with her look.
1. Wedding Dress - 1947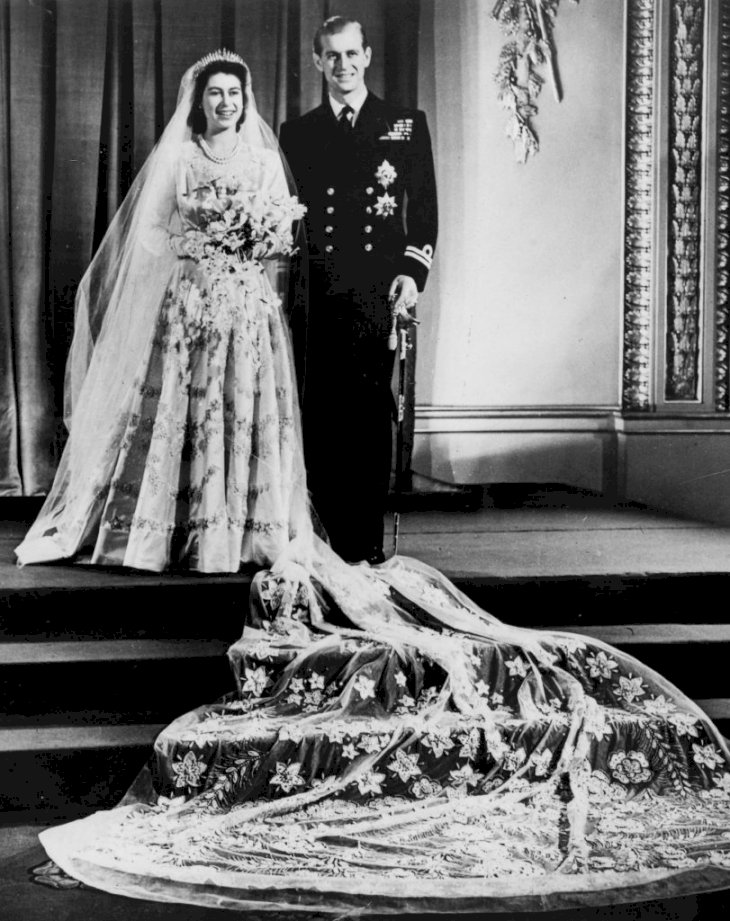 Getty Images
One of the most iconic and unforgettable outfits ever worn by Queen Elizabeth was her jaw-dropping wedding dress. Inspired by Botticelli's painting of Primavera, the dress featured intricate motifs of scattered flowers.
It also boasted a star-patterned train that served as a symbol of rebirth after the war. Not to mention, the dress was decorated with 10,000 pearls and crystals that were imported from the US.
2. Coronation Gown - 1953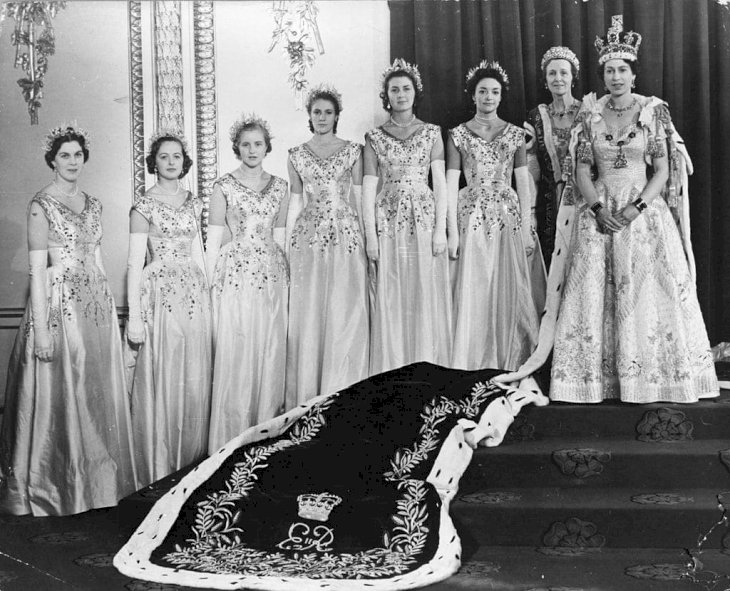 Getty Images
Every Queen deserves a head-turning coronation dress and Queen Elizabeth II is no exception. Her dress remains one of the most luxurious outfits the Queen has ever worn.
The embellished ballgown boasted a bespoke cape. She even wore a pair of custom Roger Vivier heels and crown jewels to complete the outfit.
3. A-Line Dress - 1956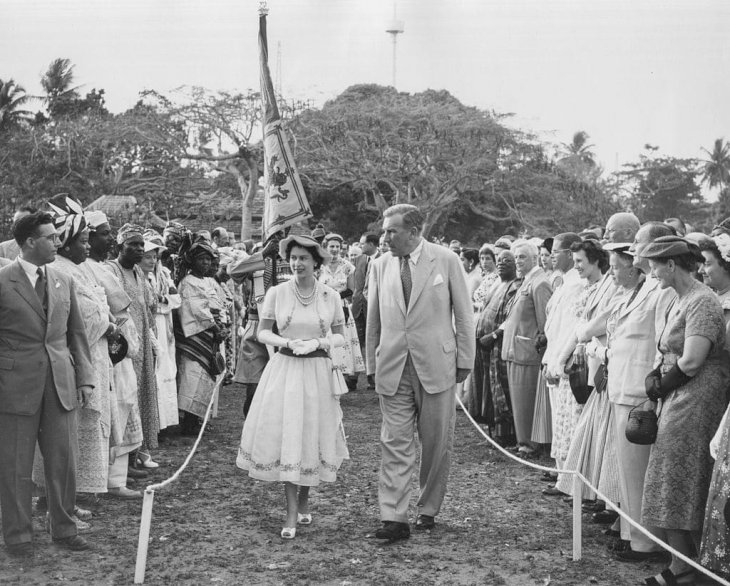 Getty Images
Over the years, the Queen has shown a love for specific cuts and designs. Amongst her favorite is traditional A-line cut dresses in eye-catching colors.
The perfect example of this is the dress she wore to a garden party on the grounds of Government House in Nigeria in February 1956. The stunning, flowy dress highlighted her figure and helped her stand apart from the crowd.
4. Lace Dress & Jacket - 1959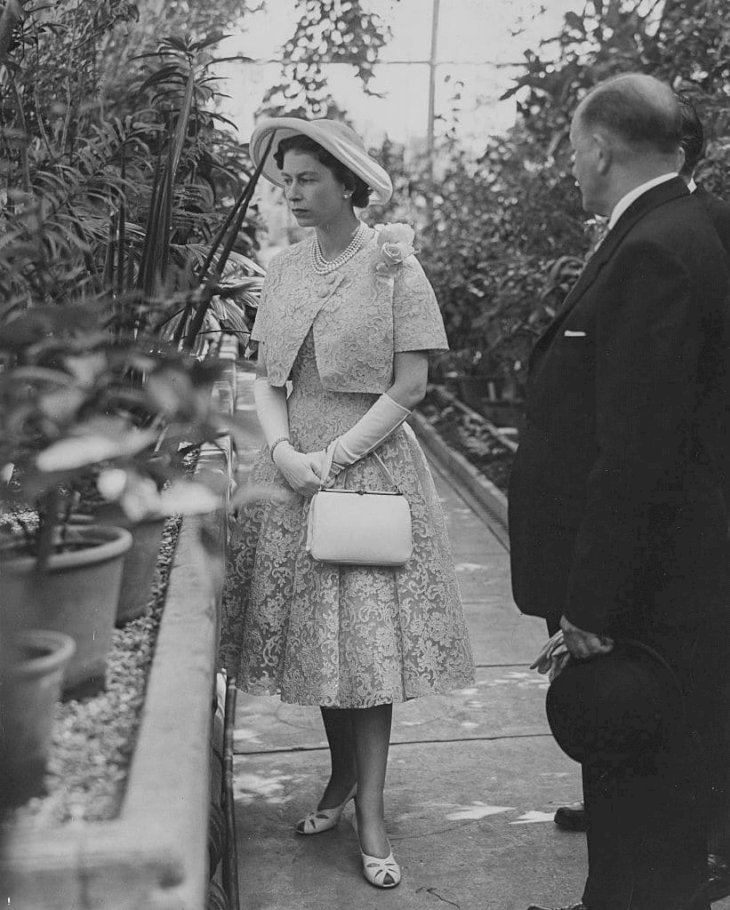 Getty Images
She paired the eye-catching dress with some elegant gloves and heels. The final touch was one of her signature Launer bags to add a sophisticated air to the outfit.
5. Tweeds - 1982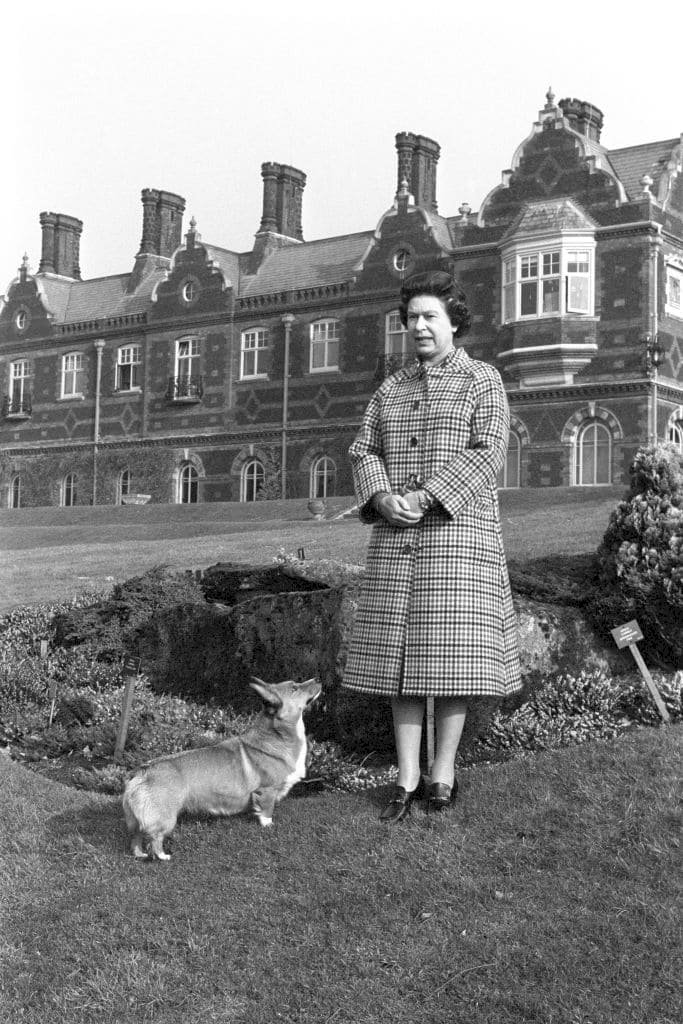 Getty Images
A style choice that has stuck with the Queen over the decades is her love for tweed on her days off. When she doesn't need to stand out from a crowd and is simply enjoying a quiet day at Sandringham, the Queen looks for comfort.
Like this picture of Queen Elizabeth II with a corgi in 1952, she is usually found walking the grounds of Sandringham House, Norfolk, in a simple tweed outfit. Usually, it is paired with flat shoes and no hat in sight.
6. Queen Elizabeth II's Dress When Meeting Nancy Reagan -1983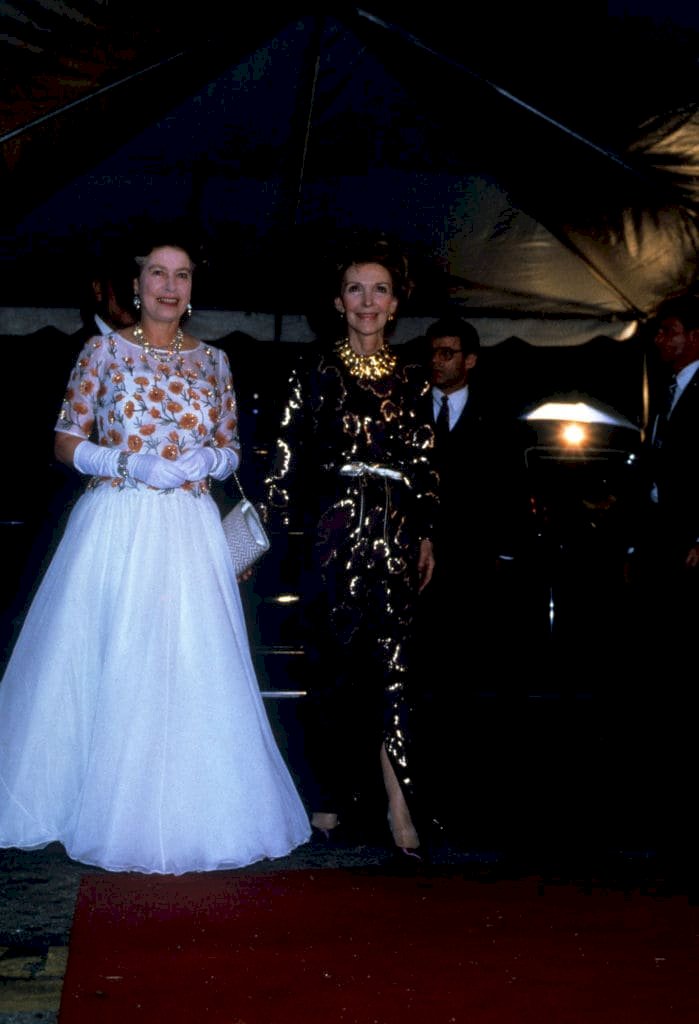 Getty Images
One of my personal looks from the Queen was from 1983. During her visit to America, Queen Elizabeth II met with Nancy Reagan, the then First Lady.
To the party given in her honor the Queen at 20th Century Fox Studio on February 28, 1983, the Queen donned a white gown with orange flowers. The plain skirt matched her gloves and gave the outfit a chic modern allure.
7. Signature Headscarf - 1985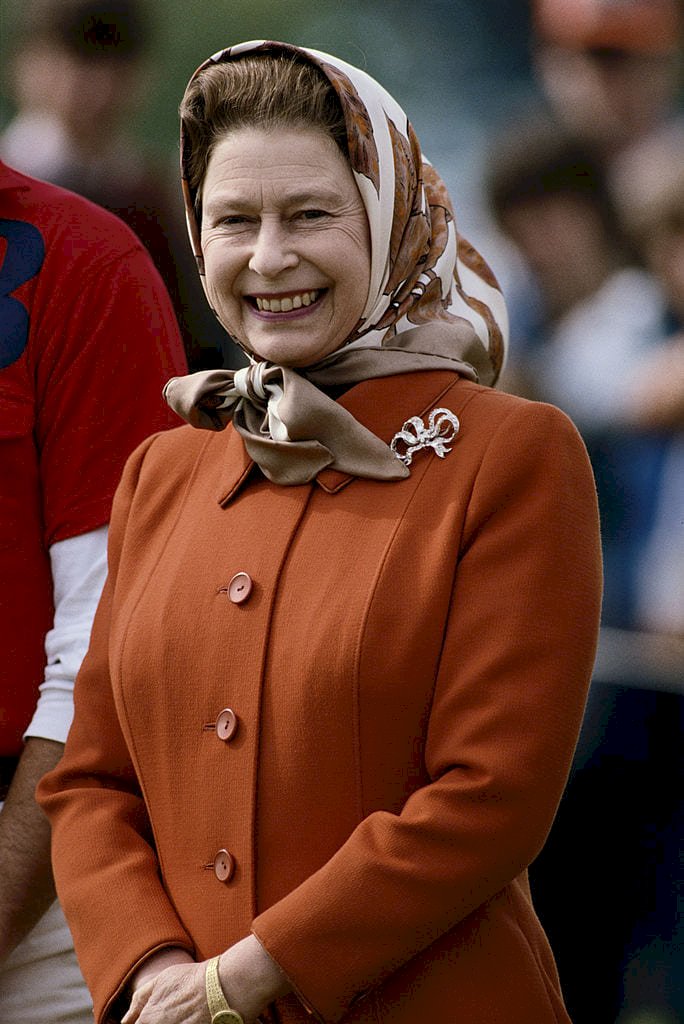 Getty Images
Another day-at-home look the Queen has favored over the years incorporates Windsor-appropriate hues and a signature headscarf. Whether she's riding a horse or driving around the castle grounds, the Queen loves to tame her hair with a simple silk scarf.
This was clearly seen in June 1985, when Queen Elizabeth II, wore a headscarf and orange coat at the polo at the Guards Polo Club, Smith's Lawn in Windsor. And honestly, we can see the stylish appeal of the simple look.
8. Maxi Dress - 1986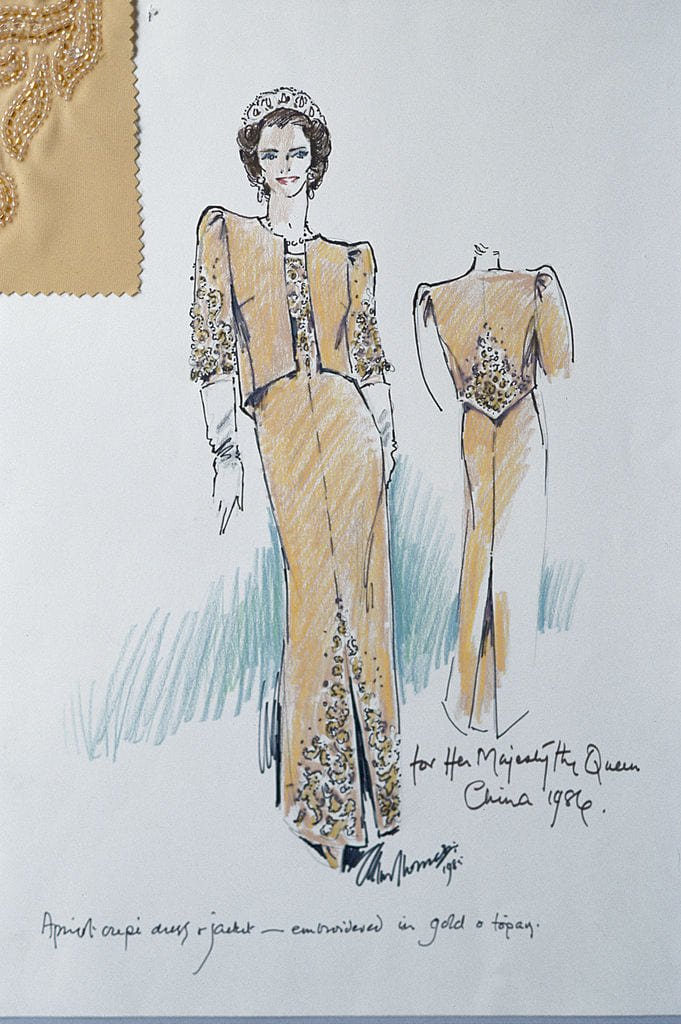 Getty Images
It's not often that the Queen opts for a floor-length gown. Thus it's no surprise that she caught everyone's attention with a stunning dress during her 1986 tour of China.
The dress was designed specifically for Queen Elizabeth II by fashion designer Ian Thomas. Featuring intricate beadwork and cropped jacket, the outfit was the embodiment of style.
9. Silk Dress - 2011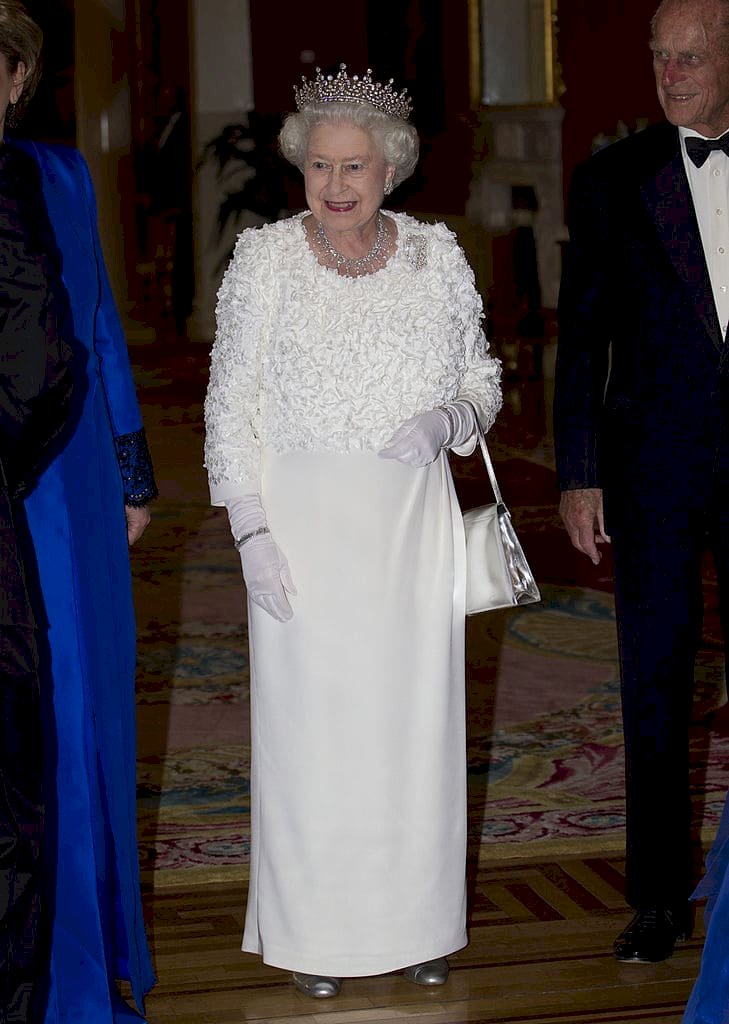 Getty Images
Every time the Queen chooses to follow local protocol while traveling, she proves her style versatility. This was clearly seen when she attended a State Dinner on May 18, 2011, in Dublin, Ireland.
The Queen's visit to Ireland was the first by a monarch since 1911 and she proved she has mastered the art of diplomatic dressing. She donned a gorgeous white silk dress adorned with 2,091 hand-sewn embroidered shamrocks worn in Ireland won her praise.
10. Viral Neon Green Outfit -2016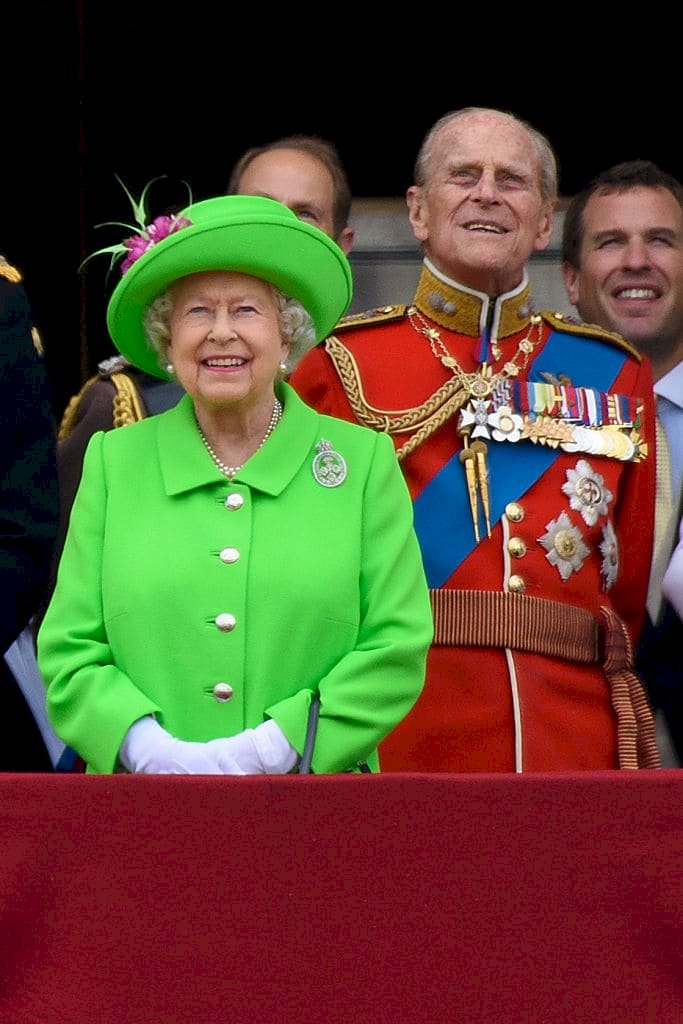 Getty Images
Our list would not be complete without the Queen's viral 2016 outfit. The bold neon green outfit by Stewart Parvin for Trooping The Colour left netizens in awe.
The bright color of the outfit ensured no one would miss the monarch while she watched a flypast during the Trooping the Color that marked her 90th birthday. The ceremony is Queen Elizabeth II's annual birthday parade and dates back to the time of Charles II in the 17th Century.