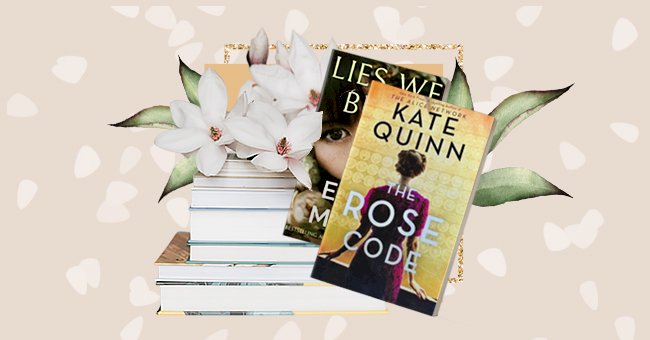 Our Picks: The Top 10 Most Anticipated Spring 2021 Book Releases
Any bookworm will know that curling up with a good book is almost like taking a mini-vacation. You get to meet new people and experience new things without ever having to leave your house.
There never seem to be enough books to spare, though. Once you've read and reread all your favorites four or five times, you need a new story, so when books get released just when you finished your last one, it's exhilarating.
Finish your book by spring because these are the top 10 books to get excited about for spring.
"The Lost Apothecary" by Sarah Penner
A fictional book set in both 18th-century and present-day London follows the life of a woman who sells potions to women for them to escape abusive relationships.
The story of the 18th-century woman runs parallel to Caroline's story, living in modern-day London receiving clues that would solve the mysteries of apothecary murders committed long ago.
"Lies We Bury" by Ellen Marr
This book is only set to be released on April 1, so you have a wait ahead of you, but it looks like it will undoubtedly be worth the wait. This story deals with childhood trauma, healing, and mystery.
The book follows the story of a woman who escaped a life of captivity ages ago but is reminded of her childhood traumas while photographing crime scenes. It all hits close to home when she finds a note addressed to her.
"Black Girl, Call Home" by Jasmine Mans
Jasmine Mans has written a collection of poems exploring what it means to be queer, black, and a woman in today's society. The poems revolve around the writer's life in New Jersey and the United States as a whole.
It is Amazon's #1 new release in the category of the LGBTQ+ community. Mans is a spoken word poet and has curated this collection exploring the issues delicately but firmly.
"Later" by Stephen King
Lovers of horror novels, lovers of Stephen King, lovers of fantasy; this book is for you. The book is set in New York and follows the life of a child who was born with supernatural abilities. The child was never allowed to expose his abilities as per his mother's orders.
The child must help the NYPD to track down a killer that has been terrorizing the community. The only problem is that the killer is already dead.
"The Memory Collectors" by Kim Neville
A collector of emotionally charged items crosses paths with an empathetic psychic who sells emotionally charged items.
The two connect when a mutual dark force finds its way back into both the women's lives. If you enjoy a good magic realism book, this one is definitely for you. It's been described as a book that Taylor Swift would love.
"How Beautiful We Were" by Imbolo Mbue
Set in a fictional village in Africa, this book explores what the village people will do to save their village from an American oil company. Many bookworms are keenly awaiting this book.
If you enjoy books that explore the abuse of power and the rising up of the general population, this book is perfect for you.
"The Lost Village" by Camilla Sten
This thriller, written by suspense newcomer Camilla Sten, explores the life of a woman trying to find out what happened to her grandmother's family who all disappeared. Many tragedies are surrounding that one, and Alice sets out to find out more.
The book follows her journey as she and a couple of friends delve into these tragedies' mysteriousness and suspense.
"The Bohemians" by Jasmine Darznik
Set in the period right before the great depression, this book follows Dorothea Lange's life in a new neighborhood, cultivating new friendships and moving through the art world.
Lange is an American photographer who arrives in a new neighborhood in San Francisco in 1918. The book explores the history of the town in a fictional way and speaks of towns that no longer exist, which is an excellent way to bring history back.
"The Firekeeper's Daughter" by Angeline Boulley
Another book in the thriller genre follows the story of a young girl who must rid her community of corruption. The girl witnesses a violent murder and subsequently goes undercover.
The girl must try to ensure that her community is safe without risking the fall of the only life she has ever known.
"The Rose Code" by Kate Quinn
Another historical fiction novel set in London during the second world war. Three women from differing backgrounds are all called to complete one job. The story is set in both 1940 and 1947.
The story follows how these three women met and came to work together and how they must complete one last mission seven years after they had completed the previous.