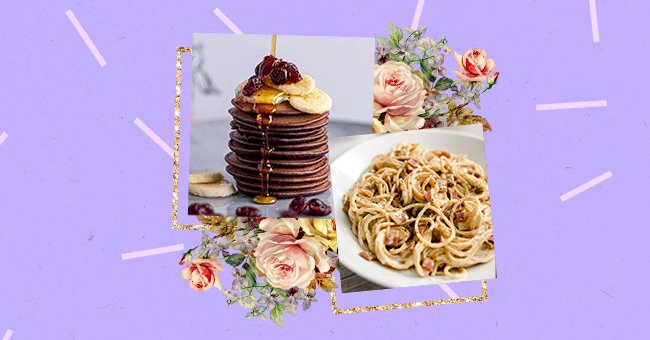 Quick & Easy Meals For Mid Week Meals
You're tired, don't feel like ordering takeaway food, don't want to spend hours in the kitchen and there's not much left in your fridge. Don't worry, we've got your back.
See if this scene is familiar to you. You've had a long working day, and your stomach is screaming in hunger. You open your fridge; you glance at a loaf of bread, some leftover food you can't even stand seeing, and maybe some eggs. You close and open the refrigerator two times more and think, "damn, there's nothing to eat." Sounds familiar?
If it does, we've been there too, girl. It can be frustrating as hell. But since we don't own the powers of the female genie and can't make a pizza appear in front of you in a blink of an eye, we need to put a bit of effort. That said, we've brought you quick and easy meals for mid-week when there are few options left.
Pancakes
Pancakes are one of those things nearly impossible not to have the ingredients at home. For some reason, we run out of proper food, but there's always flour, butter, eggs, and these essentials. If you have some fruits, great, you can use them as toppings.
Spaghetti Carbonara
Pasta is also something you can always find in my pantry. It's easy and quick to prepare, and you usually don't need many ingredients. Learn how to make a truly authentic, traditional, and classic Spaghetti Carbonara with the acclaimed chef Jamie Oliver.
Shakshuka
Shakshuka is a traditional breakfast and brunch recipe in Israel and other Middle Eastern and North African countries. It's unbelievably delicious and easy to prepare. All you need is eggs, carrots, canned tomatoes, tomato sauce, spices, and herbs.
Quesadillas
Got cheese? Got tortillas? Then you have quesadillas. Now search for some other canned ingredients on your cupboard like black beans, corn kernels, and honestly, anything else you find on your pantry and fridge and feel like adding to your wrap.
Chicken Fajitas
Who's ready for an easy, healthy dinner recipe? Fajitas are easy, simple, and yet so flavourful. You can either follow the recipe or replace it with whatever you don't have in your cupboard or fridge. As long as you've got your chicken, peppers, onion, and appetite, you're safe.
Italian Bruschetta
This is one of my go-to recipes when I'm so tired, and I can't think of anything else besides toasted bread with tossed tomatoes. You can hold dear to this recipe and make it as an appetizer for friends or a great addition to your next barbecue as well.
Egg Fried Rice
Fried rice is a traditional meal in many countries in Asia. It's a combination of long-grained rice with vegetables, scrambled eggs, and soy sauce all mixed together. I toss whatever I find in my fridge as veggies, from broccoli to peas to carrots.