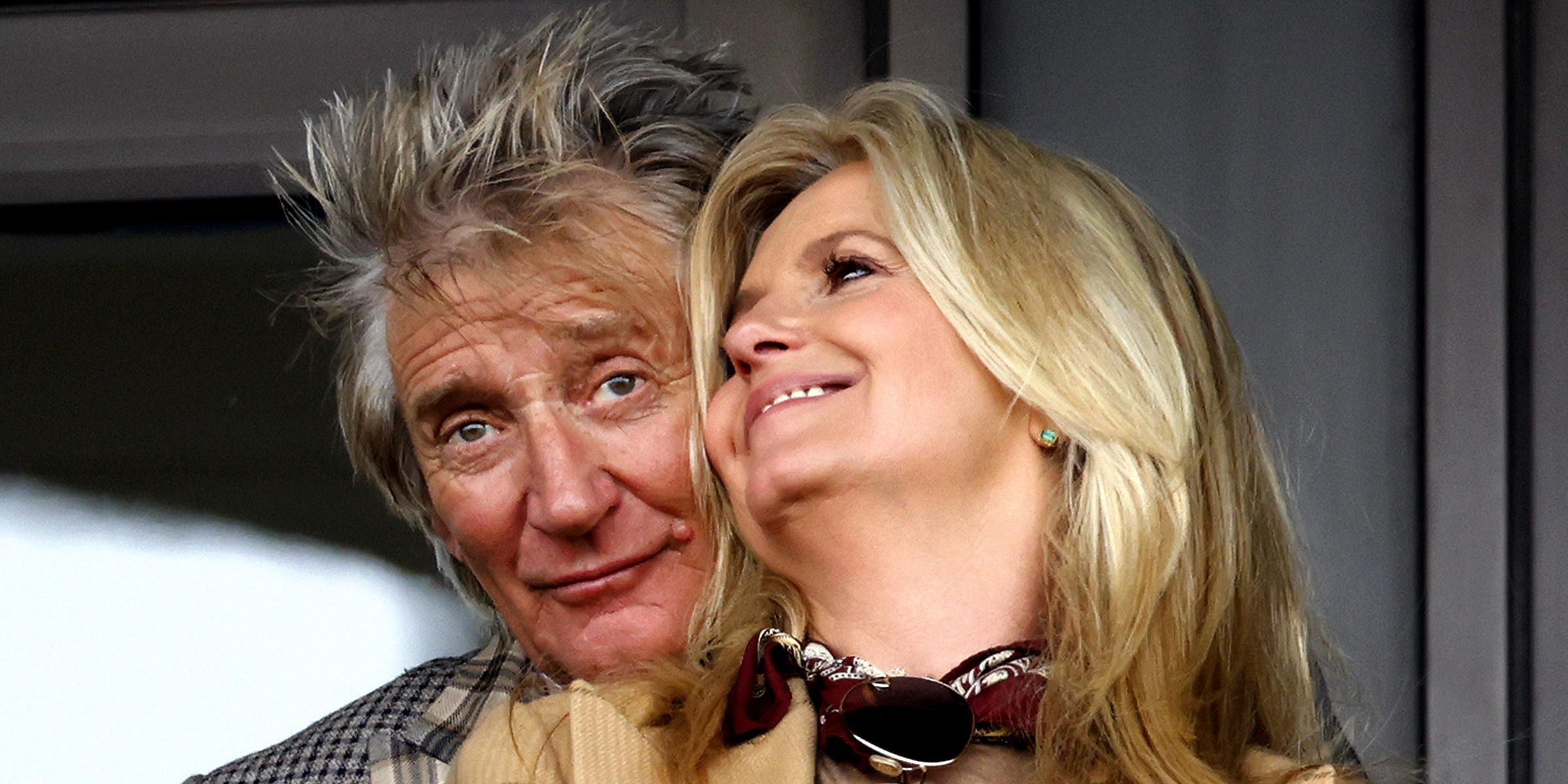 Rob Stewart and Penny Lancaster | Source: Getty Images
Rod Stewart's Wife Taunted after Gaining Weight & Wearing Bikini Yet He Said She's 'Most Gorgeous Woman Ever'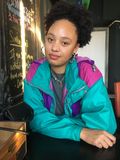 Prior to encountering Penny Lancaster, pop and rock vocalist Rod Stewart was convinced he would never discover love again. However, two decades later, the pair remains inseparable. Even during Lancaster's menopausal changes, Stewart continued to perceive her as the most stunning woman.
Rod Stewart fully embraced his single life. The British rock and pop icon has had a series of romantic involvements, fathering six children with four different women.
The rock star has a daughter named Sarah from a teenage relationship. With his first wife, Alana Hamilton, Stewart has two children, Kimberly and Sean.
Penny Lancaster and Rod Stewart in New York in 2004 | Source: Getty Images
While dating Kelly Emberg, the couple welcomed a daughter, Ruby. During his second marriage to Rachel Hunter, Stewart became the father of two more children, Renee and Liam.
Following numerous unsuccessful relationships and two failed marriages, Stewart believed his chances of finding love had diminished. However, upon meeting supermodel Penny Lancaster in 1999, his pessimistic outlook on romance vanished.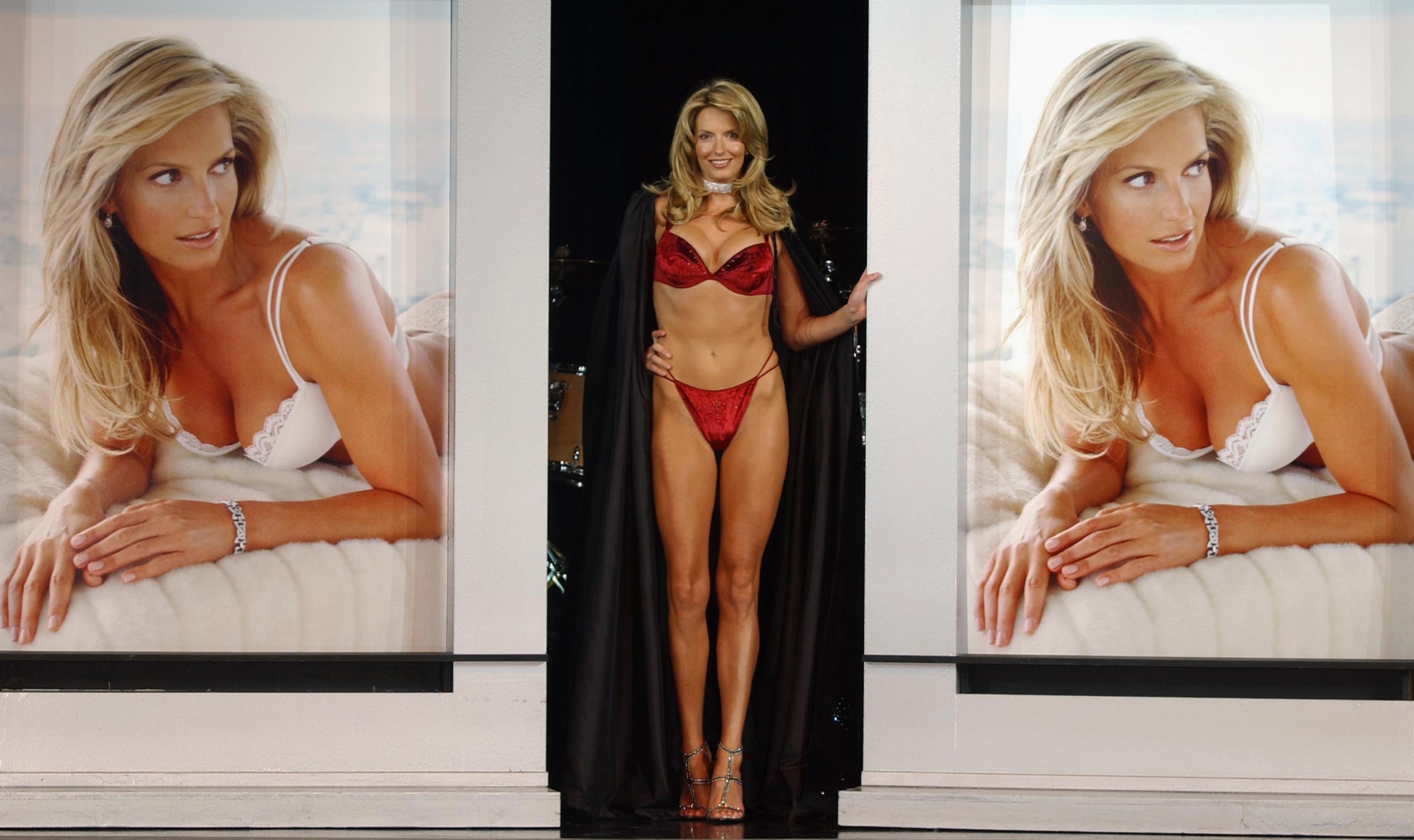 Penny Lancaster photographed in the United Kingdom in 2003 | Source: Getty Images
The duo dated for seven years before Stewart proposed in Paris, with the Eiffel Tower as their backdrop. Despite being 24 years older than his wife, the singer credits her for transforming him into a committed husband and family-oriented man.
The "Sailing" artist expressed his astonishment at Lancaster's unwavering support over more than two decades. "I am at a loss for words. The words to describe how I feel about her have yet to be invented. She is my everything," he enthused.
Before tying the knot with Lancaster, Stewart confessed that he lacked an understanding of the efforts required to cultivate a healthy, loving marriage. Fortunately, his wife guided him through the process.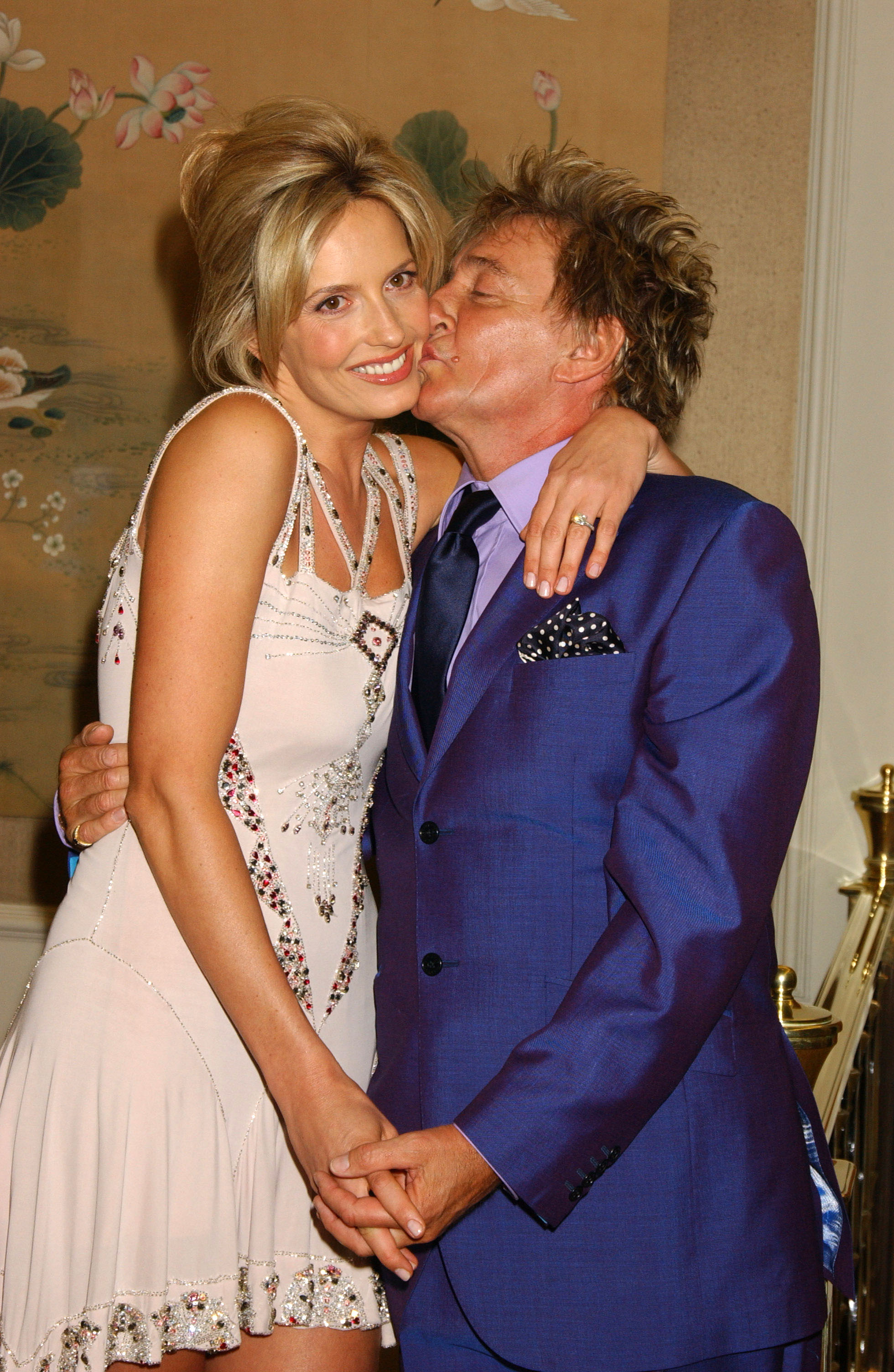 Penny Lancaster and Rod Stewart in London in 2005 | Source: Getty Images
Amidst the highs and lows of his relationships, Stewart emphasized that his children were his top priority. "I just can't get enough of them," he added.
While Lancaster has had a significant impact on the singer, he believes that he has also contributed positively to his wife's life. He is certain that he has helped boost her self-confidence. Initially, Lancaster was shy and reticent, but now, according to Stewart, she confidently occupies any space.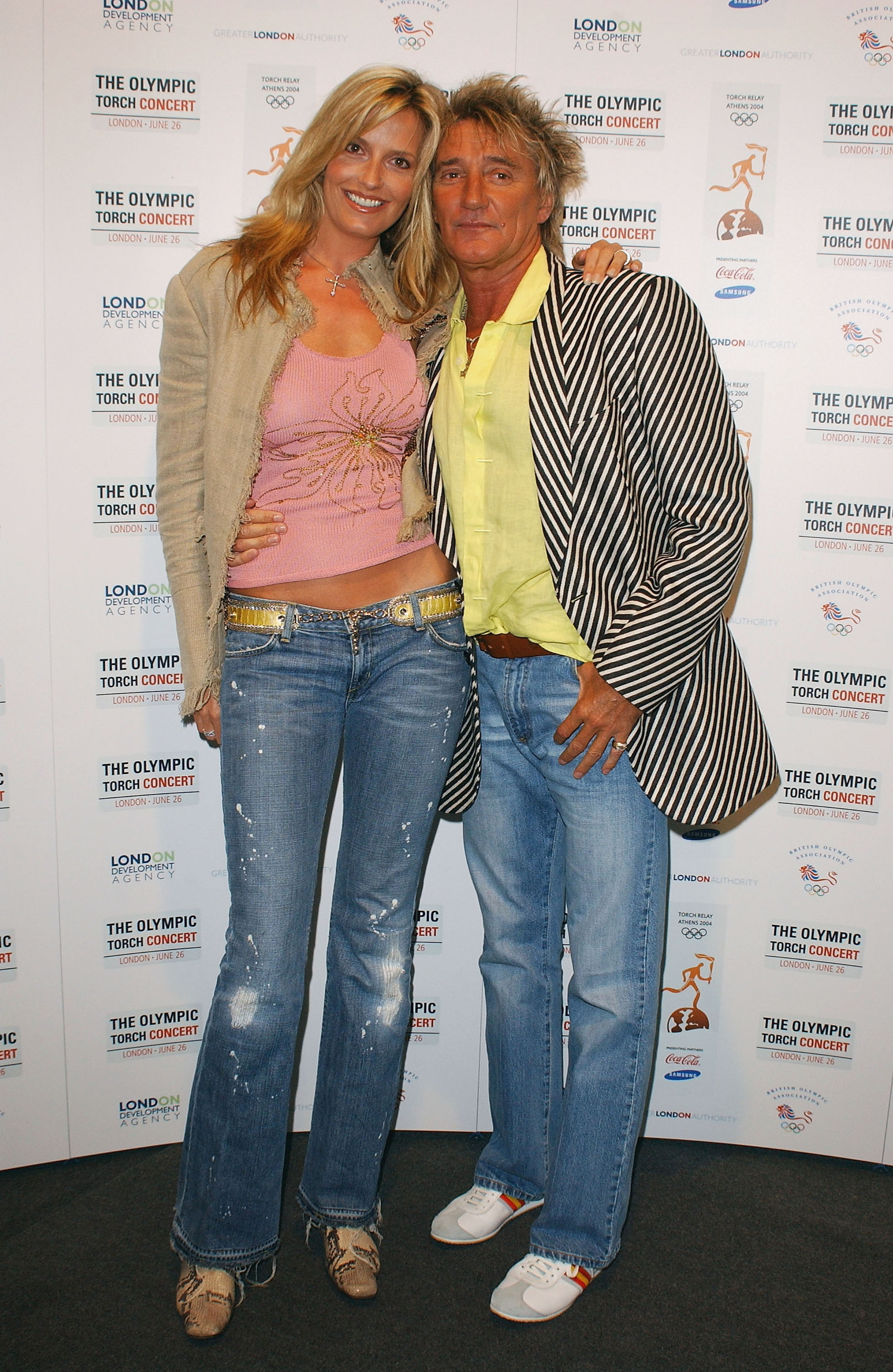 Penny Lancaster and Rod Stewart in London in 2004 | Source: Getty Images
Lancaster began her modeling career at a young age, and it quickly skyrocketed. In 2002, the model secured a £200,000 contract to represent the lingerie and swimwear brand Ultimo.
What Transpired with Rod's Wife after She Made Him a Father of Two More at 40?
Lancaster and her husband have two sons, Alastair and Aiden, but before their arrival, the couple endured two miscarriages. Ultimately, they turned to IVF, resulting in the conception of their firstborn, Alastair.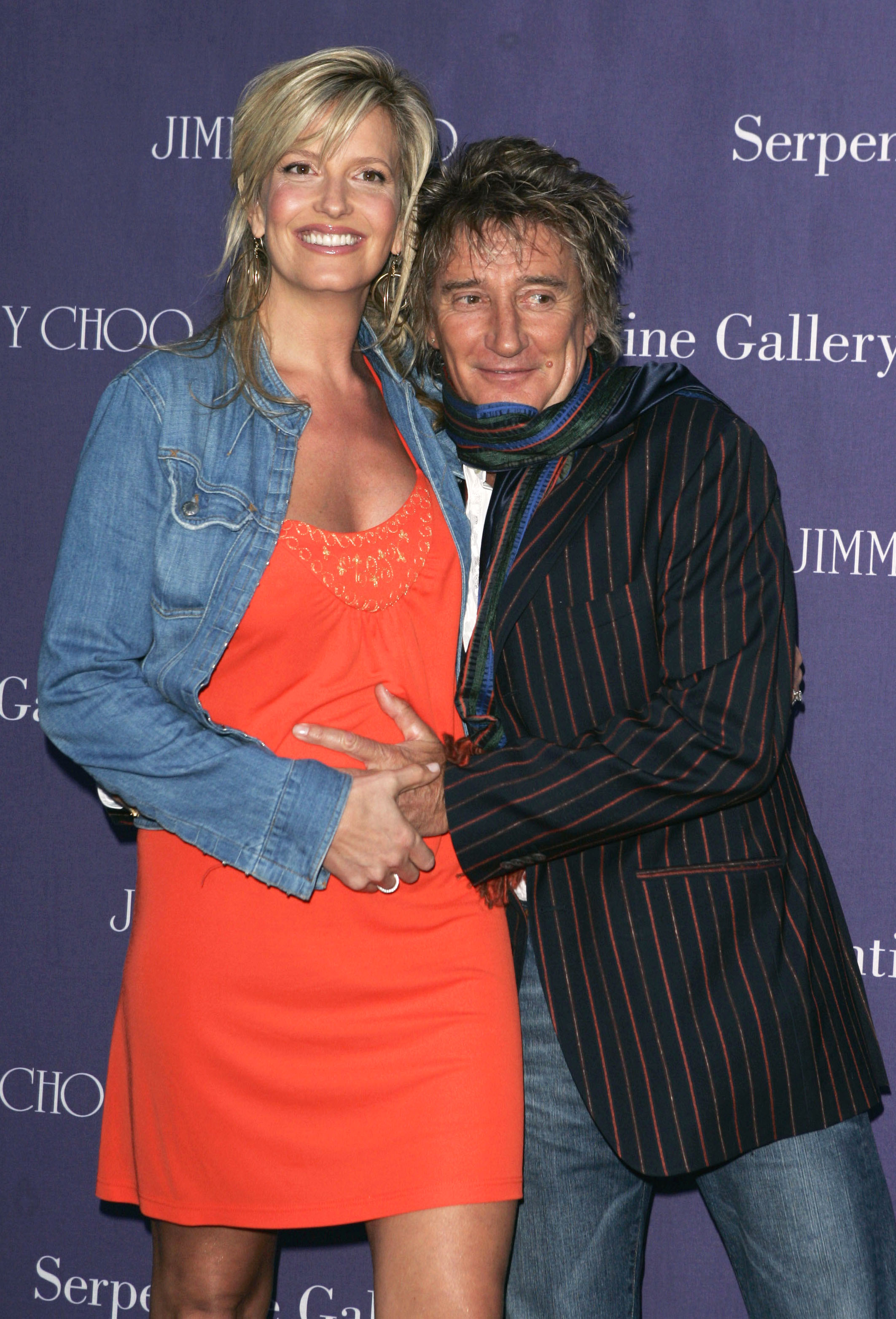 Rod Stewart & Penny Lancaster at the Serpentine Gallery Summer Party in 2005 | Source: Getty Images
Since the couple had been together for an extended period without children, they discussed how to maintain their relationship after becoming parents.
Lancaster revealed they agreed not to be apart for more than ten days. The former model acknowledged that raising children can be time-consuming but emphasized the importance of setting aside quality time for her spouse.
Balancing marriage and parenthood might not be easy, but Lancaster humorously remarked, "I try to divide my time between my eldest child, Rod, and my other two boys." Consequently, the couple enjoys dinner outings, shares breakfasts, and, most importantly, frequently checks in with one another.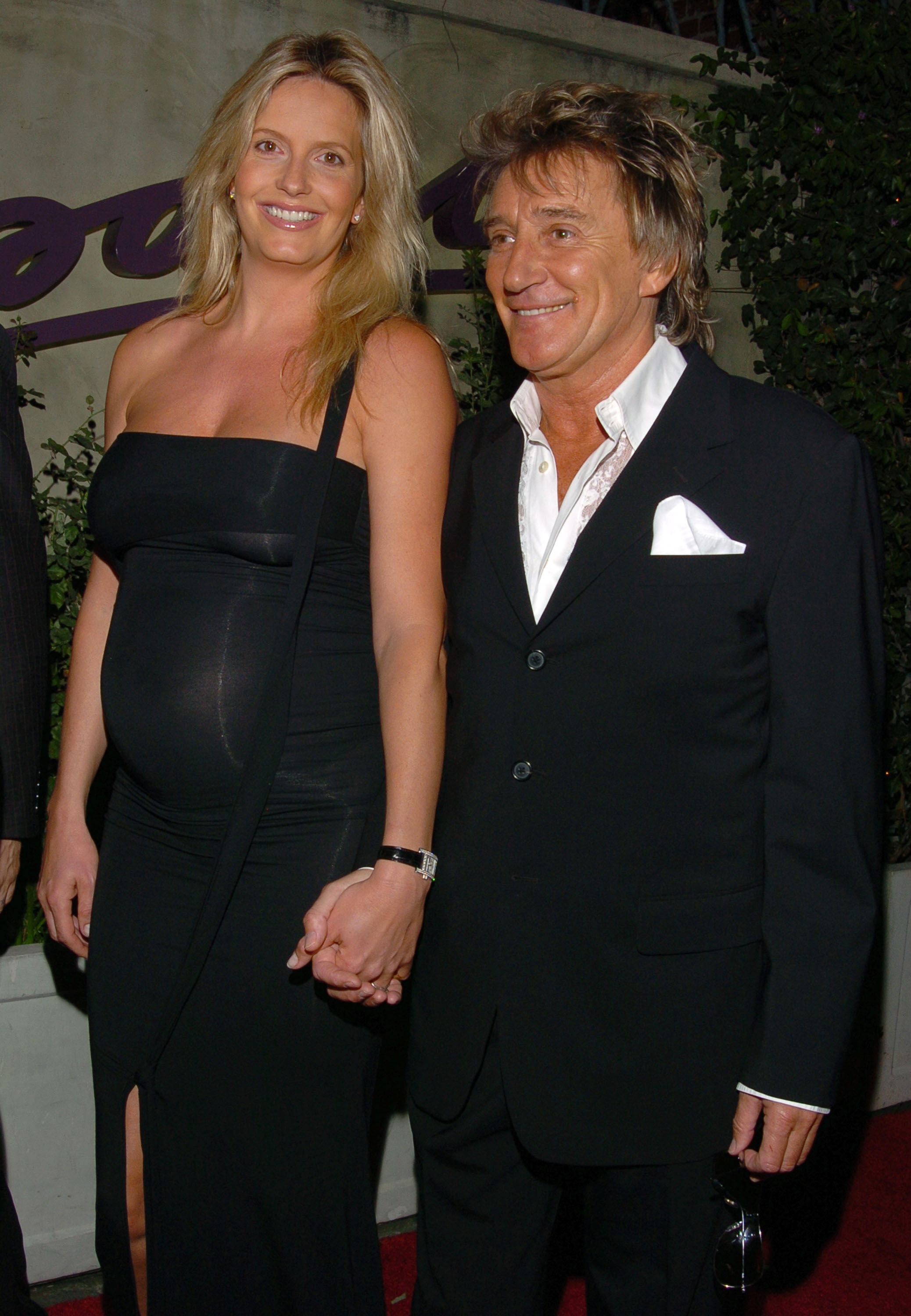 Penny Lancaster and Rod Stewart in California in 2005 | Source: Getty Images
Not only does Lancaster stay connected with her husband, but she also maintains close ties with her children. As a mother and wife, she prioritizes ensuring everyone's well-being.
Though she has faced menopausal symptoms that have affected her body, Lancaster credits her husband and two sons for providing unwavering support.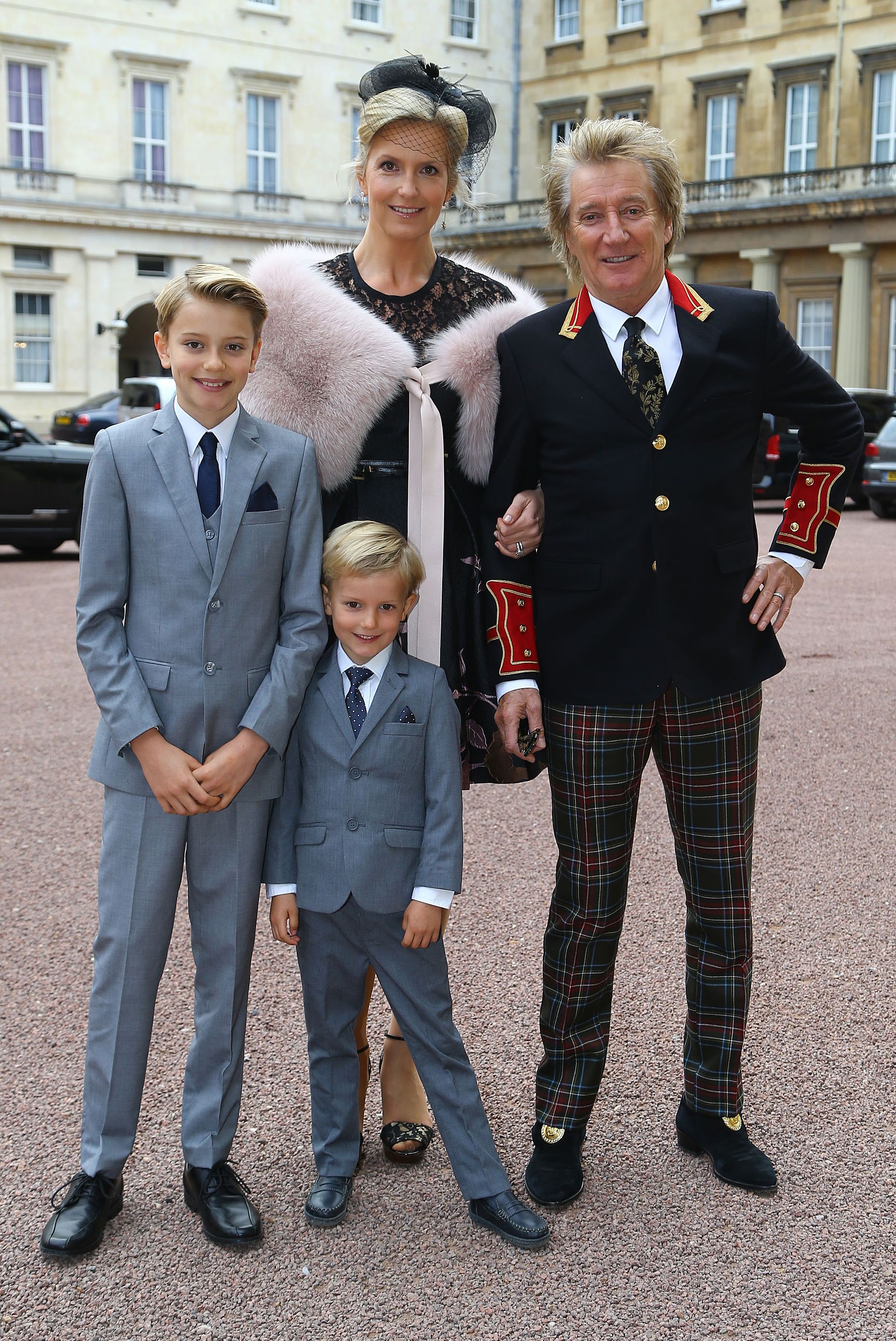 Rod Stewart and his wife Penny Lancaster with their children Alastair and Aiden in London in 2016 | Source: Getty Images
Lancaster and Stewart share a strong bond, unhesitant to divulge even the most personal matters. As such, the mother of two communicates every detail of her hormonal changes to her husband, and when she needs space, she tactfully conveys it to her sons.
The TV personality provided insight into the experience of menopause, saying, "I've been having really hot sweats, and then freezing cold… my body temperature is fluctuating all over the place. It affects your mood swings; I've been putting on more weight."
She also admitted that the mood swings intensify. Lancaster recounted a day when everything seemed to go wrong. While preparing dinner in the kitchen, she suddenly threw the meal across the room and burst into tears.
Her sons were present, but she requested a moment alone. Fortunately, the Stewart family values open communication, so they discussed the episode afterward.
As she observed her body transforming, Lancaster acknowledged that menopause frightened her to the point where she felt as if she was losing herself. "This is the end of the road. I am not going to have any more sex appeal…," she shared.
Nevertheless, she discovered that with age came greater self-compassion. Eager to continue contributing to society, she trained as a police officer.
The former model has also pursued medical treatment to alleviate her menopause symptoms. "So now that I'm on HRT, it's like a fresh start. Not the end, but the beginning of a new chapter," she remarked.
How Does Rod's "Most Stunning" Wife Appear in a Bikini After Putting on Weight?
Lancaster has wholeheartedly embraced her menopausal phase and her body. During a beach day with her sons, the former lingerie model confidently sported a black and pink bikini.
While grabbing a snack with her children, she donned a patterned cover-up and switched from sunglasses to regular glasses for a clearer view of her kids surfing.

Comments about Penny Lancaster's body | Source: Facebook.com/New York Post

Comments about Penny Lancaster's body | Source: Facebook.com/New York Post

Comments about Penny Lancaster's body | Source: Facebook.com/New York Post
However, some Facebook users heavily criticized Lancaster's appearance. Certain commenters argued that there was no excuse for her appearance, given her wealthy husband. "I'd rather see Rod in a bikini," one user quipped.
"Nope. Nothing pretty about this. There's a point one has to stop wearing a bikini!" another user chimed in. One added, "Looks horrid in that inappropriate attire," while others suggested Lancaster was in denial about her body.
Regardless of public opinion, Stewart holds a different view of his wife. Unfazed by her weight gain, he declared, "No, she is absolutely the most gorgeous woman I have ever had in my life."