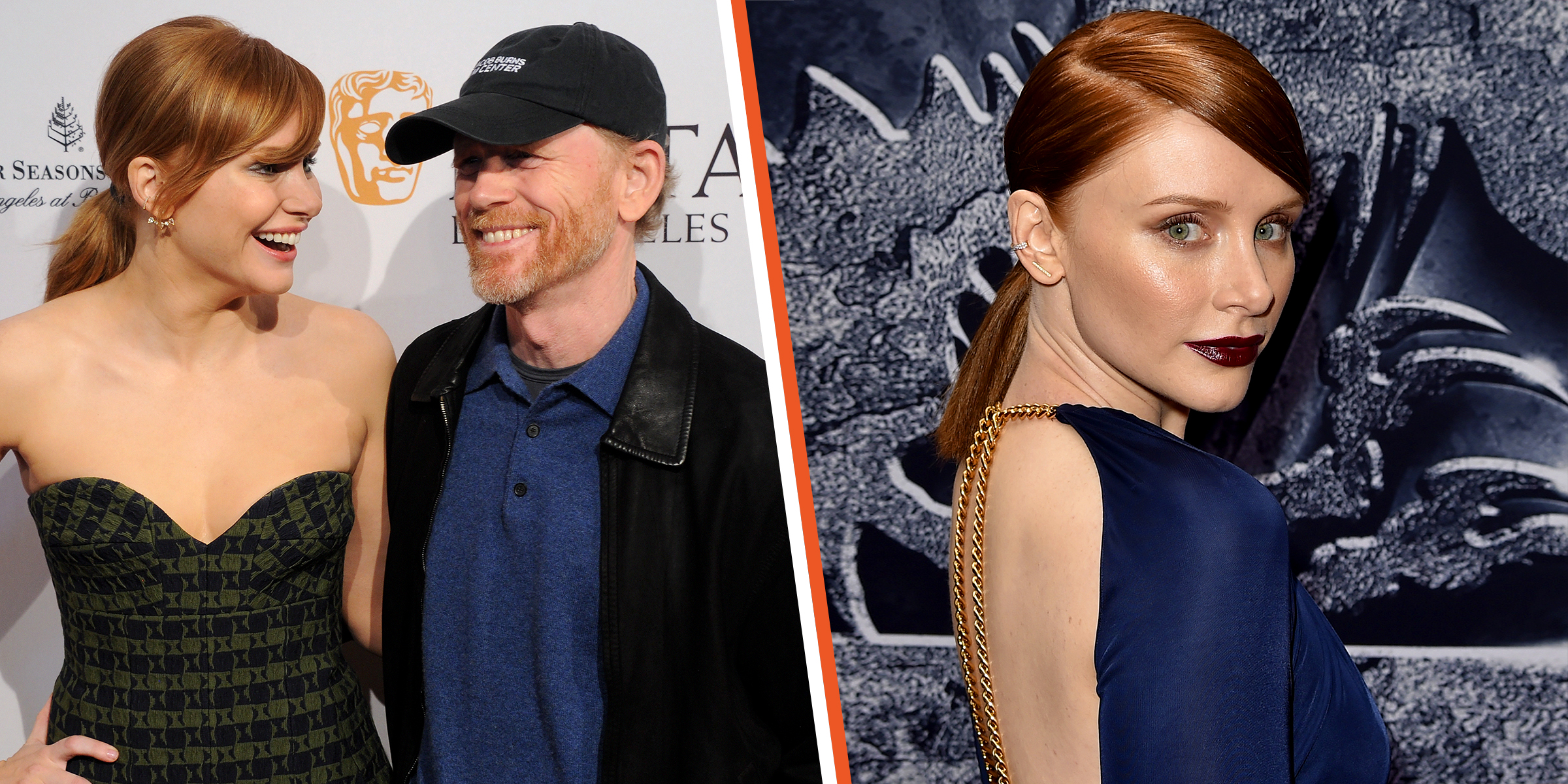 Ron Howard's Daughter Called 'Goddess' with Curves after Weight Gain - She & Husband Look Ageless
On the red carpet, Bryce exudes a 'princess' aura alongside her spouse.
Having gained weight for her "Black Mirror" role, online users praise her as a "goddess" embracing her curves.
Both her husband and father have consistently showered her with love and acceptance.
Ron Howard has gained fame through his roles in "The Andy Griffith Show," "Happy Days," and later "Dr. Seuss' How the Grinch Stole Christmas." However, his most cherished role is that of a father to his four children.
His daughter Bryce has pursued a career in acting, following in her father's footsteps. She has appeared in notable films such as "Jurassic World" and "The Help," establishing an impressive career. Recently, she received accolades for her weight gain in preparation for her role in "Black Mirror."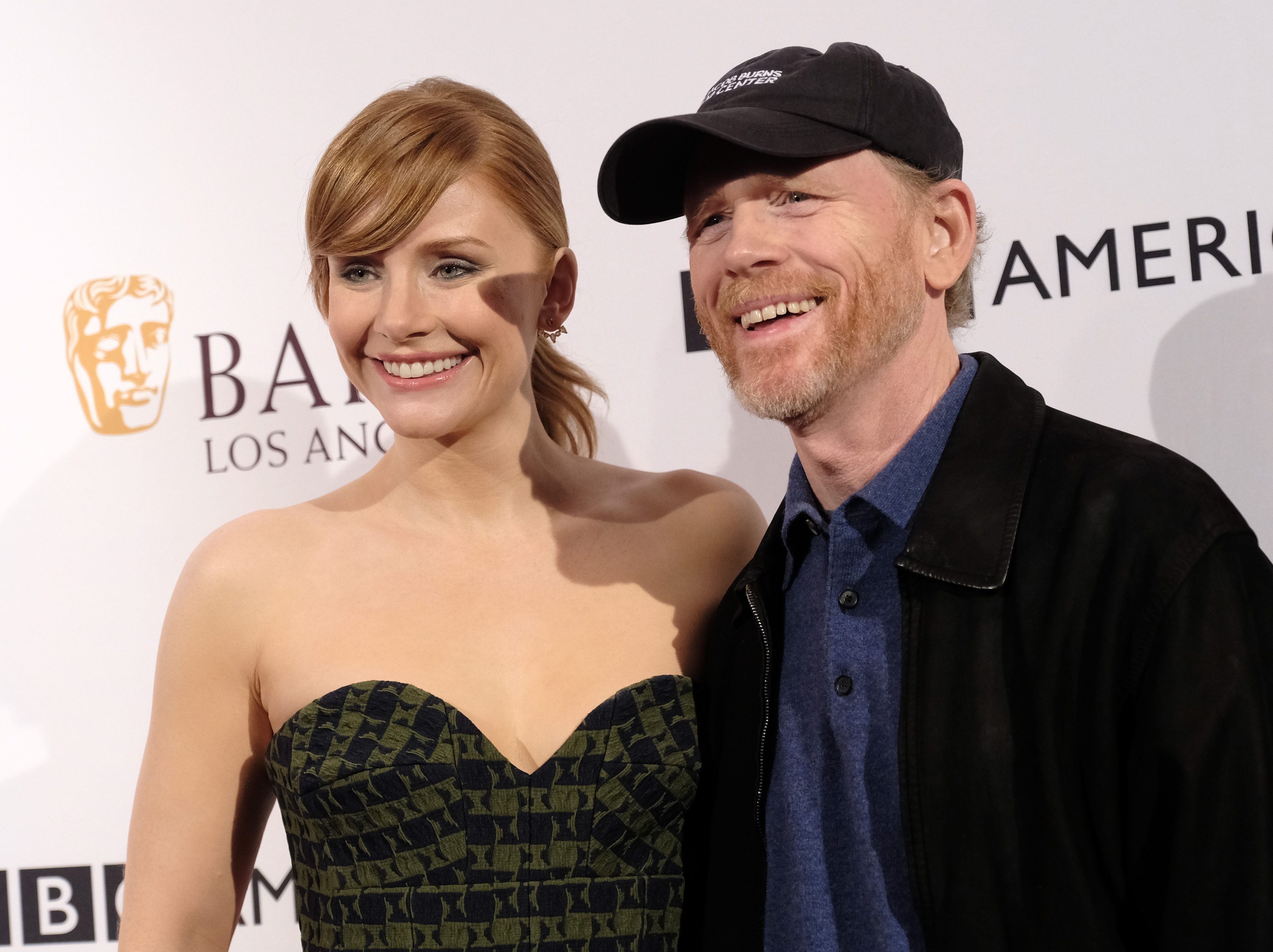 Bryce Dallas Howard and her father Ron Howard attend the BAFTA Los Angeles Tea Party at the Four Seasons hotel in Beverly Hills on January 7, 2017 | Source: Getty Images
Over the past weekend, Bryce attended the 95th annual Vanity Fair Oscars Party with her spouse. The event held particular significance for her, as she had interned at Vanity Fair two decades earlier.
Understanding the immense effort required to orchestrate such a party, Bryce appreciates the inclusive and celebratory atmosphere it fosters among attendees. She expressed gratitude to those who helped her prepare for the occasion.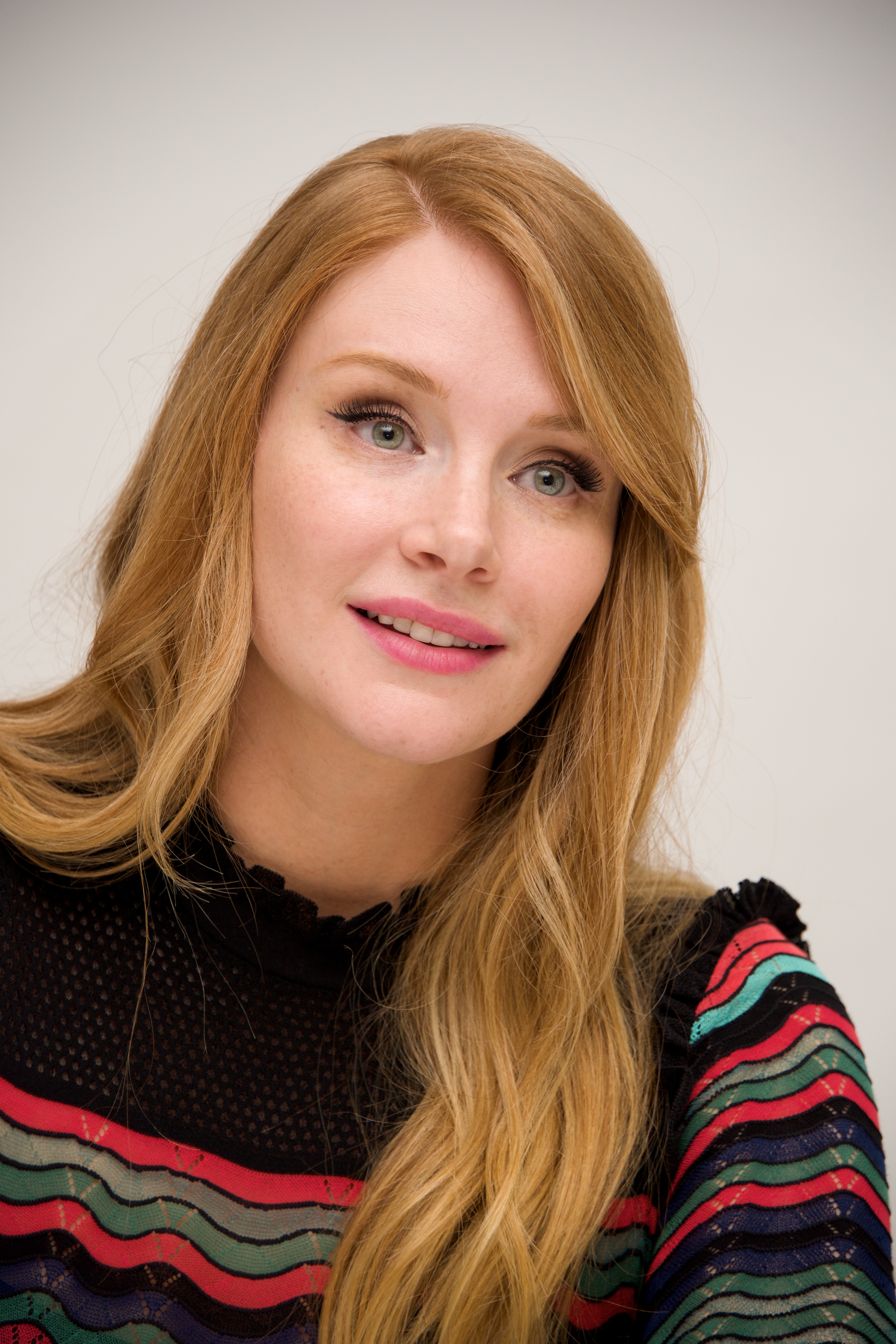 Bryce Dallas Howard at the "Gold" Press Conference at the Four Seasons Hotel on December 5, 2016 in Beverly Hills, California | Source: Getty Images
Adorned in a dress by designer Alaïa, Bryce styled her red locks in a half-up fashion. She donned a long-sleeved, black and red mermaid-style dress featuring a red rose print. Complementing her ensemble were long black earrings and matching black pumps.
In the past, Bryce underwent a weight gain transformation for her role in "Black Mirror," which earned her significant praise. Presently, she looks stunning as she strolls down the blue carpet alongside her husband.
Bryce Radiates Royalty on the Red Carpet with Her Spouse
Upon sharing a photo of her glamorous appearance at the Vanity Fair Oscars Party, fans were effusive in their compliments. One admirer likened her to a "princess," while another hailed her as an icon.
Lis Wonder, a renowned content creator and cosplayer, dubbed Bryce a "goddess." Yet another fan deemed her "gorgeous." Seth Gabel, Bryce's husband, has always regarded her as iconic and posted his own photo of the couple on Instagram.
Seth uploaded a close-up snapshot of their smiling faces and captioned it simply with, "There she is." Many followers marveled at the couple's ageless appearance, with one commenting,
"How have you guys not aged? Looking good."
Although Seth frequently boasts about his wife, Bryce is equally eager to share glimpses of their life together on social media. On their 22nd anniversary, she posted a throwback photo of the couple when they were younger.
The image captured Bryce planting a kiss on Seth's cheek while he grinned. She revealed that they had celebrated their anniversary the previous day and, despite not having made any plans, they had a wonderful time.
Together, they took a leisurely stroll and reminisced about their relationship's early days. The couple then watched the show they used to enjoy when they first started dating and discussed their aspirations for the next 22 years.
Bryce and Seth subsequently indulged in their individual hobbies without any guilt. Bryce confessed that she had kept the sweater she wore on their first date, knowing they would one day be married.
Numerous fans and friends extended their best wishes on the couple's anniversary, praising their beautiful partnership. Many congratulatory messages poured in, with some expressing disbelief that over two decades had already passed since the couple began their relationship.
Bryce Discussed Weight Gain for "Black Mirror": Admirers Deemed Her a "Goddess" Flaunting Her Curves
Bryce once revealed that she had to put on weight to effectively portray her character in "Black Mirror," which she did without any hesitation. However, she found it challenging to shed the pounds as swiftly as some of her male peers after completing the shoot.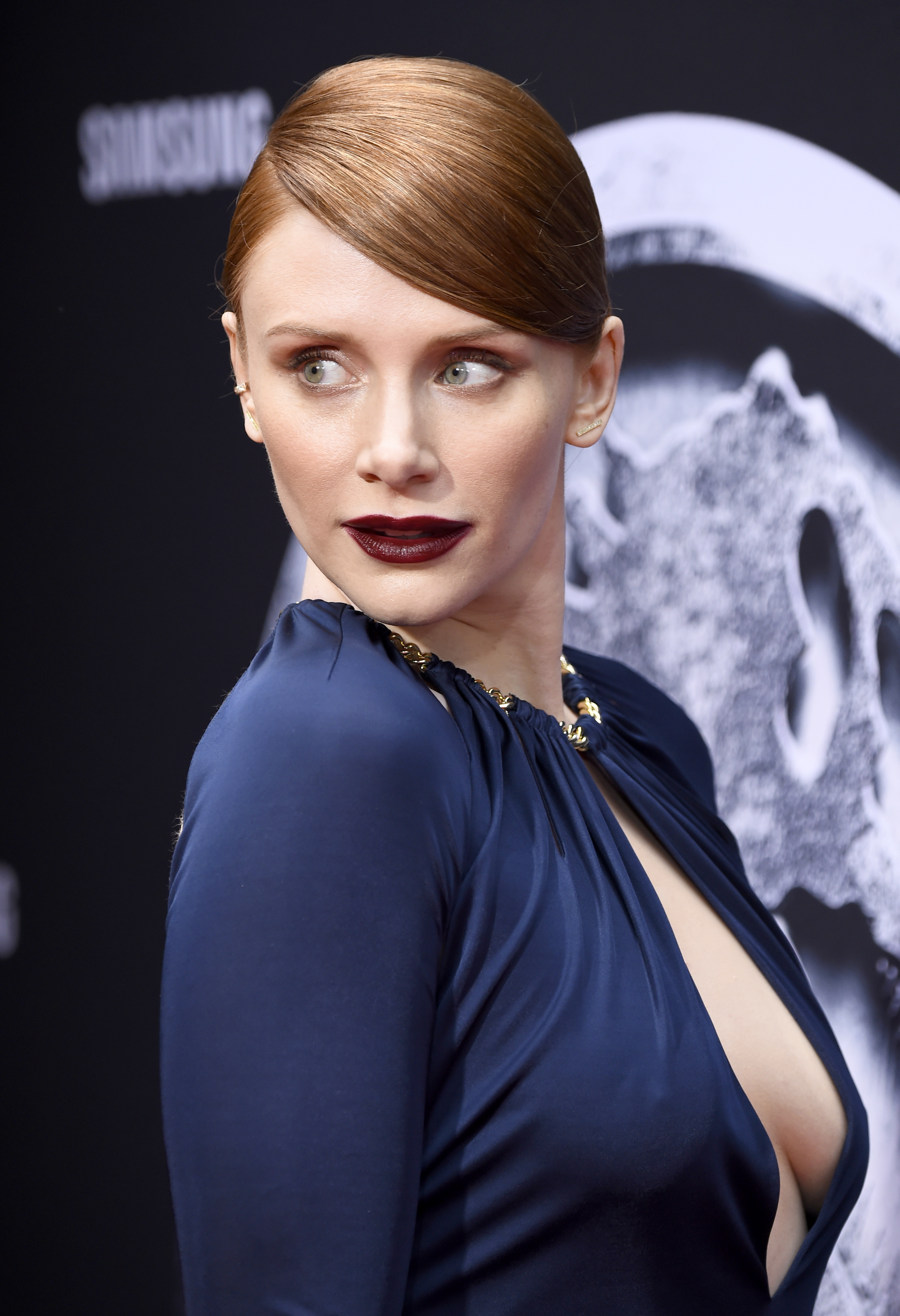 Bryce Dallas Howard attends the Universal Pictures' "Jurassic World" premiere at Dolby Theatre on June 9, 2015 in Hollywood, California | Source: Getty Images
Although Andy Cohen, who interviewed Bryce at the time, commended her bravery in gaining weight, she remained uncertain. Fans, on the other hand, sided with Cohen and shared their opinions about her weight gain.
One admirer noted that while Bryce was leaner in "Jurassic World" than in "Black Mirror," she looked fantastic in both instances. The fan remarked:
"Stunning when slim, stunning when curvy. Some women are fortunate in that regard."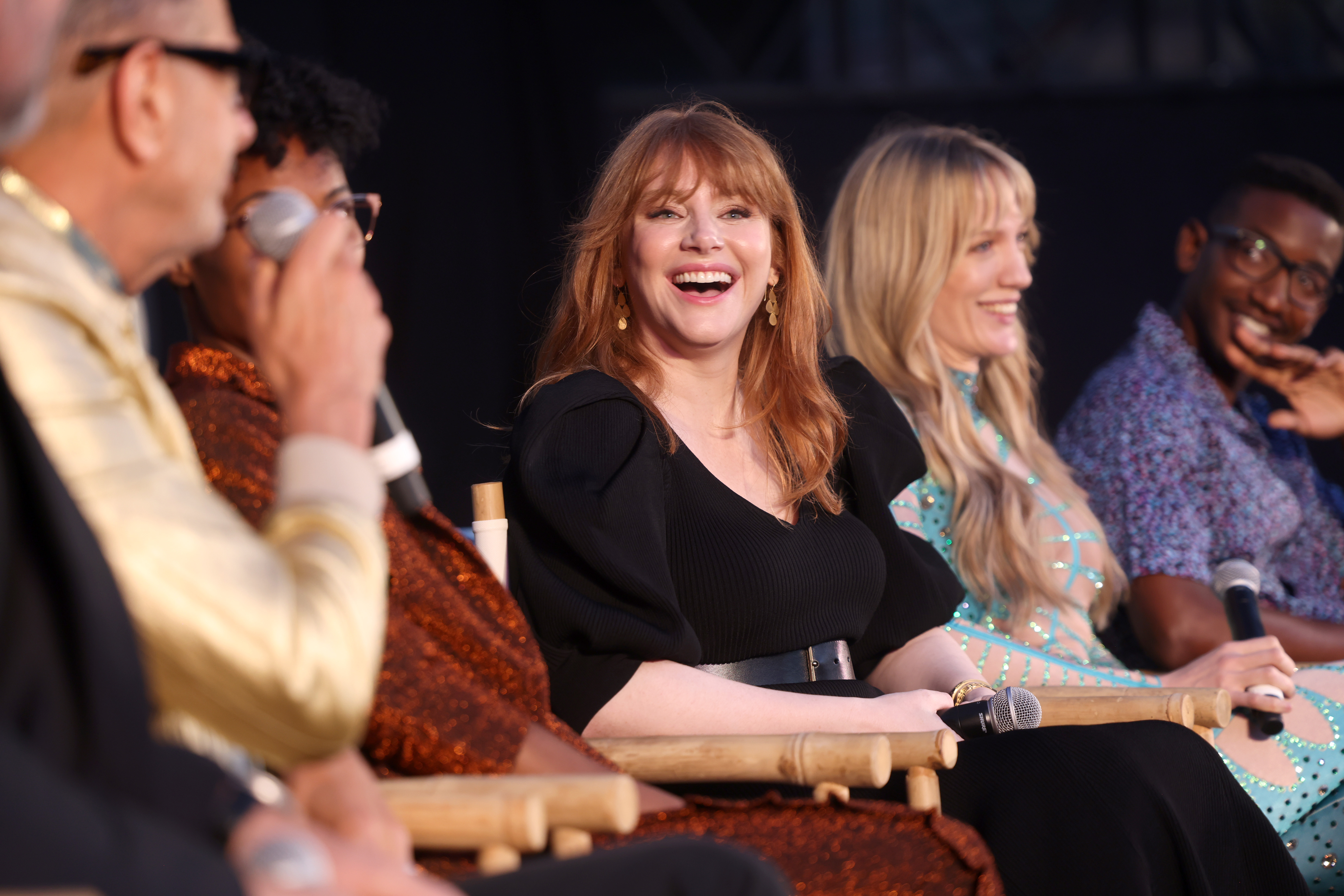 Jeff Goldblum, DeWanda Wise, Bryce Dallas Howard, Emily Carmichael, and Mamoudou Athie speak onstage during Charlize Theron's Africa Outreach Project (CTAOP) Block Party at Universal Studios Backlot on June 11, 2022 in Universal City, California | Source: Getty Images
Another fan expressed a preference for Bryce's appearance when she's slightly heavier. Another admirer praised her stunning curves when she gained weight and encouraged her to embrace them.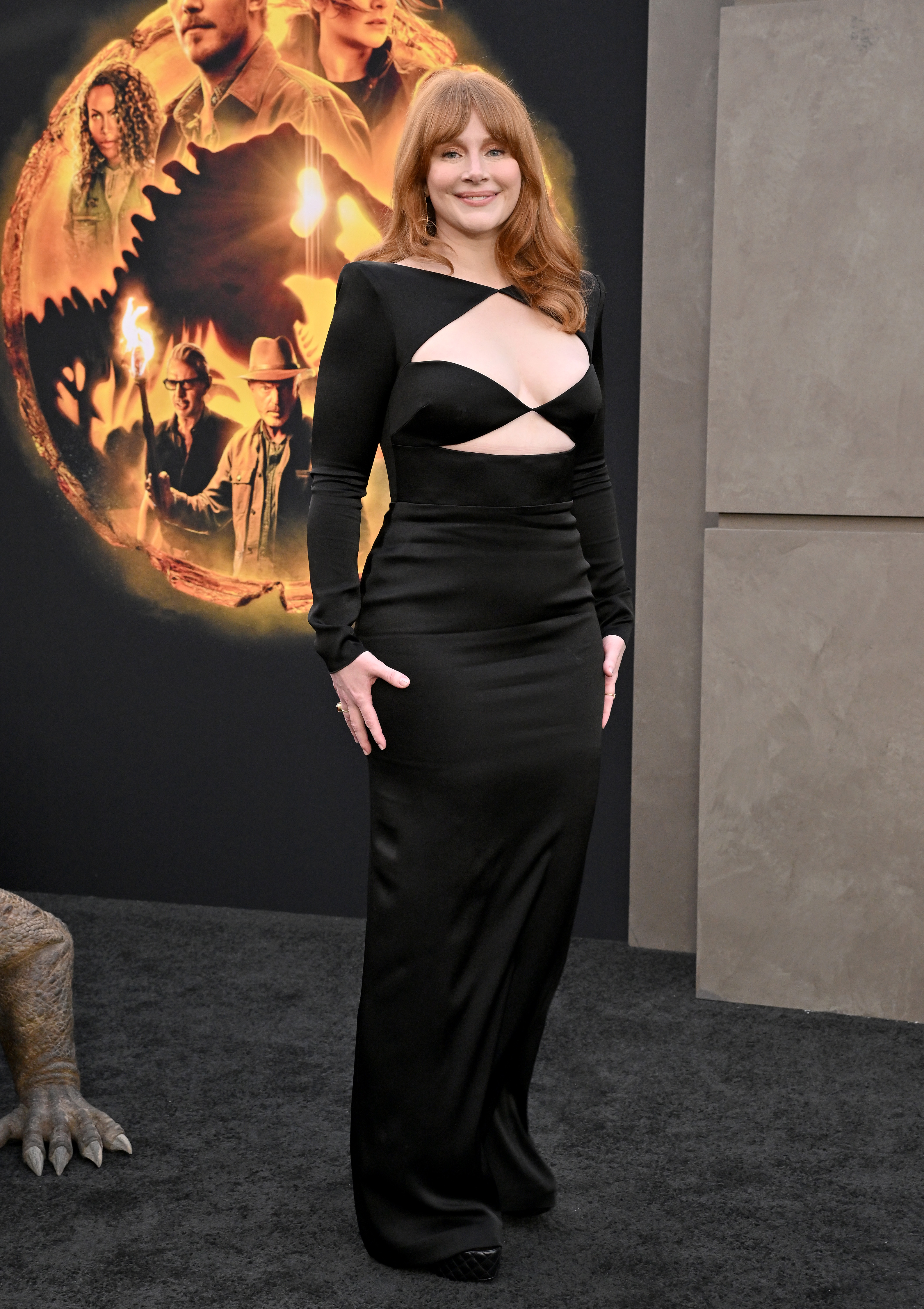 Bryce Dallas Howard attends the Los Angeles Premiere of Universal Pictures "Jurassic World Dominion" on June 06, 2022 in Hollywood, California | Source: Getty Images
The same fan humorously pointed out that Hollywood already has plenty of slender women, so it's refreshing to see someone with a bit of extra weight, which grants them gorgeous curves to appreciate.
One admirer had particularly fervent views about Bryce's appearance, whether she was slender or had gained weight. The fan effused:
"Wow, I adore Bryce; she's such a goddess. Those eyes, that smile, the curves, she's simply mesmerizing."
Bryce Cherishes Unconditional Love and Support from Her Husband and Father
Bryce enjoys a wonderful relationship with both her renowned father and her spouse. She frequently expresses her affection for them on social media, posting photos of their time together on special occasions.
On March 2, Bryce shared a nostalgic photo on Instagram featuring her father and herself as a toddler, alongside another picture of her as a young girl. The post celebrated her dad's birthday, and she included a touching caption.
Bryce reflected on her bond with her father and detailed the two snapshots, writing:
"Daddio, you are my best friend — always have been, always will be. I love you. Happy Birthday."
The first image captures Bryce's father cradling her when she was just two years old. He wore a blue shirt that accentuated the color of both his and his daughter's eyes. The subsequent photo is from a later stage in Bryce's life.
In the second picture, Bryce's father is reading her a bedtime story, four years after the initial photo. Both father and daughter were absorbed in the tale, unaware that they were being photographed.
Ron, Bryce's father, has also shared special moments featuring his daughter with his followers on social media. Coinciding with Bryce's birthday on March 2, he posted a picture of a young, sleeping Bryce on Instagram and gushed:
"It's been one of THE joys of our lives to witness [Bryce] grow into the woman, mother, wife & consummate showbiz professional she is."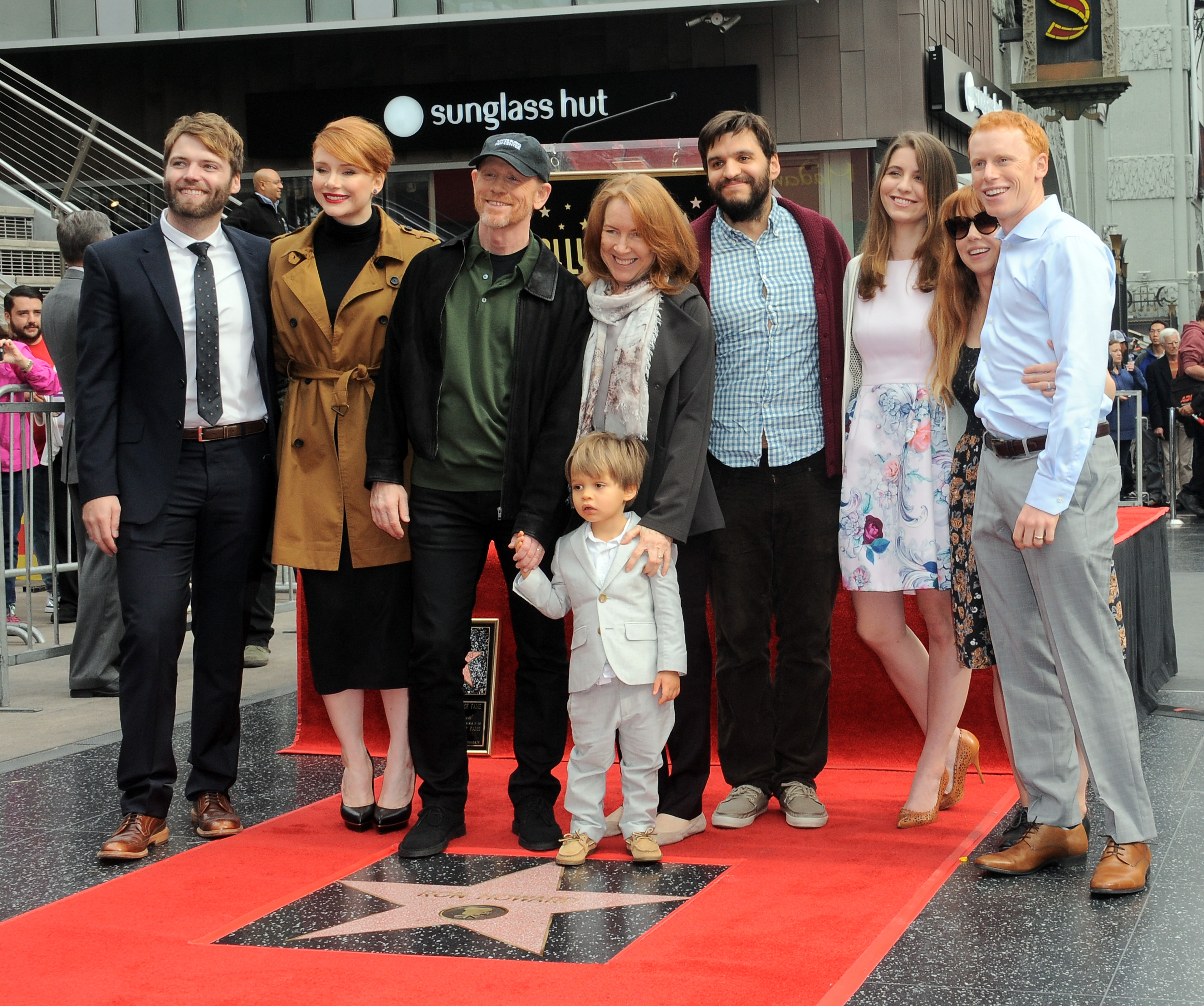 Seth Gabel, actress Bryce Dallas Howard, director/father Ron Howard and mother Cheryl Howard at the Ron Howard Star ceremony on The Hollywood Walk Of Fame held on December 10, 2015 in Hollywood, California | Source: Getty Images
He then praised her ambition, generosity, and constant growth, expressing his deep love for her. Ron's post received an outpouring of heartfelt birthday wishes for Bryce from his fans and friends.