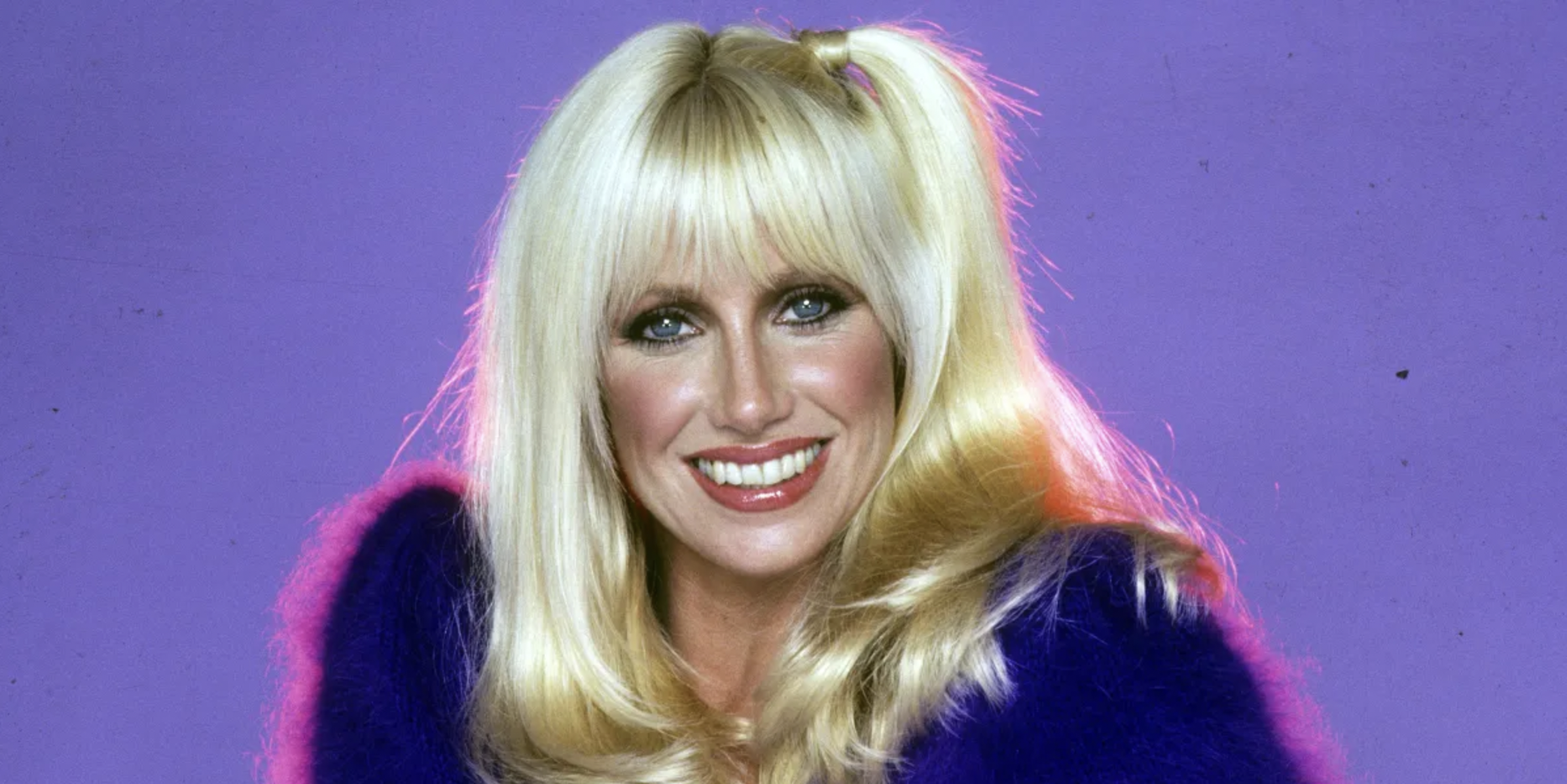 Suzanne Somers | Source: Getty Images
'She's Definitely Struggling': Suzanne Somers Looks 'Lifeless' at 76 as Fans Worry about Her Health

Suzanne Somers recently concerned fans with an Instagram post, as they noticed her "bruised" legs and "lifeless" appearance. Her post came after the actress adopted a healthy lifestyle following a cancer battle and surgery.
In a recent Instagram video, Suzanne Somers showcased a stylish outfit featuring a black leather skirt, white collared shirt, chunky belt, black sweater, and leopard-print heels. As she promoted a product from her website, which offers an array of fashion, skincare, health, hair, and beauty items, the actress's appearance sparked concern among her fans.
Some followers questioned her well-being in the comments section, with one remarking, "Her legs look bruised." Another expressed concern over her seemingly forced happiness, writing, "I don't think she has been right for a while now. It seems that she's trying to look happy, but something is off."
"Is she feeling okay?" one fan asked, while a different fan emphasized the importance of prioritizing her health over promoting products: "Somebody stop them. She's definitely struggling. Is it that important to push these products? Enough already." Meanwhile, others defended Somers. One fan wrote:
"Her health should come first. Caroline does a great job! Suzanne hypes her show and products for health. I think she needs to put hers first. Al fills up the 'gaps,' and it can be annoying (but give him credit for trying.) Her spunky nature is gone, no life in her emotions, and it's sad to witness. She's lifeless. I wish them well. However, she's reminding me of Norma Desmond,"

A fan's reaction to Suzanne Somer's Instagram post. | Source: instagram.com/suzannesomers
Somers, who has maintained her fitness over the years, has faced health challenges in the past. In 2001, she survived cancer, and six years later, she revealed a six-day hospital stay due to a cancer misdiagnosis. Ultimately, she discovered that she and her husband had been inhaling black mold in their rental home, which affected their health.
In 2020, Somers underwent neck surgery after falling down a flight of stairs, having already struggled with a fractured hip for some time. To her worried fans, Somers expressed appreciation for their love and support and assured them she would be back soon. "As always, I so appreciate your love and support. Be back soon!" Somers wrote.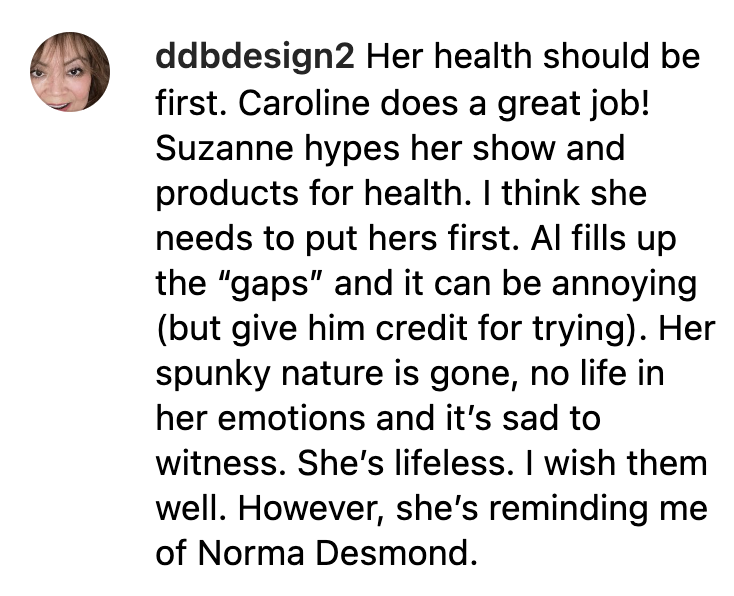 A fan's reaction to Suzanne Somer's Instagram post. | Source: instagram.com/suzannesomers
Suzanne Somers is acutely aware of the significance of caring for her health at such age. She has been careful in making choices that contribute to her overall well-being. "I'm always thinking about making choices that will keep me strong and clean both on the outside and inside. When I go to bed at night, I want to know that I made good choices during the day for my health," she stated.
While the actress has faced health scares in the past, she remains committed to making choices that prioritize her overall health.
The information in this article is not intended or implied to be a substitute for professional medical advice, diagnosis or treatment. All content, including text, and images contained on WomanlyLive.com, or available through WomanlyLive.com is for general information purposes only. WomanlyLive.com does not take responsibility for any action taken as a result of reading this article. Before undertaking any course of treatment please consult with your healthcare provider.