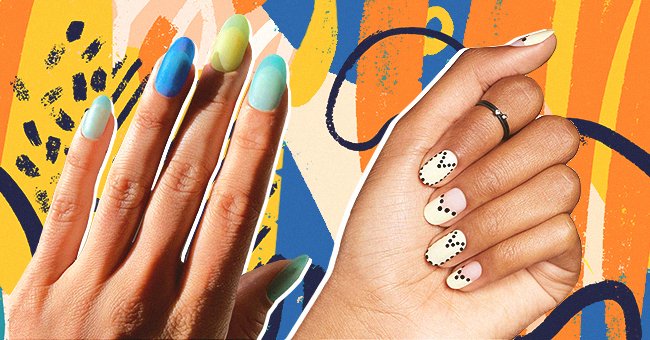 Spring Manicures That Promises To Chase Away Any Lingering Winter Blues
"Spring is nature's way of saying let's party."
As the ice melts and the sun peaks out, spring is nearly here. And as the environment slowly comes to life, shouldn't our nails also come to life.
Let's ditch the wintertime grey, navy, and black and experiment with some fun new ideas. Here are five spring manicures everyone should try at least once this year.
1. Sea Glass Nails
The gorgeous translucent sea glass nail design is perfect for anyone who likes an understated yet pretty nail look. Teal, sapphire, and lime are trendy yet classic colors for spring.
The addition of a matte topcoat is the perfect modern twist to elevate this stunning design. Keeping the color sheer adds a beachy vibe that screams springtime.
2. Yin Yang Nails
Another trendy spring color for 2020 is electric green. To add a gorgeous modern twist, pair it with a solid bright white polish.
For those brave enough to venture into eye-catching nail art, try this stunning yin yang design by Lauren Ladnier. To complete the look seal it all in with a thick glossy top coat to ensure it lasts for ages.
3. Art Nails
Nail artist Alicia Torello is known for creating mind-blowing nail art. As expected, she has created the most beautiful spring-inspired nails.
This year she created a gorgeous mid-century print inspired abstract nail look. Best of all, Alicia teaches her followers how to achieve the look at home on her IGTV.
4. Negative Space Designs
Negative nail designs, especially the dainty ones by Alicia Torello, are the perfect understated nail art looks for those who are a little shy but still want exciting nails. From daisies to these stunning orange clementines, the possibilities are endless.
To get this look, start with a clear base coat and then dot on deep orange on every second nail. Use a thin paintbrush to create green leaves at the top of each clementine. Complete the nails with orange tips on the blank nails and finish with a clear topcoat.
5. Tangerine Dream
The bold and vibrant peach to hot pink gradient is perfect to put you in the mood for spring. Topped with a matte topcoat, these nails are classy and modern.