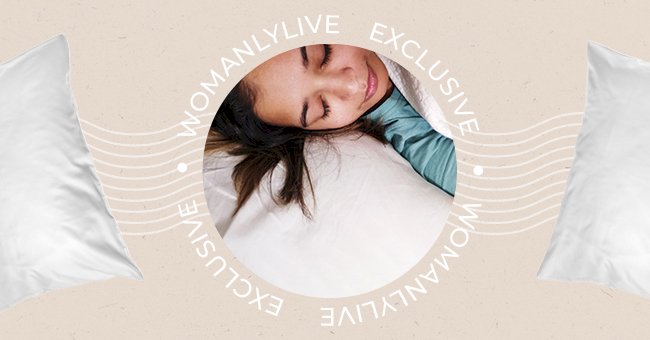 Story Of The Day: I Tried An MYK Silk Pillow Case For A Month
Beauty trends come and go but silk pillowcases have managed to hold the interest of beauty aficionados for decades. Silk is well known for its benefits on the hair and skin among other health benefits.
I grew up with extremely sensitive acne-prone skin and the influence of my Indian heritage also put great emphasis on looking after my hair as it was seen as my crown. Thus it should be no surprise that over the years I have amassed a tiny arsenal of products that tout great benefits.
I have also spent my fair share of money buying and trying different silk products trying to find the ones that work best without hurting the bank. So it's no surprise that I jumped at the chance to try out MY Kind of Silk.
Benefits Of Silk Pillow Cases
Sleeping on a silk pillowcase is known to benefit both the skin and the hair. While many believe it will cure acne and stop split ends, there is no proof supporting these claims.
However, silk pillows do reduce the amount of friction your skin experiences against the pillow while you sleep. Thus it helps reduce the formation of lines and wrinkles. It also absorbs far less moisture from your skin while you sleep than a regular pillowcase. Thus you won't wake up with dry skin and your skincare will have time to absorb into your skin instead of being wiped away by your pillow.
Similarly, with less moisture being absorbed you are less likely to wake up with dry frizzy hair. The slipperiness of the silk also helps reduce friction so no more static hair.
By eliminating most of the friction that your hair goes through during the night, your hair will also tangle less. So you can finally wake up, shake out your tresses and go to breakfast without looking like a troll rolled out of bed.
What Is MYK Silk?
MY Kind Of Silk is a company striving to make high-quality silk accessible to everyone. Their journey started when the founders of MYK Of Silk took a group trip to Asia and experienced high-quality silk for the first time.
After returning to the states and want to continue benefitting from silk at home, experience the benefits of silk at home they were disappointed to find the available options were either too costly or poorly made.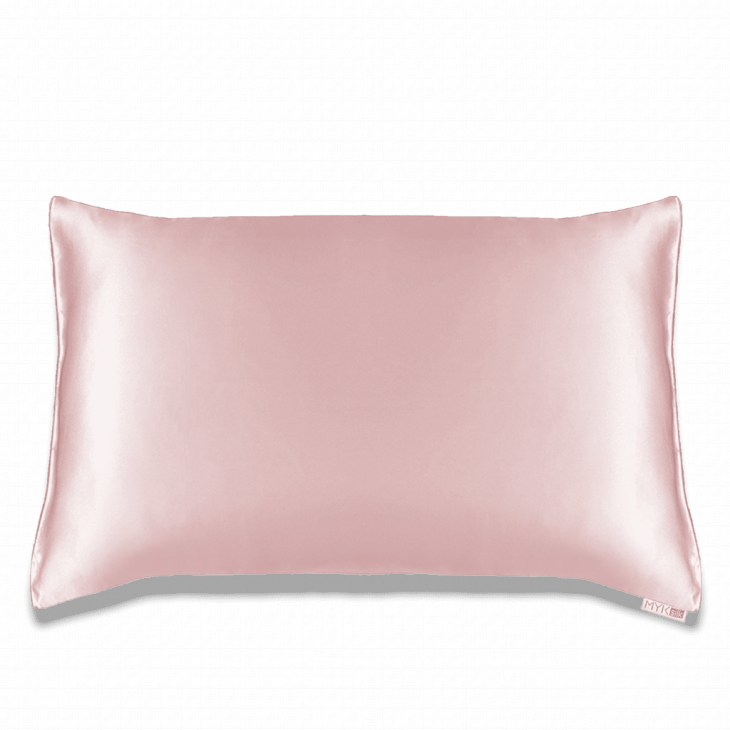 Brand Provided Image
In their mission to find great quality, they began to study the production process of silk from start to finish. Eventually, they launched their brand in New York.
MY Kind of Silk now offers 100% mulberry silk products at an affordable price point. Their motto is, "We weave more than just silk. We weave confidence, quality, and comfort with every thread."
The Product I Tried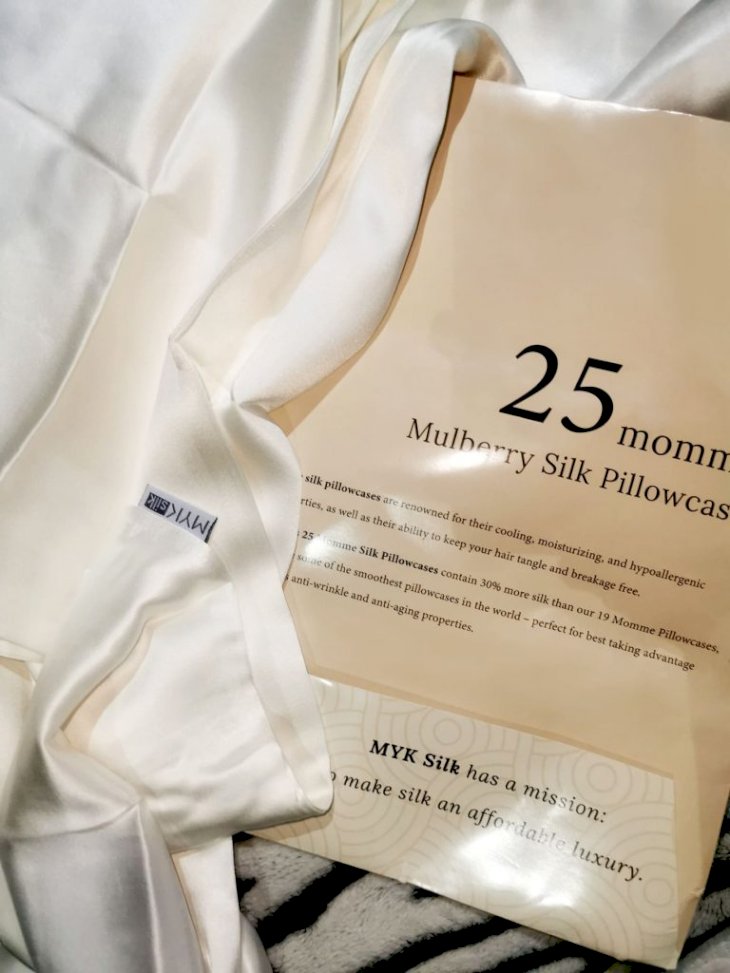 Photo Taken By Ra'eesah Manack
I was sent the 25 Momme Luxury Silk Pillowcase to try. 25 Momme Silk is 30% thicker, smoother, and more durable than regular 19 momme silk. It boasts double-sided silk for maximum comfort and convenience and the deep envelope closure design prevents your pillow from falling out of the case at night.
The pillow is OEKO-TEX 100 Certified Product. Thus it is clinically tested to be safe, hypoallergenic, and free of harmful chemicals.
My Results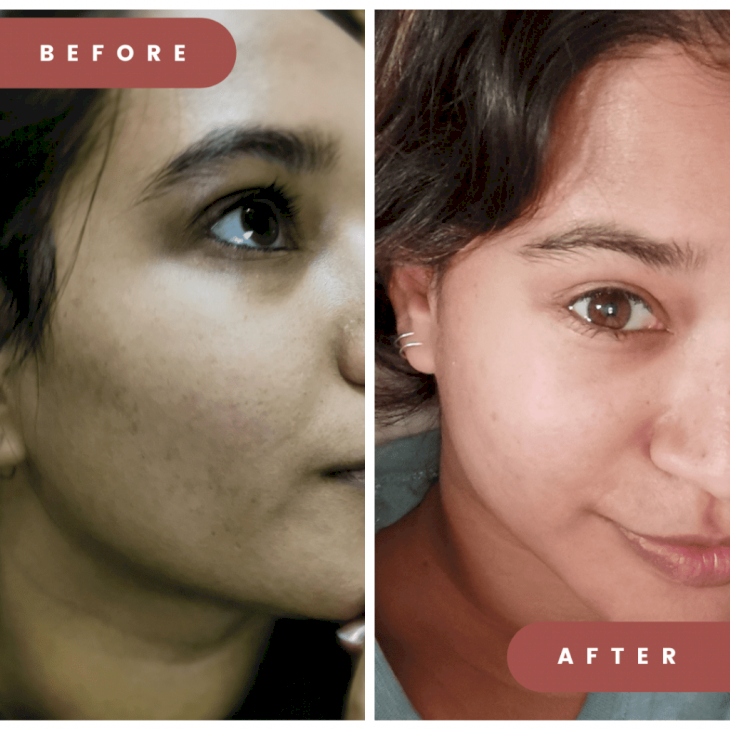 Being extremely allergy-prone, my skin is extremely sensitive. I was pleasantly surprised by how much my skin texture improved.
As you can see in the images above, my skin appeared smoother, less stressed, and far less red in the morning when I slept on the silk pillowcases. I also noticed I had far fewer breakouts and really enjoyed the cooler feeling material against my skin than plain cotton.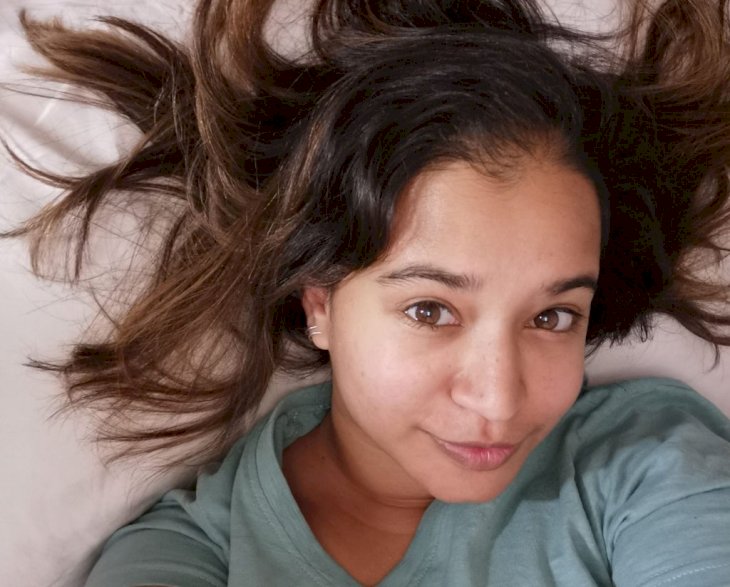 Photo Taken By Ra'eesah Manack
After bleaching my hair for a few years, it has become far drier than it used to be. As a result, it also tangles much easier.
So I was most impressed by how much the silk pillowcase helped my hair. I was able to sleep with my hair loose instead of tied up and still wake up with it looking shiny, non-frizzy, and tangle-free.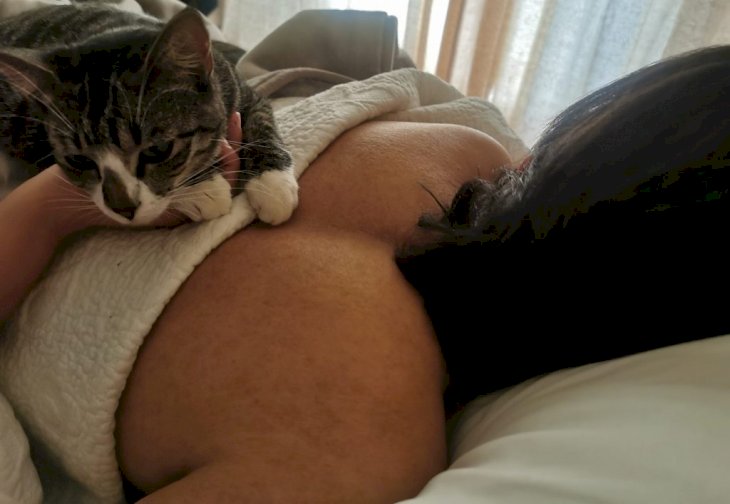 Photo Taken By Ra'eesah Manack
Overall, I really enjoyed the experience and have already added more MYK Silk products to my cart. Even my cats and husband are dying to use the pillow.
In fact, on a super hot night, we fought over whose turn it was to get the "special" pillow. Especially since my husband, who has extremely dry skin, noticed a marked difference in how much more moisturized his skin felt after he went to bed on my pillow compared to his own.
Other Reviews of MYK Silk Products
The MYK Silk products were dubbed the "best 25 Momme silk pillowcase" by Business Insider and have earned a reputation for delivering what it promises. It was also featured in Good Housekeeping's "15 Best Silk Pillow Cases" list.
With a 4.4 star rating on Amazon and being named CNN's "best budget silk pillow," the pillowcases are a win on all fronts in my opinion.