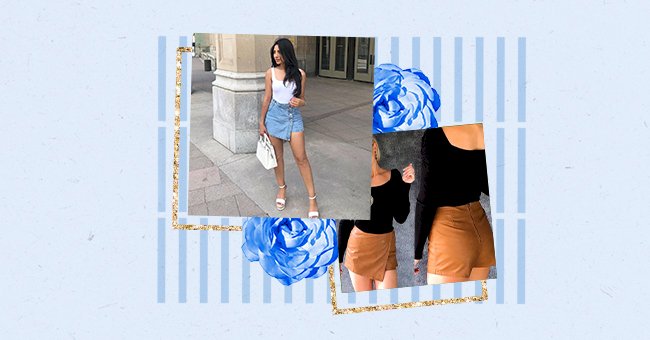 Style Guide: How To Wear A Skort
As fashion gets recycled and Gen Z falls in love with this '90s trend, come and learn how to style a skort.
Some '90s trends were all about comfort. It was the grunge era, marked by loose garments, which makes skorts a transitional piece. Skorts -- skirts that are shorts -- have their place in the comfy fashion, but they're still feminine and democratic. They fall in the category of feminine symbolism of clothing, representing the beginnings of a shift in how women dress.
And now they're making a comeback. You can see Gen Z in awe for skorts all over social media. If you're an active woman who loves athletic looks, the skirt-shorts hybrid might the perfect piece for you - but it doesn't stop at athletic wear. We've rounded up how to style yours in different ways.
Layer 'em On!
For those adhering to the '90s trend huge comeback, pair your skort with a cropped or baby tee, then either oxford platforms like in the picture, sneakers, or platform sandals. And if you want to take a step further into the nostalgia, add kitschy jewelry and a bag.
Make It Romantic
Pair your skort with romantic pieces, such as the flowery cropped from the picture above. Use as a day and summer look, from a happy hour with your girls to a romantic afternoon date. To give a boho touch, add platform rope sandals and a rope bag.
Go For The Typical Athletic Skorts
No, you won't look like a tennis player even though they were purposefully designed as athletic wear. As skorts are making a resurgence, you won't look like you're going to a tennis class if you decide to wear yours to go cycling or to the fitness class.
Keep It Classy
Skorts have the length of shorts, but that doesn't mean you can compose a chic outfit. Just like in the example here, pairing with other classy pieces, just like longsleeved silk cropped, square toe mules in neutral tones.
Denim it Up
Skorts and denim skirts are, apparently, here to stay. So you can invest in both because I don't think they're going anywhere any time soon. You can incorporate denim skorts with the classic summery combo white tee or tank tops and platform sandals.