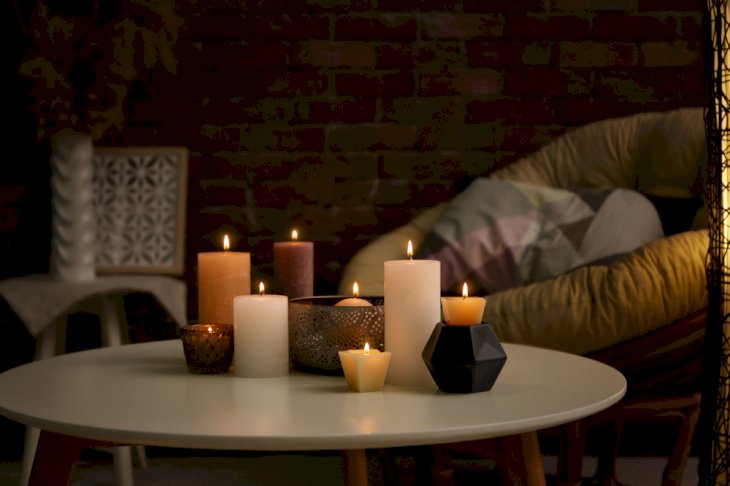 The Best Scented Candles To Make Any Home Feel Cozy
Whether it's a romantic night in or you're in the mood to pamper yourself, there is nothing better than the wafting scent of your favorite candle as it throws a soft glow across your home. However, it is often hard to decide which candle you should use.
From soy candles in reusable decorative jars to long-burning options, there are many brands and types of candles on the market. Here is a look at some popular candle choices for the perfect cozy feeling in the home.
1. White Barn 3-Wick Candle
Bath and Body Works always offers great candle options. White Barn's 3-Wicked Candle is a luxurious and well-designed candle in a glass jar topped with a decorative lid. The candles are made with the highest concentration of fragrance oils and a blend of soy-based wax and wicks to ensure they can burn for 25-45 hours. A personal wintertime favorite is the White Barn Marshmallow Pumpkin Latte 3 Wick Candle that smells like Pumpkin Latte, Toasted Marshmallow, and Praline Musk.
2. Voluspa Japonica Chawan Bowl Candle
Voluspa's glass bowl candle in amber is eye-catching and intriguing. It features two cotton wicks and a proprietary coconut wax blend. This bowl itself has stunning floral designs that take inspiration from the beauty of Japanese art. Voluspa candles are hand-poured in the United States. They boast sustainable, ecologically sound and pesticide-free manufacturing. A great candle from their glass bowl range is the Japanese Plum Bloom scent that has notes of plum bloom petals and leaves, ripe plum fruit, and crushed currants.
3. Jo Malone London Nectarine Blossom & Honey Scented Home Candle
Jo Malone London candles are definitely on the more pricey side. One of the more loved scents in their range is the Nectarine Blossom & Honey candle. It is a simple, pleasing scent that smells like ripe nectarines and peaches. It has plum, blackcurrant, vetiver and acacia honey undertones.
4. Nest Fragrances 3-Wick Scented Candle
NEST candles are another high-end candle brand with pleasant scents and optimal burn time. The candles are made with a premium cosmetic-grade wax designed to optimize burn and fragrance diffusion. A fan favorite for cozy romantic nights is the Rose de Mai and smoky oud. The scent has hints of incense, black leather, and patchouli fragrance.
5. Byredo Bibliothèque Candle
This is one for those who are bibliophiles or wish to spend their entire day surrounded by the comforting scent of books in a cozy library. Byredo created the perfect rendition of a cozy library. The unique scent is instantly recognizable and has a warm, sweet and velvety dry feel. It also has notes of peach, plum, vanilla, and patchouli.