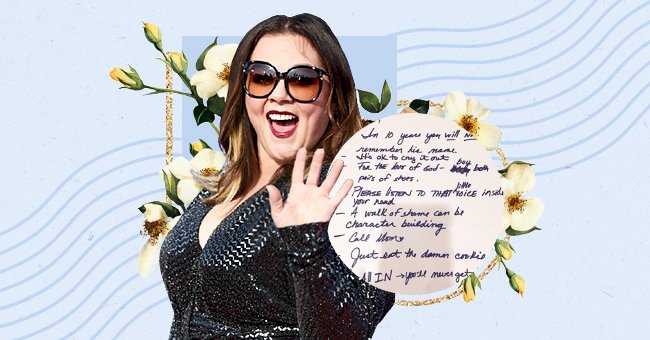 The Essential Life Lessons To Take From Melissa McCarthy's Old Letter To Herself
Melissa McCarthy is one of those celebrities that could never do any wrong in our eyes. The wholesome comedic actor made us love her even more with a super helpful Instagram post.
Whether you love her from 'Gilmore Girls' or 'Bridesmaids,' Melissa McCarthy has a special place in all our hearts. Melissa never ceases to spread positivity, whether it's through her work or personal accounts.
Although we can't imagine Melissa without her success now, she too struggled with some things in the past. The actor shared an old letter she wrote to herself, and the advice on it is as terrific as it comes.
Young Melissa On Dating
The first note Melissa writes reminds her that she won't remember 'his' name in ten years. This is a fantastic reminder to let go of relationships that don't serve you because you won't think of them when you find what's meant for you.
Crying
Many of us do not give ourselves the time and space to grieve things for as long as we should. Melissa advised her younger self that it is okay to cry things out, and we agree and hope many can take it.
Take Them Both
Melissa also writes that she should just get both pairs of shoes in a "treat yourself" moment in the letter. This applies to everyone; sometimes, it is okay to indulge, especially when you've worked hard for something.
Intuition
They say a woman's intuition is never wrong, and Melissa may agree. She pleads with herself to listen to the voice in her head, which tells us that disregarding our intuition may not be the best path to follow.
Character Building
Shame is a feeling that we all deal with, but sometimes it is misdirected and unnecessary. Melissa notes that a walk of shame can be character building which reminds us to look at the bright side of most situations.
Call Mom
This one is straightforward. Just call your mom. Why wouldn't you call your mom? She gave you life and loves you unconditionally, and she has probably left you five missed calls over the past week. Call mom!
Cookie
Diets and restrictive eating can get the best of a lot of us, and Melissa touches on that in her letter. She exclaims to just "eat the damn cookie!!" and this non-restrictive approach is more of what we need to see.
Go All In
It wouldn't be a list of life lessons without a Carpe Diem mention, now would it? Melissa urges herself to go all in because she will never get today back, and that is all the reason one should need to live in the moment.