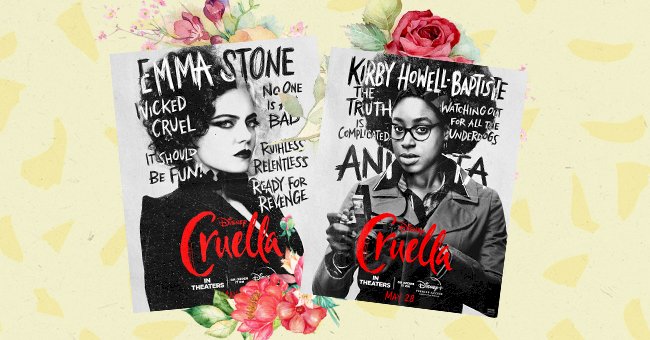 The Inspiration Behind The Iconic Cruella Style
Disney gave Cruella De Vil her own story. Brilliantly played by Emma Stone, Cruella brings a unique glam-punk style to the big screens.
Even though Cruella De Vil got her own movie only in 2021, she was actually born in the '50s. Disney's most stylish villain became famous in the '90s classic 101 Dalmatians. But Cruella's new version is different.
From the previous puppy-hunter, fashion designer we mostly knew to an aspiring fashion designer named Estella Miller in a punk rock scene in the '70s London, meet Cruella 2.0 version.
Estella is an orphaned child who later gets a job as a cleaner at a department store. One day, she gets noticed by an haute couture designer known as the Baroness. The transformation from Estella to Cruella comes throughout her work with Baroness (I won't give a spoiler here!)
That's when the black and white head ultrachic Cruella was born. Nadia Stacey, Cruella's makeup artist, and hairstylist shared with Bustle the creation process of Cruella's makeup and style.
Stacey reveals her sources of inspiration - the 18th-century fashion, Galliano for Dior, punk and glam rock, and drag culture.
"I had just worked on the film Everybody's Talking About Jamie before Cruella, so I'd been immersed in that drag world."

Nadia Stacey, Cruella's makeup artist, and hairstylist
One of Cruella's staples, besides the black and white hair, is her red lips. Stacey used a mixture of different red lipsticks to create a unique hue - two classics from MAC Cosmetics, Ruby Woo and Lady Danger, and a third one that is part of MAC's new Cruella-themed collection.
The lipstick, called Camden Caper is part of three other colors inspired by the villain and it's currently sold out on MAC's website. For the eye's makeup, Stacey got some inspiration from Siouxsie Sioux from Siouxsie and the Banshees, a punk-rock band from the '70s.
"The thing with punk [beauty] is it's very black and graphic, a harsh look. I wanted to give it a softer element.

Nadia Stacey, Cruella's makeup artist, and hairstylist
To achieve the dramatic yet soft element, she created an Amy Winehouse-ish cat-eye and blended it with different gray shades.