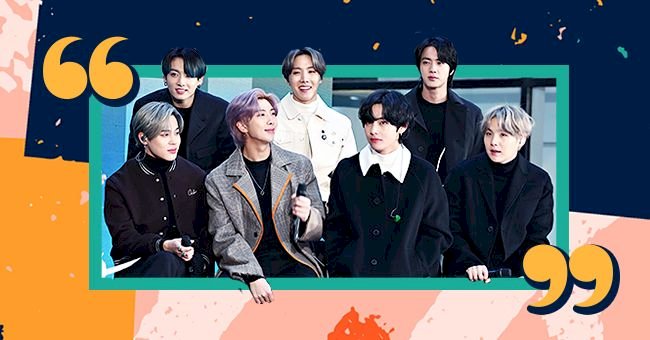 The Most Inspiring BTS Quotes To Motivate You To Chase Your Dreams
Ever since the K-pop band made their debut in 2013, the septet has poured their souls into their music, giving their ARMY of fans thoughtful lyrics combined with outstanding choreography.
BTS, which stands for Bangtan Sonyeondan, literally means "Bulletproof Boy Scouts." The band says that the English version of their name is "Beyond the Scene." Their lyrics tackle social justice issues and have struck a chord with young people globally.
They refer to their fans as the "BTS ARMY" - Adorable Representative M.C. for Youth. The military imagery suits the group's image as resistors of bullets of prejudice.
The seven members share potent words in their lyrics and interviews. Let's take a look at some quotes by the seven idols: RM, Jin, Suga, J-Hope, Jimin, V, and Jungkook.
Namjoon
Kim Nam-joon, better known as RM, inspired and continues to inspire fans seven years later on their journey to discover themselves. RM says:
"If you want to love others, you should love yourself first."
The K-Pop band launched the "Love Myself" campaign in 2017 with UNICEF, based on this belief, making them the first South Korean artists to raise funds for international social campaigns.
"No matter who you are, where you're from, your skin color, gender identity: speak yourself."

Said RM during a speech at the United Nations.
Jin
Kim Soekjin is the oldest member of BTS. His caring nature is well known and extends to the fans with whom he shares pearls of wisdom for the ARMY to live by, like:
"Have confidence in your face from the moment you wake up,"
"Everything becomes a bad thing when you think negative. When you think positive, it becomes better. That's what I believe."
These are powerful observations from someone so young.
Suga
Another positive influence on youngsters is BTS lead rapper, songwriter, and record producer Min Yoon-gi, aka Suga. One of his most awesome quotes comes in the lyrics of "Intro: Never Mind":
"If you think you're going to crash, step on the pedal harder."
J-Hope
In an interview with Elle.com, rapper Jung Ho-seok, or J-Hope said:
"The music helped me sympathize with our young generation and also empathize with them. I'd like to create and write more music that represents them."
He wants their fans to get good energy from their music.
Jimin
Another insightful line during the Elle.com interview came from singer, songwriter, and dancer Park Ji-min, known as Jimin:
"Once your heart is moved, it will develop to something better and positive."
Taehyung
Kim Tae-Hyung, aka V, is a vocalist, songwriter, record producer, and actor. Apart from his mesmerizing deep, husky voice, his words are influencing young people throughout the world.
He coined the phrase, "I purple you." The bubbly, outgoing, and carefree singer's line in N.O. reads:
"Don't be trapped in someone else's dream"
Jeon Jungkook
The pop idol is known as Jungkook and is the seventh member of BTS. He contributes to the singing, songwriting, and production of the bands hit songs, and is famous for the line:
"Living without passion is like being dead."
BTS songs are based on observing society and wanting to have a positive impact on their audience.