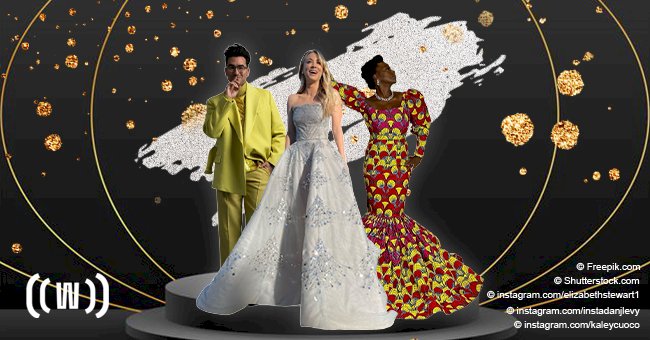 The Top 10 Looks From The Golden Globes 2021
It's award season again, and we've kicked it off with the Golden Globes. The Golden Globes promised to be extravagant, as the event is every year, and it did not disappoint. Couture, bling, makeup, and lights, what more could we ask for?
As little girls, we all practiced our fake red carpet interviews and acceptance speeches, but only some of us made it to the red carpet. The rest of us sat on our couches in anxious anticipation of what our idols would be wearing this year.
We have compiled a list of ten of the best looks from this year's Golden Globe Awards. We loved these looks, and we're sure you will too!
At the top of our list is The Queen's Gambit star Anna Taylor-Joy. This talented beauty, who has recently joined the blonde tribe, has been topping everyone's list for best dressed at the Golden Globes this year.
Dressed in Dior Haute Couture, Taylor-Joy's emerald green gown stunned and was perfectly set off with her Tiffany & Co. jewelry and gorgeous makeup. Each piece of the outfit complemented the other gorgeously.
When does Viola Davis not absolutely slay the red carpet? This year's Golden Globes were no different. Davis wanted a designer that "spoke to her as a Black woman," and this Claude Kameni gown delivered on that.
Davis is a force of nature all on her own, but she could take over the world in this gown. Custom made to fit Davis, it hugs her in all the right places and adds to her general royalty air. This has been a gown that has made many top 10 lists this year.
Everyone's favorite sassy apothecary owner in his hit sitcom Schitt's Creek, Levy, was a ray of sunshine in a canary yellow Valentino Haute Couture suit. Levy was the first to wear the new men's haute couture range by Valentino.
The suit was paired with chunky gold sneakers, which set the sparkles on his shirt off perfectly. A style icon on set and in real life, Dan Levy never disappoints us with his outfits.
Kiersy Clemons gave us all the feels in her figure-hugging, thigh-high-slit, cutout black dress.
So much drama, so much bling, so much beauty. This look couldn't make it into our top 10 best-dressed list.
The beauty served us gorgeous dreads, stunning face beat, classic jewelry, and a perfect gown. The Prabal Gurung dress complemented the Bulgari jewelry gorgeously, and the makeup was flawless.
Gorgeous as ever, Lily Collins wore a sensational Saint Laurent gown. The one-armed dress was embroidered intricately with a floral pattern in muted tones against the black fabric. It was clear to see how much work had gone into it.
Collins wore the dress with Cartier jewelry that complemented each other and her hair and makeup beautifully. The blue waterline eyeliner that matched the accents in the gown's embroidery was the perfect finishing touch.
Everybody's favorite comedian and actress, Tiffany Haddish, stunned in a chainmail gown by Alberta Ferretti that is reminiscent of armor. Haddish's bronze dress matched with her bronze nails and clutch handbag were the perfect settings for this event.
The star wore understated makeup and no jewelry besides a pair of earrings. Her hair was also shaved short and dyed blonde allowing the attention to remain on the dress.
Another armored goddess, Regina King, brought the fire with this metallic black and silver gown. King wore a Louis Vuitton dress that we can only describe as electrifying.
King wore the look with understated makeup and earrings to die for. She wore rings as the only other accessories for the outfit. It's not difficult to see why the star has been making best-dressed lists across the board!
The girl across the hall who stole our hearts on The Big Bang Theory all those years ago brought major Cinderella vibes to this year's Golden Globes. The blonde beauty wore a gray Oscar de la Renta gown.
The only jewel that could have done this gown justice was the Harry Winston earrings that the star popped on to complete this look. With a soft makeup look and mermaid waves in her hair, Cuoco brought us effortless beauty.
The queen of serving us beyond beautiful looks on the red carpet, Angela Bassett, did not disappoint at this year's Golden Globe Awards. Purple feathers and a braid as long as a bridal train. What more could you want from a look?
Angela Bassett wore this gorgeous purple Dolce & Gabbana gown with stilettos to match and hair just as fierce as her personality. The look was paired with a statement ring and understated earrings.
Everybody's favorite mystery girl, Rosamund Pike, served a look that is nothing less than we'd expect from this quirky sensation. Her Molly Goddard gown was a red tulle affair accentuated with black stripes and a bow to finish the look.
In true Pike fashion, the star paired the look with a short brown haircut, no jewelry, and chunky combat boots. Who said you couldn't be comfortable when you're walking the virtual red carpet? The look was finished off with a statement red lip.