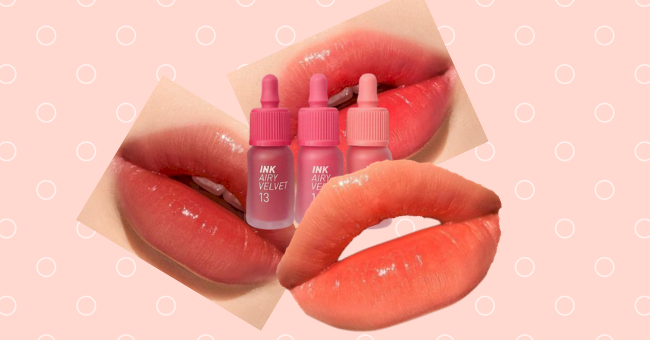 The Top 5 Best Lip Tints
The South Korean Beauty industry is top tier, and their lip tints leave much to write home about. Here are ten of some of the best K-beauty lip tints to try out.
One of the most popular K-beauty innovations out right now is the lip tint. And it's stained all of our social media feeds, in a good way.
If you want to achieve the popular popsicle lips trend, a Korean lip stain could be your best bet. And the cherry on top, in addition to pretty, pouty lips, is that many of these lip stains are budget-friendly, so you can go on and scoop a few, guilt-free.
Peripera Ink Airy Velvet
Elle deems this the lip tint that may have "started it all!" And not to mention, it's a best-seller at one of Korea's biggest beauty stores Olive Young, according to Allure. It's clearly very highly rated.
It boasts six shades and is touted for its incredibly light and airy formula that provides a few hours' worths of wear. You can also focus on applying the product to the lips' inner part to achieve the trendy popsicle lips look.
Tonymoly Delight Lip Tint
This drugstore K-beauty lip tint includes rosehip, argan, and jojoba oils, which are amazing ingredients to keep the lips nourished and smooth for a long time.
The Tonymoly Delight Lip Tint is a lightweight formula that goes on matte without feeling overly drying to the lips.
Etude House Dear Darling Water Gel Tint
If you're looking for something durable that can withstand all the talking, eating, and everything else that your day entails, this is your champ. Allure contributor Sable Yong agrees, saying that it could withstand a Zombie Apocolypse.
And while most K-beauty lip tints are fantastic value for money, this puppy right here is particularly friendly to your purse. Not to mention that a little sure goes a long way.
Waterdrop Tint Bomb
This trooper right here is ready to stand by you all day long! The Holika Holika Waterdrop Tint Bomb is a balm stain that's available in eight glorious shades.
It applies smoothly and isn't messy. If you're a bit clumsy and tend to stain your clothes with lipstick, you won't be making that error with this.
Benefit Benetint Cheek & Lip Stain
Who doesn't love an efficient multitasker? Bring a little color to your lips and cheeks with Benefit's popular Benetint Cheek & Lip Stain.